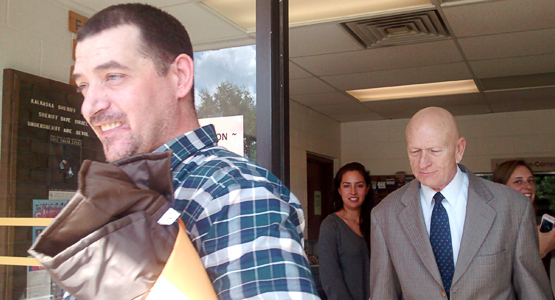 Michigan Innocence Clinic Client Jamie Lee Peterson Exonerated
Jamie Lee Peterson had 17 years to think about what he would like to eat if he ever got out of prison, and he decided on this: a Fudgsicle.
Peterson's ability to choose his own snacks is one aspect of a much greater freedom: He has been cleared by a new round of DNA testing that was championed by a group of attorneys and students from law school wrongful conviction projects at Michigan Law and the Northwestern University School of Law in Chicago. The exoneration is the ninth final victory and eighth exoneration in the five-year history of the Michigan Innocence Clinic at the Law School.
Peterson had been in custody for more than 17 years after being convicted of the sexual assault and murder of 68-year-old Geraldine Montgomery in the small northwest Michigan town of Kalkaska. On Sept. 5, 2014, the Kalkaska prosecutor announced he would drop all charges against Peterson on Sept. 8, 2014.
Caitlin Plummer​, Michigan Law Class of 2011 and one of Peterson's attorneys, explained that the announcement is not due to some legal technicality.
"Let me make this crystal clear," Plummer said. "Jamie Lee Peterson is absolutely 100 percent innocent of this crime. He had no involvement. He knows nothing about it. The tragedy of this heinous crime was compounded by the wrongful conviction of an innocent man."
The cause of this wrongful conviction was a series of false confessions Peterson gave during police interrogations four months after the murder. Despite knowing that DNA testing of the victim's rape kit excluded Peterson as the source of the vaginal rape, the jury convicted Peterson at a 1998 trial. They were persuaded by the confessions and the State's argument that then-untestable male DNA found on the collar of the victim's shirt likely belonged to Peterson.
New DNA testing was conducted last year at the urging of Peterson's new attorneys and with the cooperation of the Kalkaska prosecutor and the Michigan State police. This testing proved that the male DNA on the victim's shirt was not Peterson's and belonged to the same person as the DNA in the rape kit. All of the male DNA at the crime scene matched a man named Jason Ryan, who was arrested last fall and is awaiting trial on murder and sexual assault charges. Ryan has pleaded not guilty. A year-long re-investigation conducted by the Michigan State police has revealed no credible evidence that Peterson or Ryan ever knew each other.
Despite the new DNA results and arrest of a different suspect, the Kalkaska prosecutor previously had objected to releasing Peterson. On Aug. 14, 2014, however, in a 23-page written opinion, Kalkaska County Circuit Court Judge Janet Allen relied on the new DNA evidence and ordered a new trial for Peterson. She found the evidence "clear and convincing" that Peterson would not be convicted if he were retried in light of the new DNA evidence. With today's announcement, that retrial won't happen.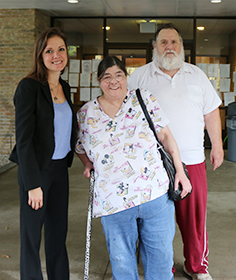 Lisa Kirsch Satawa, a Birmingham-based attorney from the law firm of Clark Hill PLC, and James Samuels of the Samuels Law Office, had recently signed on to handle Peterson's retrial. Kirsch Satawa echoed Plummer's statements regarding Peterson's innocence.
"These were obvious false confessions from the get-go," Kirsch Satawa said. "The investigating police interrogated when they should have investigated. They found an easy target in Mr. Peterson, got his confession, and ignored the overwhelming evidence that the confession was false."
While it may be difficult to understand how someone would ever confess to a crime they did not commit, there is indisputable evidence that it happens at a troublingly frequent pace. Earlier this week, two North Carolina brothers convicted of the 1983 brutal rape and murder of an 11-year-old girl were released after 30 years in prison when DNA proved they were innocent and their confessions were false.
A database of wrongful convictions created by the University of Michigan and Northwestern law schools known as the National Registry of Exonerations​ highlights 180 exoneration cases where the convicted individual falsely confessed. The young and cognitively impaired are even more susceptible to false confession during police interrogations.
Peterson becomes the fourth man in Michigan exonerated by DNA evidence. Two of the other three—Nathaniel Hatchett (Macomb County) and Eddie Joe Lloyd (Wayne County)—also falsely confessed to police.
"This case should serve as a wake-up call to the Michigan criminal justice community," said David Moran, director of the Michigan Innocence Clinic and one of Peterson's attorneys. "All law enforcement agencies need to ensure that their officers get training not just on how to interrogate, but on how to identify and prevent false confessions."
While the initial investigation was flawed, attorneys for Peterson commended the Michigan State police for the recent re-investigation.
"I've been involved in several of these cases," said Joshua Tepfer, Peterson's Chicago-based attorney from Northwestern Law's Center on Wrongful Convictions. "This is by far the most thorough and comprehensive police re-investigation that I have seen. When we approached them last year, the MSP immediately recognized that retesting the DNA was a no-brainer. They recorded many of their subsequent interviews and shared the recordings with us. The results of the re-investigation speak for themselves and prove our client's innocence."
The Michigan Innocence Clinic and Northwestern's Center on Wrongful Convictions are law school clinical programs where students assist in the representation of clients.
A.J. Dixon, now a Chicago-based attorney, worked on the case as a University of Michigan law student.
"I wanted to be a lawyer to seek justice and help people," Dixon said. "Getting the chance to play such a significant role in correcting a miscarriage of justice as a law student really is a dream come true."
Photo top: Jamie Lee Peterson leaves jail Sept. 8, 2014, following his exoneration. Photo right: Caitlin Plummer, '11, stands with Jamie Lee Peterson's parents following his final court appearance Sept. 5, 2014. ​​​​​​​​​​​​​​​​​​​​​​​​​​​​​​​​​​​​​​​​​​​​​​​​​​
more ....

Reunion 2014: The Michigan Ties That Bind
By Amy Spooner
Some pushed strollers; others showed off their grandchildren's photos. Some are contemplating a job change; others are contemplating retirement. The nearly 500 alumni and guests who returned to the Law Quad for Reunion 2014 were from points near and far, and were at different life stages. But what they all had in common was the joy of reconnecting with classmates and reminiscing about their days in the Quad.
While both reunion weekends featured tours, lectures, and plenty of maize-and-blue spirit, the highlights were the class connections at the Friday-night receptions, Saturday-night dinners, and beyond.
"To get together with classmates I have not seen in over 40 years was as humbling as it was enjoyable," said the Hon. James Jackson, '74, who traveled back to Ann Arbor from his Falls Church, Virginia, home. Jackson's class gathered the weekend of Sept. 12-14, along with graduates of the classes of 1964, 1969, 1979, and 1984 and emeritus alumni.
Bruce Tuchman, '89, from New York, chaired the 25-year reunion, which took place Sept. 19-21, along with the classes of 1994, 1999, 2004, and 2009. He said time had not produced any stranger anxiety amongst his class. "It is amazing how the years just melt away and everyone was able to pick up with each other as if it were only yesterday. So many had accomplished so much in these 25 years, yet they still felt as familiar as the students they once were."
Reunion also served as a reminder that Michigan has strong family traditions. For Jacintha Balch, '79, visiting campus also meant a chance to see her son, Christopher, a 1L. Asher Tilchin, '49, represented the oldest emeritus class; at the Sept. 13 dinner, he was toasted by his grandson, Aaron Schaer, a current 3L. And Julia Ernst, '94, came from Grand Forks, North Dakota, to attend festivities with her father, the Hon. Richard Ernst, '63, of Tawas City, Michigan. "Although Dad and I attended Michigan Law 30 years apart, we both hold a deep fondness for the Law School rooted in our shared experiences there," she said. "A few years ago Dad gave me his old constitutional law book from his Michigan days, which I now show each year to my Con Law students at the University of North Dakota, emphasizing that our mutual passion for the law started with learning about the Constitution as the heart of our great country. Returning to Michigan and walking through its majestic halls and classrooms—old and new—with my father was a marvelous experience for both of us."
View a slideshow from Sept. 12-14 Reunion
View a slideshow from Sept. 19-21 Reunion
Mark your calendars for Reunion 2015!
Emeriti and classes of 1965, 1970, 1975, 1980, and 1985: Sept. 25-27, 2015
Classes of 1990, 1995, 2000, 2005, and 2010: Oct. 9-11, 2015
more ....

Internships: In the Public Interest, and the Interns', Too
By Amy Spooner
One student inspected marijuana dispensaries. Another drafted hearing questions for a senator. A third worked on a project regarding the legality of creating three-parent embryos. From San Francisco to Sierra Leone, and from the nation's capital to the Colorado State Capitol, students put their lawyering skills to use at a wide variety of organizations.
For the 286 Michigan Law students who embarked on public service internships this past summer, the lessons were as diverse and abundant as the work assignments.
Many Michigan Law students use summer internships to help solidify their career goals. After graduation, 3L Patrick Tighe wants to enter politics or work in public policy in his home state of Arizona. As a Michael Dukakis Fellow working for the governor of Colorado, he experienced political life and hot-button issues firsthand. Tighe was part of the Governor's Marijuana Coordination Office, responsible for helping develop the regulations for the legalization of the controversial drug. "It was like Breaking Bad, but legal," he said of his inspection of a dispensary and a cultivating and growing facility. And he said he found the public interest motivating: "I was definitely excited that so many people were talking about the issue. That helped me stay focused, as I knew many of the office's decisions would be highly watched and analyzed."
Matt McCurdy, also a 3L, wants to pursue a career in environmental law, so his work at the Sierra Club's San Francisco headquarters provided a glimpse of life in one of the field's leading nonprofits. McCurdy's work touched on Sierra Club initiatives nationwide and included research in the areas of coal power plants, fossil fuel exports, and violations of the Clean Water Act. He also presented research findings in front of the organization's Environmental Law Program staff. "The Sierra Club wants its interns to become better advocates. We wrote plenty, but we were also encouraged to speak with our assigning attorneys and present to the group, which was an excellent experience," he said.
On the opposite coast, 3L John Lin worked for Senator John McCain's Permanent Subcommittee on Investigations staff, investigating such issues as high-frequency stock trading and defense contractors. He also helped draft the senator's statements, letters, and hearing questions, all of which offered the perfect entry into politics for the future Washingtonian. "It's one thing to see people in these roles and say, 'I'd like to do that,'" said Lin, who hopes to work on Capitol Hill after graduation as a legislative aide or counsel. "It's quite another to actually work with those people and do the work they do." Lin is no stranger to high-level government assignments; he worked for Michigan Governor Rick Snyder, '82, prior to law school. But he admits there was a palpable sense of excitement walking with a high-profile senator and former presidential candidate on the way to a hearing. "It was fun to breeze through the building as part of the senator's entourage. And it was even better to sit behind Senator McCain in the hearing as he read many of the questions I had helped prepare."
View a slideshow of the summer interns
Public sector internships also provide broad exposure to the law, opportunities to compare and contrast experiences with classroom knowledge, and a deeper understanding of complex global issues. "I got to hear civil and criminal cases on an international stage and realized the importance of foreign policy and international collaboration for the common good," Rachel Jankowski said. The 2L spent her summer in London as a Blackstone Legal Intern at the Comment on Reproductive Ethics, where she worked on a project regarding the legality of creating three-parent embryos. She also said her eyes were opened to issues like human trafficking, which is prevalent in Europe. "Someday I want to start an anti-human-trafficking nonprofit. My experience this summer inspired me to get involved and try to help women in these terrible situations." 2L Julie Kornfeld spent her summer immersed in the atrocities of the past at the Document Center of Cambodia, an organization that researches and documents the crimes of the genocide. "I want a career that deals with refugee law and protection," she said. "This summer expanded my geographical knowledge and allowed me to see how international development and transitional justice are performed in southeast Asia and compare these lessons to what I learned working in East Africa before law school."
For 2L Karima Tawfik, the summer was an opportunity to work in an often-overlooked area in transnational law—corporate social responsibility vis-à-vis large-scale land acquisition. She interned with Namati: Innovations in Legal Empowerment in Freetown, Sierra Leone, where she worked on a team to represent landowners and communities whose lands had been "sold" by local political officials to foreign investors without their consent. "These land issues are an ongoing, difficult, and highly contentious part of life in Sierra Leone," she said. "There is a major push to attract investment to bolster the country's economy. But the communities that are most acutely affected by land deals report a net loss in their well-being as a result of low compensation, environmental degradation, and weak mechanisms to enforce corporate social responsibility provisions." As part of the legal representation, she and several colleagues traveled to eastern Sierra Leone to hear directly from landowners and activists contesting the sale of their lands.
All together, the serious and the not-so-serious elements of the summer combined to leave an indelible impact on these lawyers in training. "The best lawyer is informed on all facets of an issue, which is why learning about other countries and their laws is so important for any citizen, but especially any lawyer," said Jankowski. Kornfeld added, "I realized that law school can't teach you everything about everything, but it does teach you legal research and analysis skills that allow you to quickly become an expert in anything."
more ....

Michigan Law Alumni-Student Mentoring Program Continues to Grow
By Amy Spooner
When at first you do succeed, grow and grow again. ​​​
So said the creators of Michigan Law's alumni-student mentoring program following a successful launch in Washington, D.C., last summer. The one-on-one mentoring program, which is co-sponsored by the Office of Career Planning (OCP) and the Office of Development and Alumni Relations, was piloted at Reunion 2012 before being rolled out in D.C. in 2013. Based on the enthusiastic response of both alumni and student participants, organizers added a Chicago-based component this summer.​​​
"We've learned things at every step of the way that have allowed us to improve the program," said Lara Furar, director of alumni engagement and programming. "One of the most encouraging outcomes from our perspective is the number of new alumni we've engaged."​​​
Furar said the program originally launched in the nation's capital because of the high number of alumni and students working in the private and public sector. Chicago was a natural next step because of a similarly strong presence of current and future alumni. Each city matched about 75 students and alumni over the summer, which represents a healthy climb from last year. ​​​
To participate, alumni and students must commit to a minimum of six months of contact. Each pair also is expected to meet in person at least once. Because the Office of Development and Alumni Relations hosts social events in each city during the summer, "The participants don't have to try to create something on their own," Furar said.
"Those events were very helpful because I not only got to spend time with [my mentee], but I was able to introduce him to other alums and he was able to introduce me to some of his classmates," said Mark Stichel, '83, who participated last summer. "I had a very positive experience with the program, and a significant factor was that we had similar interests and hit it off on a personal level."
The hitting-it-off factor isn't a fluke. Furar and OCP recruitment manager Kim LeClair work hard to pair alumni and students who share not only a career path, but also similar backgrounds, interests, and hobbies. And they would rather have a match go unmade than create a less-than-ideal partnership. "We try to match everyone who applies, but we don't guarantee anyone a match because we want to make sure they're the right matches," Furar said.​​​
"The matching is personal and carefully considers a number of factors in order to give it a good chance of being successful from both sides," added LeClair, who also will be working with Furar on a virtual mentoring program for African American alumni this fall. ​​​
Students have welcomed the chance to meet and learn from alumni with similar interests. "I think the mentoring program is amazing. I'm interested in civil rights and education law, and I was paired with an attorney at the Department of Education's Office for Civil Rights," said 3L Josh Arocho, who worked during the summer in the Educational Opportunities Section within the Department of Justice's Civil Rights Division. "She knows a ton of people in the field, so she's been putting me in touch with other attorneys in D.C. and beyond. She also knows a lot about D.C., so she's been giving me great advice about living in the city."​​​
While student participants can gain a wealth of insider knowledge and connections, alumni benefit from the program as well. "I enjoy working with talented and enthusiastic young people, and helping them to grow," said Alec Rogers, '93. "The program facilitates the ability of alumni to give back to current students, provides a structured means of doing so, and makes it easier for those who wish to participate by pairing us up rather than just sending students blind contact information." Added Anne Collier, '91, "I always enjoy meeting new people. It's a good excuse to get together with other Wolverines doing something important and helping the next generation."​​​
That sense of giving back to the Law School lies at the heart of what makes the Michigan alumni community special and ultimately will drive the success of the mentoring program, said David Callahan, '91. "This is what Michigan should be all about—reaching across generations of alums and students, making connections, and helping our newer alums get up and running in an increasingly challenging profession." ​​​
To learn more about the alumni-student mentoring program, contact Lara Furar at lfurar@umich.edu.​​​
more ....

Back to School with the Class of 2017
Using the football team's terminology, they could be known as Team 156. Before coming to Michigan Law, they were professional golfers, senior talent producers at CNBC, police officers, members of the anti-money-laundering team at a Wall Street bank, professional pyrotechnicians, volunteer firefighters, pediatric oncology session assistants, special assistants at OPIC, and members of the Truman National Security Project. They were undergrads at schools ranging from Cal to Columbia. (Some were even Buckeyes and Spartans.) For all the diversity of their backgrounds and interests, the Class of 2017 is uniform in maintaining the excellence that is the hallmark of Michigan Law students.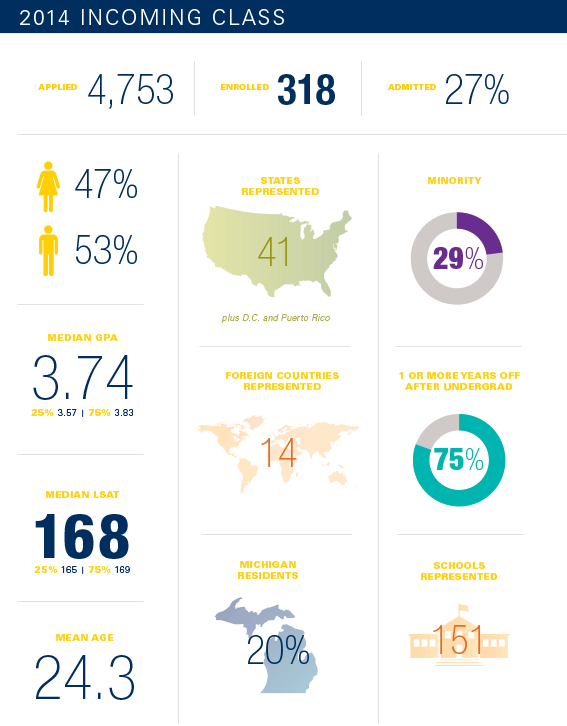 Students in the Class of 2017 kicked off the school year with the traditional activities before immersing themselves in their first semester at Michigan Law:
See a Service Day slideshow
Read Dean Mark West's welcome to students
Read about the Commitment to Integrity Ceremony, featuring Michigan Supreme Court Justice Bridget Mary McCormack
more ....