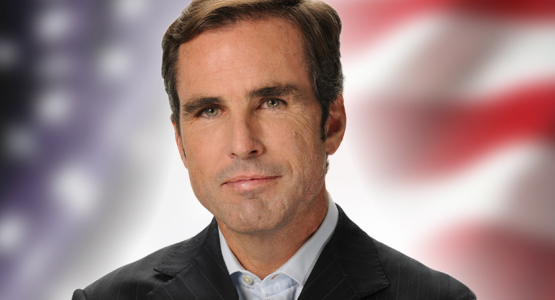 Championed by Bob Woodruff, '87, Michigan Law Veterans Clinic Will Serve Those Who Serve Us
By Amy Spooner
They've risked their lives, often incurred long separations from loved ones, and sometimes suffered injury to serve their country. And when they return home, military veterans often face legal barriers to basic needs. A new clinic at Michigan Law will be committed to reversing that troubling pattern.
Beginning this fall, the Michigan Law Veterans Clinic will represent veterans and, in some instances, their immediate families in civil matters ranging from eviction, collection, and consumer contracts to family law cases. In addition, the clinic will assist veterans with service-related matters such as disability benefits and discharge status challenges. It's an array of services that is long overdue for the state of Michigan's 720,000 military veterans—the sixth highest state total nationwide. Twenty percent of those veterans have significant mental health issues and 65,000 are under age 39.
"Legal problems were never part of most veterans' lives before they went to war," said Bob Woodruff, '87, an early proponent of the idea to establish a veterans' legal aid clinic at Michigan Law. "But when they returned, many have been overwhelmed with paperwork. Some have been ignored or badly treated in terms of health care, and without proper treatment, they could join the growing number of veterans filing for divorce or committing suicide. There are also thousands of homeless veterans who need legal help. This clinic will provide more tools to end these issues and will hopefully serve as a model that can be replicated at other top law schools."
Woodruff, a correspondent for ABC News, has a personal connection to veterans—he was injured while on assignment in Iraq in 2006. Suffering a traumatic brain injury at the hands of a roadside bomb made him better appreciate the danger faced by military servicemen and women, as well as the long road to recovery for those who are injured. "Until I was badly hit and injured, I didn't know much about the personal lives and medical treatment of our military personnel," said Woodruff. "Because this is a voluntary military and the weapons have become much more advanced, only about 1 percent of Americans are now serving. So since most civilians are not closely connected to the military, there are certain misconceptions about veterans. However, whenever someone gets to know a veteran, they realize they are exactly like them. I want everyone to realize that we should do everything we can to fix the problems facing our veterans."
After conversations with Woodruff, Law School administrators in 2013 began assessing the need for a veterans' clinic and the feasibility of establishing one at Michigan Law. Discussions with the Michigan Army National Guard, Ann Arbor's VA Hospital, veterans-focused nonprofits, and veterans themselves revealed a severe gap between the services veterans require and what currently is available.
"Michigan Law prides itself on providing exceptional hands-on training for our students while also serving the community," said Dean Mark West. "When we saw this huge unmet need, establishing a veterans' clinic seemed like a way we could enhance our students' educational experience while serving a vulnerable population."
Private support from a number of donors, corporations, and foundations is making the new clinic possible—including a lead gift from the Bob Woodruff Foundation, which was impressed by the untapped potential for the clinic's services, and its desire to work in collaboration with other units at the University of Michigan. "The Bob Woodruff Foundation seeks programs that are not duplicative and that meet unaddressed needs," said its executive director, Anne Marie Dougherty. "The incorporation of [U-M's] School of Social Work and their plan to address other collective social issues goes beyond the standard veteran benefits claims services that many organizations already handle."
Another pivotal gift came from Orrick, Herrington & Sutcliffe LLP, which also intends to provide legal support on a pro bono basis. Additional private support is still needed to fully fund the clinic for the five-year pilot period.
In addition to private support, the Law School will provide significant funds— $1.2 million over five years—to underwrite clinic operations. "We get many ideas for new clinics, so we have to be very judicious about what we undertake," said Dean West. "But this was too closely aligned with our mission to pass up."
The clinic will provide an extra special opportunity for Michigan Law students who also are veterans, said rising 2L Joseph Gookin, a veteran who previously worked on similar issues in a U.S. senator's office and aided homeless veterans as an EMT prior to law school. "Many of the people I encountered in my previous work either did not know where to turn for help, or had become frustrated in their attempts to do so. Now that I have deployed myself, I am beginning to understand the challenges a veteran can face in transitioning from active duty to civilian life. It will be an honor to be able to provide that assistance to my fellow veterans."
more ....

Julian Davis Mortenson Named 2015 Recipient of L. Hart Wright Award for Teaching Excellence
By Lori Atherton
Katherine Warren, '15, fondly recalls her Introduction to Con Law class with Professor Julian Davis Mortenson. As a then-1L who was still getting acclimated to law school, Warren was impressed by Mortenson's approachability, nurturing teaching style, and willingness to help students understand the material.
When Warren learned that Mortenson was named the recipient of the 2015 L. Hart Wright Award for Teaching Excellence, she couldn't help but be excited on his behalf.
"Professor Mortenson is completely deserving of the award," she said. "It's always easy to tell when professors care about students, and he does. He has compassion for students, a passion for teaching, and a true skill at being able to convey complicated ideas to people. At the end of our last class, he gave a talk about personal dignity and what it means to be a good lawyer. He cared about us as people, not just as students."
Rising 3L Mark McLoughlin, who took Intro to Con Law with Mortenson as a 2L, said that what stood out for him about Mortenson's teaching style was his ability to provide individualized attention, despite a class size of 150 students. "That I got a personalized interaction with him in a class that large speaks volumes," McLoughlin said. "He was always very giving of his time during office hours and group Q&A sessions, which is impressive considering how many inquisitive law students were constantly contacting him."
Mortenson, noted McLoughlin, "embodies the spirit of the Michigan Law community—he's a serious scholar who does not take himself too seriously." McLoughlin saw evidence of this as a member of Michigan Law's Headnotes a cappella group, which delivered Valograms to Mortenson for the past two years. "This year, moments after the Headnotes gave him seven singing Valentines in a row, I ran into Professor Mortenson in the hallway. He told me, 'You have no idea how embarrassing that was, but I love what you guys do for the community here. Keep it up.' The fact that I got to sing loudly at a [former] Supreme Court clerk for 10 minutes in the middle of his lecture and later have him thank me for it is a great reminder of why I love Michigan Law and Julian Mortenson."
A Law School faculty member since 2009, Mortenson also teaches International Commercial Arbitration and Legislation and Regulation. His teaching style, he said, is a mix of different methods, designed to challenge students and demand rigor without "abandoning respect" for them.
"The bread and butter is a flexible Socratic dialogue, supplemented by occasional clarifying/summarizing lecture, and the use of lots of visuals—whether pre-prepared slides or whiteboard diagrams," he said. "Following the lead of other Michigan colleagues, I've also started using detailed in-class exercises; the prompt is usually pretty similar to an exam question, with facts, law, and a question for us to answer on behalf of a client or court."
The L. Hart Wright Award, Mortenson said, is "the most significant professional recognition" he's received, given that it's awarded by the very students that make teaching so enjoyable and worthwhile for him. "Our students have such diverse backgrounds and perspectives, and such a remarkable combination of rigor and decency," he said. "They're always seeing things I haven't seen; huge chunks of the way I teach Con Law now are directly attributable to memorable conversations with former classes. It's a joy to be in the classroom here."
Named after the beloved Michigan Law professor who was renowned in the field of tax law, the L. Hart Wright Award is presented annually by the Law School Student Senate (LSSS), with the recipient chosen by students. Mortenson will officially receive the award at the LSSS's faculty wine and cheese reception next fall.
more ....

MLaw Class of 2015 Faces Opportunity, Responsibility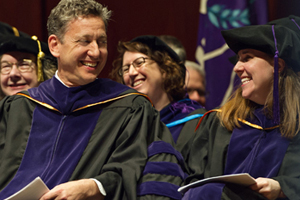 By Amy Spooner
A degree from the University of Michigan Law School presents boundless opportunities—to follow one's passion, to challenge the status quo, and to improve society. During the Senior Day ceremony on May 9, speakers encouraged the graduating class of 356 juris doctor candidates and 46 graduate degree candidates to do all three.
The Senior Day address was delivered by John Sloss, '81, who is a founder and partner of New York-based Sloss Eckhouse LawCo and Cinetic Media. He has executive produced more than 60 films, including the Academy Award-winning The Fog of War and Boys Don't Cry. He also produced the Golden Globe-winning film Boyhood.
Sloss spoke of his journey from an established Wall Street law firm to becoming an entertainment lawyer and ultimately opening his own firm. He admitted that he didn't fully appreciate the rigid training of law school until later, when he put the analytical skills he learned in law school to use doing something he loved. "This tool is astonishingly portable, in that it can be applied to a stunning array of pursuits, in no way limited to the traditional practice of law," he said, noting that his legal training ultimately helped him persuade executives of a multinational corporation to finance Boyhood over a 12-year filming period. "Put your skills to use in service of your passion. Pursuing nontraditional goals is by no means a squandering of your degree's inherent value, but perhaps the fulfillment of it."
When he tried to enter the field of entertainment law, Sloss was told that if he was smart and skilled, the nuances of the field could be learned quickly. "That's validation of the rigor and the way that we were taught at Michigan," he said. "You've been given a gift with this education and this degree, and you have a net that liberates you to keep your eyes open as you move forward, locate your passion, and make it your work."
Faculty speaker Prof. Eve Brensike Primus, '01, encouraged graduates to use the gift of their Michigan degrees to serve people in need. "Many people think that lawyers are a dime a dozen and that there are hundreds of people to whom someone facing a legal problem can turn. While that may be true for some segments of our society, it certainly isn't true for most," she said, harking back to her former career as a public defender. In addition, people in desperate need of counsel in both criminal and civil matters have no access to quality legal representation. "You are uniquely positioned as lawyers to help these people," Primus told the graduates. She challenged each member of the Class of 2015 to assume responsibility for one pro bono case in his or her first year of practice. "Pick one cause, and use your legal skills to help someone less fortunate," she said. "There is no greater professional satisfaction than giving a voice and hope to a person who has never had anyone fight for him." She told graduates not to let fear stop them. "You are graduates of one of the best law schools in the country; you all have the skills and abilities to handle a pro bono case. You just have to make the time to do it." And when you do, she reminded them, the strength of the Michigan network means "that you are never alone."
LLM candidate Rosalind Elphick encouraged her classmates to stay connected to that network despite busy schedules and geographic barriers. "This year has been a precious and unusual opportunity to pause from the hustle of life and really get to know each other," said Elphick, a South Africa native who has accepted a traineeship with the International Court of Justice. "We have looked out for each other despite our incredible differences and have been guided by the principles of tolerance, respect, and inclusivity. If we carry these principles back to our countries and our practices, imagine the world we can create."
JD student speaker Wyatt Fore reflected on graduates' power to shape the law—an idea that crystallized for him while camping out in front of the U.S. Supreme Court in April to hear oral arguments in the DeBoer v. Snyder same-sex marriage case. Thinking of the hundreds of activists and decades of struggle that have led to the current debate illustrates that "law isn't about the problems our ancestors faced, but rather the lessons we draw from those problems and apply to the problems we're facing now," said Fore, who is joining O'Melveny & Myers in Washington, D.C. "The best lawyers are the doers, the organizers, the entrepreneurs, and the problem solvers, and our class is full of those."
For all the lofty hopes for the future, Senior Day 2015 also was about celebrating the present. "Stop right now and soak in the beauty of this o​ccasion," Elphick told the graduates, "and allow yourself to feel really proud of what you have achieved."
more ....

Michigan Law Announces Guaranteed Summer Funding for All First-Year Students
Program will be Most Expansive of Any Top Law School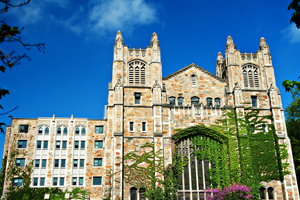 By Amy Spooner
Beginning in 2016, all first-year students at Michigan Law can land a great summer internship with less worry about paying the bills. And in true Michigan Law fashion, it's because the community is taking care of its own.
Gifts from the Himan Brown Charitable Trust and from Lisa and Chris Jeffries, '74—with a startup gift from the Law School Student Senate (LSSS) and ongoing fundraising through the Law School's Student Funded Fellowships (SFF) organization—will support 1L summer employment for all students, regardless of job sector, making it the most inclusive program at any top law school. Michigan's program will issue interest-free, forgivable loans administered by SFF, a Michigan Law student organization that since 1977 has provided some $2.5 million in summer funding support for 1Ls.
"Former and current students are helping current and future students," said Dean Mark West. "That mutual support represents our Law School at its finest." He notes the program's inclusive nature also epitomizes Michigan Law. "Several peer schools offer 1L funding, but eligibility is limited. One of the best things about Michigan Law is the divergent paths our students pursue, so it was important that we make summer funding available to everyone."
Law-related 1L summer employment is essential for exploring possible careers and gaining experience needed to secure good jobs for the 2L summer and beyond—experience that can have a steep price tag. Most 1L jobs pay very little, and large firms rarely employ 1Ls; in addition, opportunities often are in cities with high costs of living. Therefore, many students struggle to balance goals and current means.
Under the new program, all first-year law students will be eligible for summer funding up to $4,000, beginning in the 2015-2016 academic year. The funding, disbursed as a loan, will be forgiven for any student whose earnings during both law school summers total less than $18,000. Students who earn $20,000 or more must fully repay the loan, while those earning $18,000-$20,000 will repay on a sliding scale. Student repayments ultimately will make the program self-sustaining.