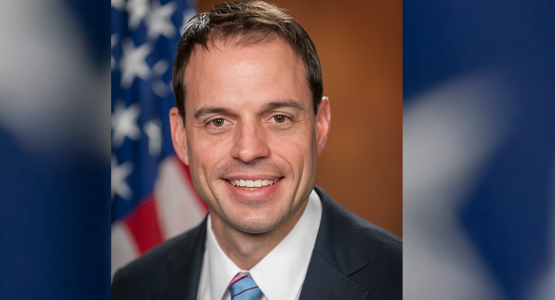 Ben Mizer, '02, Named Acting Assistant Attorney General for the Justice Department's Civil Division
By Lori Atherton
Benjamin C. Mizer—a 2002 University of Michigan Law School graduate—has been named the principal deputy assistant attorney general and acting assistant attorney general for the Department of Justice (DOJ) Civil Division. He was appointed by Attorney General Eric Holder on March 2.
"I am humbled by the trust and confidence the attorney general has placed in me to lead the largest litigating division within the Justice Department," Mizer said. "It is a great honor to be joining the division. I'm excited to work alongside many of the country's best lawyers on the hardest legal issues facing the United States."
Mizer will oversee the Civil Division in representing a wide array of civil litigation, including challenges to congressional statutes, administration policies, and federal agency actions, as well as federal benefit programs; commercial disputes including contract disputes, banking, insurance, patents, and debt collection; international trade matters; and enforcement of immigration laws.
Michigan Law Professor Julian Mortenson, who previously worked with Mizer, said the DOJ is "incredibly lucky to have him" on its staff. The two clerked for U.S. Supreme Court justices at the same time—Mizer for Justice John Paul Stevens and Mortenson for Justice David H. Souter. In addition, they served as associate legal officers at the International Criminal Tribunal for the Former Yugoslavia in The Hague and as associates in the Washington, D.C., office of WilmerHale.
"Ben is an extraordinary lawyer, with a seamless combination of analytical talent, keen judgment, personal sensitivity, and deep integrity that is unique among the lawyers I have worked with," Mortenson said. "Every time I've been privileged enough to work with him as a colleague, I've turned to him on countless occasions for advice and wisdom. His exceptional ability to blend fine-grained legal analysis at the most minute level of detail with a broad architectural sense for the sweep of the legal landscape makes him a perfect choice for this extremely important job. This is an exciting and rare opportunity for him to pursue his longstanding commitment to public service at a level of responsibility that very few lawyers have a chance to assume."
Mizer joined the DOJ as deputy assistant attorney general in the Office of Legal Counsel. Before being named acting assistant attorney general, he served as counselor to the attorney general, providing advice on a wide range of matters including civil litigation, civil rights, and national security. He was presented the Attorney General's Award for Exceptional Service—the DOJ's highest award–in October 2014 for his work on United States v. Windsor, the decision that struck down Section 3 of the Defense of Marriage Act.
Prior to joining the Justice Department, Mizer was the solicitor general of Ohio. He also clerked for the Hon. Judith W. Rogers of the D.C. Circuit.
more ....

Ann Arbor to Addis Ababa: MLaw Students Build Partnerships Abroad to Combat Human Trafficking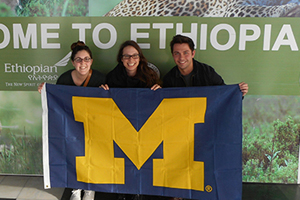 By Jenny Whalen
At 7,379 miles, the physical distance between Ann Arbor, Michigan, and Addis Ababa, Ethiopia, is vast—the political and cultural expanse equally so. But now a partnership between the University of Michigan and Addis Ababa University has begun to bridge that gap as both work to combat human trafficking.
Representing Michigan Law's Human Trafficking Clinic, 3Ls Daniel Cellucci and Danielle Kalil-McLane recently joined two U-M School of Nursing students and five Ross School of Business students on a visit to Ethiopia, where members of the U-M delegation met with Ethiopian citizens interested in establishing a comprehensive services clinic—offering legal, health care, counseling, and employment resources—through a partnership with Addis Ababa University.
The trip was organized and led by Eva Foti-Pagán, '12, who previously visited Addis Ababa in January with Clinical Professor of Law Bridgette Carr, '02, who directs Michigan Law's Human Trafficking Clinic. The two had been invited to participate in a symposium hosted by the Ethiopia-Michigan Platform for Advancing Collaborative Engagement (EM-PACE), a project designed to foster bold new Michigan initiatives in Ethiopia—among them the clinic's own "Triple R" initiative that looks to "Recognize, Respond, and Reintegrate" victims of human trafficking. The purpose of the most recent U-M trip—made possible through financial support from EM-PACE, the International Institute, and the William Davidson Institute—was to help implement this initiative.
"Triple R represents a way for us, and other clinics around the world, to track the life-cycle of a trafficking victim," Foti-Pagán said. "One thing we have learned at the clinic is that trafficking victims don't just have legal needs. They also have psychological needs and healthcare needs and, certainly, financial needs. Getting our clients good jobs, for example, is one of the best ways to prevent them from being re-trafficked."
Cellucci and Kalil-McLane have focused this semester's work on establishing a way for U-M and the Addis Ababa University College of Law and Governance Studies to exchange materials and best practices regarding clinical legal education and advocacy, but while in Addis Ababa, they were able to accomplish much more.
"We had a week full of 9 a.m.-to-5 p.m. meetings," Kalil-McLane said. "Some of them were at Addis Ababa University, our partner in this project, while others were with nonprofits, government entities, businesses, and hospitals around the city. We set out to learn the needs of the population and how the students at Addis Ababa would be able to meet those needs."
(View a collection of photos from the visit.)
A chief objective of the trip was to gain an understanding of the dialogue that surrounds victims of trafficking. "We wanted to know what sort of stigma might be attached to this population and what barriers we would face in establishing a clinic to serve their needs," Kalil-McLane added. "We had a lot of questions for the different groups we met with."
Those groups were also eager to engage in conversation with their American counterparts.
"At the university, for instance, both the professors and students were interested in learning about the American legal system," Cellucci said. "We had the opportunity to speak in several classes and spent much of the time answering questions about the U.S. legal model. They were very curious about the differences between our legal system and their own."
This exchange of information between Ann Arbor and Addis Ababa will continue as the Ethiopian university prepares to open its clinic this coming fall. (Read more: Clinic efforts in Brazil)
"This was one step in the process and we have so much to do before getting them to the place where they are ready to open their doors," Cellucci said. "This was an amazing trip and answered a lot of questions, but it raised even more."
While Cellucci and Kalil-McLane will conduct the remainder of their work on this project working closely with Foti-Pagán in Ann Arbor, both are grateful to have had the opportunity to meet with their partners abroad and to do so as part of an interdisciplinary U-M team.
"To be in a classroom, interacting with law students on the other side of the world, wasn't an opportunity I thought I would have in law school," Cellucci said.
"It was rewarding to work with different professions on the project as well," Kalil-McLane added. "To hear from our peers in the business and nursing schools, as well as work with academics, business leaders, and health care professionals in Ethiopia, gave us an even more comprehensive picture of the project."
And the interdisciplinary conversations went well beyond daytime meetings, said Foti-Pagán, describing how the group met each night over dinner to exchange observations and discuss how they might apply them to the project. "It quickly became clear just how enriching having multiple perspectives at the same table can be. The students did an amazing job collaborating and we all learned a lot from each other. This was interdisciplinary education—and advocacy—at its best."
Ultimately, the week spent abroad is an experience Cellucci, Kalil-McLane, and their colleagues will long remember (and not only for the reportedly excellent Ethiopian coffee).
more ....

Philanthropy Awareness Day Shows Impact of Private Support
By Amy Spooner
When colorful balloons and signs fill the Law Quad this time of year, it doesn't mean that preparations for football tailgates are underway already. It means Philanthropy Awareness Day is here, a reminder that the entire Michigan Law community is made better through the support of private donors.
The event was launched in 2013 and was so successful that the Office of Development and Alumni Relations decided to make it an annual occurrence, said Todd Baily, assistant dean for development and alumni relations. Staff members and student volunteers—many of whom are involved with the Law School Student Senate, student organizations, and the Nannes 3L Challenge—use Philanthropy Awareness Day to showcase the ways that private support improves life in the Quad.
"What many MLaw students do not realize is that the cost of our tuition is lower than the actual price of our education. So regardless of whether we are formally awarded scholarships, we each benefit from the generosity of our donors," said Dayna Chikamoto, a 3L and co-chair of the 2015 Nannes Challenge Committee. "Private donations help to fund so many things at the Law School—from the creation and renovation of the academic buildings where we study and socialize, to the operation of the clinics, journals, and student organizations in which we are involved."
(View an image gallery from Philanthropy Awareness Day.)
The extent of private support came as a surprise to Alison Toivola, a 3L who participates in several student organizations that receive support from the Law School Fund. "Although I've written thank-you letters to donors each year, until today I didn't realize the scale of what those donors make possible," she said.
Gifts from alumni and friends account for approximately one-third of the Law School's operating budget, and in addition to student scholarships and fellowships, they help to fund faculty professorships, facilities, speakers, student organizations, and much more. With the Law School having kicked off the $200 million Victors for Michigan fundraising campaign in November 2013, Baily said it's more important than ever for the Michigan Law community to understand how philanthropy makes much of the Law School experience possible. "We all talk about the sense of community at Michigan Law, but it's important to understand that community is lifelong. Michigan Law graduates are incredibly passionate and generous, and they deserve our heartiest thanks for their loyalty to the Law School." The first step toward gratitude, Baily said, is to understand all the ways private support makes a difference.
During Philanthropy Awareness Day, signs posted throughout the Law School highlighted the ways private support impacts the Quad, such as the fact that more than 700 students are receiving scholarship support or summer funding from alumni gifts this year. Development and alumni relations office staff were on hand to offer treats and "I Benefit" stickers to students. "We hope students will see that alumni and all of us at the Law School are invested in their success," said Janice Glander, director of annual giving. "Therefore, we hope students will carry on the tradition and do their part after they graduate."
more ....

MLaw Faculty Offer Guidance to Aspiring Law Profs
Michigan Law graduates: Are you seeking a law teaching job or planning to apply for legal academia jobs in the future? The Law School's Alumni Academic Placement Committee can offer the help and guidance you need. Led by Professors Joan Larsen, Jessica Litman, Julian Mortenson, and J.J. Prescott, the committee's services include CV review and guidance, job search and placement strategy development, interview preparation, and assistance in reconnecting with faculty references. If you are interested in law teaching now or in the future, contact LawAlumAcademicPlacement@umich.edu.