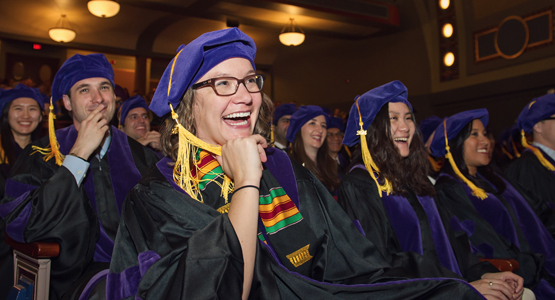 Senior Day Messages Encourage Grads to Embrace Change, Be Authentic
By Jenny Whalen
"Be humble. Take chances. Be a team player. Maintain your integrity. And above all else, be real. Be you." With those words, graduates of the University of Michigan Law School's Class of 2014 joined the likes of American presidents in receiving the expert counsel of Kathryn Ruemmler.
The longest-serving counsel of Barack Obama's presidency, Ruemmler delivered the Law School's Senior Day address May 10, offering Michigan's graduating JDs, LLMs, and SJDs advice gleaned from her own extraordinary career.
(View an image gallery of Senior Day celebrations.)
"Don't worry about what other people think," Ruemmler advised the audience in Hill Auditorium. "I know you are skeptical of this idea, but in my experience if you just allow yourself to be you—your authentic self—and follow your own path rather than comparing your path to that of others, success—success for you—will come."
And in striving for this "blissful authenticity," Ruemmler urged graduates to not only accept change but also embrace it—a sentiment Dean Mark D. West shared in his own address.
"Our graduates change the world," West said. "You went to Michigan. Your experience at Michigan Law gives you a greater ability to change than most people. You will not be the same lawyer in 10, 20, or 40 years as you are today. As a Michigan-trained lawyer, you will adapt to new issues, new clients, and areas of the law that don't yet exist. Michigan Law has changed you."
The awesome impact of this community on its members is one that Betsy Fisher and Danish Sheikh know well. The respective representatives of the JD and LLM classes, Fisher and Sheikh spoke of their classmates' boundless support, empathy, and ever-creative use of the law open listserv.
"People in this community are willing to go out of their way to help one another," Fisher said, using the law open listserv as a prime example. From the sale of football tickets and textbooks to exam advice and event invitations, this email group "encapsulates the qualities and quirks of the Law School community" and leaves little doubt as to the generosity and compassion of its members, she said.
"We came from vastly different countries and now many of us are going back but we take with us little invisible links, little chains of affinity that we have created here," added Sheikh, a native of India. "We take them back to the places where we came from and these little chains of affinity radiate out from Ann Arbor and span across this big world that is suddenly less huge."
But should the distance ever grow too great, West bid the Class of 2014 to remember this simple truth: "Michigan Law is your home. You will always have a home here."
Congratulations, Class of 2014. Don't stay away too long.
more ....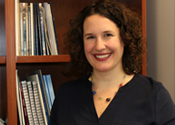 Lindsey Stetson, '05, Named Michigan Law's Director of Financial Aid
By Lori Atherton
Discussing how to finance one's law school education and pay back loans can be a daunting prospect for students, but Lindsey Stetson, Michigan Law's newly appointed director of financial aid, hopes to lessen the anxiety surrounding the topic.
Stetson, a 2005 graduate of Michigan Law, was officially named director of financial aid after serving as acting director following last fall's retirement of Katherine Gottschalk, the longtime assistant dean for financial aid. Stetson previously had served as Michigan Law's assistant director of admissions since 2009. Prior to joining the Law School, she practiced corporate transactional law at Miller Canfield in Detroit and at Skadden, Arps, Slate, Meagher & Flom LLC in Chicago.
"I'm really enjoying my new role and think it's a great fit for my personality, skill set, and background," Stetson said. "I was a corporate transactional attorney, so my knowledge of numbers and how systems work is really helpful in looking at the big picture of financial aid. Having worked in admissions, I interacted with admitted students on how to choose a law school, and now I can counsel them on how to think about finances when making a law school choice, and how to think about debt once they become students and after they graduate."
Sarah Zearfoss, '92,
senior assistant dean for admissions, financial aid, and career planning, said she is "thrilled to be working with Lindsey in this new capacity. To see her putting her considerable skills to use on behalf of our alumni and current students, as well as our prospective students, is terrific. She has already come up with ways to improve the way Financial Aid works with other parts of the Law School, like the Office of Career Planning, and I can't wait to see all the fresh ideas she will contribute."
One of Stetson's goals is to provide more education for incoming and current students on the ins and outs of financial aid, from helping them better understand how loans work and what it means to have debt, to budgeting and recognizing how debt can affect their career choices and financial future. When counseling students, Stetson said she often draws upon her personal experience of having attended Michigan Law and taken out loans, which provides a real-world perspective that resonates with students.
"I know the technical aspects of taking out a loan and the financial impact when you are repaying student debt," Stetson said, "but I also know how it feels emotionally to make career choices and change jobs, and how my law school debt played a role in those choices. I think it's comforting for students to know that someone was in the same position that they are in now."
Stetson stresses that it's important for students to be proactive and ask questions early on about their repayment plan options, and to keep track of how much they've borrowed over the course of their law school career in order to avoid being caught unaware at graduation.
"Be aware of what you are borrowing and what the financial impact will be," Stetson said. "Don't wait until the 11th hour, because we don't want you to be surprised by your debt and how much it will cost to pay it back. Students can talk to us at any time about their concerns—we're here to counsel students at any point in the process. We never want students to reach the point that they feel uncomfortable with or unsure of their decisions."
Michigan Law's Financial Aid Office is located in South Hall, Suite 2200. To schedule an appointment, call 734.764.5289 or email lawfinaid@umich.edu. Walk-in appointments are also available Monday through Friday.
more ....

Michigan Law Surpasses 100 Clerkships for Second Year
By Lori Atherton
Diana Cieslak, '10, can attest to the invaluable benefits of serving as a judicial clerk. After graduating from Michigan Law, she clerked for the Hon. Pierre N. Leval on the U.S. Court of Appeals for the Second Circuit, then put the practical skills she gained to use as an associate at a law firm in Washington, D.C. She is now completing a second clerkship with the Hon. Cornelia T.L. Pillard of the U.S. Court of Appeals for the District of Columbia.
"I have had a wonderful experience clerking, and have enjoyed that it has exposed me to a wide variety of issues and subject matters," Cieslak said. "I have significantly improved my writing and analytical skills, and reading a variety of briefs and attending numerous oral arguments has given me a better understanding of what makes a strong oral argument. Working for a judge helps you to gain tremendous insight into how the process works behind the scenes."
Staff members in Michigan Law's Office of Career Planning are looking forward to this year's clerks enjoying an experience similar to Cieslak's. As of June 2, 122 Michigan Law 3Ls and graduates have secured clerkships for the 2014 term—a total that has surpassed the record 117 clerkships that were secured by Michigan Law students and graduates in 2013. This is the third time in a decade that Michigan Law is celebrating the 100-plus mark for clerkships.
"We anticipate this to be another outstanding year," said Greta Trakul, attorney-counselor and judicial clerkship adviser in the Office of Career Planning. "It's early in the clerkship process, and already we have at least one graduate placed in every U.S. circuit court for 2014."
Geographically, Michigan Law's clerks are spread out across the country and can be found at every level of the federal and state judiciaries, serving one- or two-year terms. Ashley Richardson, for example—the 100th Michigan Law student or graduate to secure a clerkship for 2014—never expected that her judicial clerkship would take her as far south as Mobile, Alabama, but come September, the recent grad will be headed there to work for U.S. Magistrate Judge Sonja Bivins.
"It's a huge strength that we have alums clerking all over," Trakul said. "It provides incredible support for our students wherever their clerkship opportunities might take them."
Wherever graduates land, clerking provides them with a solid foundation for their legal careers. "A clerkship is a great launching pad, regardless of where you want your career to go," Trakul noted. "It provides a strong writing foundation, improves your analytical skills, and enables you to develop a mentoring relationship with the judge you work for. It's also one of the few things you can do that employers universally value; public interest, government, and law firm employers seek out clerks because of the exceptional and translatable skills a clerkship builds."
Those interested in applying for clerkships are advised to consult with Trakul and Joan Larsen, Michigan Law's longtime faculty clerkship adviser, who can help applicants navigate the clerkship process, from identifying where to apply and refining their resumes and cover letters, to assembling a strong application package and honing their interview skills.
"Start thinking early about what you need to apply for a clerkship and begin to build your portfolio," Larsen advises. "Get to know your professors, speak up in class, get writing samples from your 1L job or join a journal. Don't panic, though, if you begin the process a little late—there are always judges who will hire later in the clerkship cycle."
Having a bit of patience also helps, adds Richardson, who is excited about the opportunity to hone her legal research and writing skills and to gain a better understanding of the judicial system. "I began applying for clerkships last summer and didn't receive my offer from Judge Bivins until February. Students shouldn't give up early or get discouraged."
Do you have a clerkship for 2014, 2015, or beyond? If so, please contact Greta Trakul in the Office of Career Planning at gtrakul@umich.edu. We'd like to count you among our many Michigan Law success stories.
more ....

Calling Aspiring Law Profs
Are you a Michigan Law graduate hoping to enter the world of legal academia? Are you planning on entering the teaching market in fall 2014? If so, here are some ways Michigan Law can help you in your job search.
Plan to attend the AALS Faculty Recruitment Conference, which will be held Thursday through Saturday, Oct. 16-18, at the Marriott Wardman Park Hotel in Washington, D.C. To register for the conference, visit www.aals.org and complete the Faculty Appointments Register (FAR) form listing your scholarship, areas of expertise and teaching interests, work experience, and educational background. You will also need to prepare an academic CV, which Michigan Law will circulate on your behalf to the hiring committees of law schools around the country. Need help? A Michigan faculty member can review and comment on your CV and FAR form to help you put your best foot forward. Please send a copy of your CV no later than Monday, July 7, to lawalumacademicplacement@umich.edu. Please type "CV Review" in the subject line of your email. To be included in the Michigan Law CV book, please submit your finalized CV to the same address no later than Thursday, Aug. 21. Please use "Final CV" in the subject line of your email.
Wondering how to prepare for interviews at the AALS Faculty Recruitment Conference and for on-campus interviews? Would you like to practice your job talk in front of a panel of Michigan Law professors and alumni? If so, plan to attend the Future Law Professors Workshop at Michigan Law on Friday, Sept. 12. To register, email Jenny Rickard by Tuesday, Sept. 2.
Visit Michigan Law's Careers website for more information and read the recent Law Quadrangle article about the Michigan Law faculty who prepare alumni for academia.