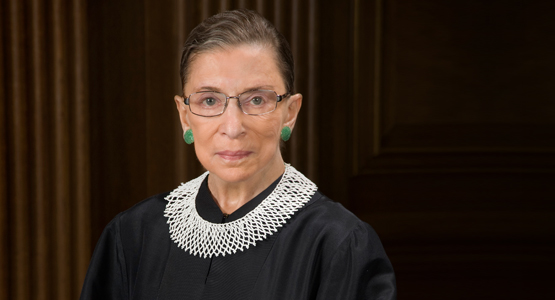 Justice Ginsburg to Deliver Tanner Lecture on Feb. 6
By Lori Atherton
Ruth Bader Ginsburg, associate justice of the U.S. Supreme Court, will present the University of Michigan's 2015 Tanner Lecture on Human Values on Friday, Feb. 6, from 10 to 11:30 a.m. at Hill Auditorium in Ann Arbor.
"A Conversation with Justice Ruth Bader Ginsburg" is open to Law School students, faculty, and staff, as well as members of the general public, including alumni.
Tickets are required for the event and will be available to the general public on a first-come, first-served basis beginning Monday, Feb. 2. View ticket information.
The conversation with Justice Ginsburg will be moderated by two of her former law clerks, who are now members of the Michigan Law faculty: Kate Andrias, an assistant professor of law, and Scott Hershovitz, a professor of law and philosophy, who also directs the University's Law and Ethics Program, which is sponsoring the Tanner Lecture.
"We are thrilled to welcome Justice Ginsburg to campus," Prof. Hershovitz said. "She has led an extraordinary life—as a forceful advocate for gender equality, as an incredibly successful litigator, and as a deeply respected judge. We're looking forward to hearing what she's learned along the way."
Justice Ginsburg, who has served on the Supreme Court since being appointed by President Bill Clinton in 1993, will participate in private engagements at the Law School throughout the day. In addition to Professors Hershovitz and Andrias, three other Law School faculty previously clerked for Justice Ginsburg: Professors Sam Bagenstos, Richard Primus, and Margo Schlanger.
This will be the third time in recent years that the Law School has hosted a visit from a Supreme Court justice. Associate Justice Elena Kagan spoke in 2012 to mark the dedication of the South Hall academic building, while Chief Justice John G. Roberts visited the Law School in 2009 as part of the Law School's Sesquicentennial celebration.

Checking Boxes: Prof. Martha Jones Discusses Life at the Intersection of Law and Mixed-Race Identity for MLK Day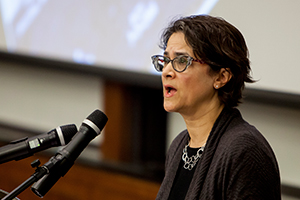 By Jenny Whalen
Prof. Martha S. Jones has long struggled with the idea of checking more than one box. Her reluctance to do so has been influenced by a lifetime of changing perceptions about her own identity.
Born to an interracial couple a decade before the U.S. Supreme Court ruled on the legality of such a relationship in Loving v. Virginia, Jones, who codirects the Program in Race, Law & History at U-M, crossed the color line at birth. As the featured speaker for Michigan Law's Martin Luther King Jr. Day lecture on Jan. 19, Jones reflected on her mixed-race experience to open up an understanding of how legal culture has wrestled with the idea that Americans might check more than one box of racial identity. (Watch the full lecture online).
"Today I'm going to be asking myself, 'How does it feel to be a problem?'" Jones said, looking to address the same question contemporaries of W.E.B. Du Bois asked him at the dawn of the 20th century. For Jones, the answer to this question starts with Loving v. Virginia.
"It has been nearly 50 years since the U.S. Supreme Court struck down anti-miscegenation laws, the oldest and most enduring reflections of the law's role in constructing race and racism," Jones said. "But Loving still lives."
For students of race and law, she observed, the 1967 case marks the toppling of Jim Crow's final pillar. For students of marriage, she said, Loving offers important precedent, legal as well as cultural, for proponents of marriage equality. For people like herself, "Loving marks the moment when our families, families that transgress law and the color line, became legitimated, permissible, cognizable dimensions of our national landscape. Loving said something powerful and new about our parents and the choices they had made about whom to love and with whom to make a family."
"If American legal culture has adapted well to the changes in marriage that Loving brought, it has done less well reconciling itself to the children of those marriages," Jones added.
Projecting an image of her birth certificate for the audience, Jones noted her listed race: white. It was assigned, she explained, not by her parents, but rather by the doctor, who made an assumption based on appearance—her mother was white and her father, who was black, wasn't present in the delivery room, as was the custom in 1958.
Uncovering the error at age 19, Jones said she remembers proposing that the certificate be amended but admits that she later lost her nerve.
"I knew that neither designation, white nor black, was one that I might easily or emphatically claim, and I had no alternative to offer up," she said. Government at the time had a very limited vocabulary for describing and categorizing multiracial individuals, she added. "The taxonomy of the mid-20th century required that we be squeezed into one box, and it wasn't always an easy fit."

The opportunity to check more than one box came with the 2000 census. It also came with a warning from the federal government: Those who refuse or willfully neglect to answer a question to the best of their knowledge, or give an answer that is false, will be fined.
"I learned of these regulations while teaching a class at Michigan—after I had completed my 2010 return," Jones said. "I can't remember my own state of mind. I thought, 'Not only can't I keep my own boxes fixed in my mind, I'm now liable to federal prosecution if I've gotten them wrong.'" But, Jones added, maybe President Barack Obama, who checked only the box for black on the 2010 census, was too.
Only in recent years has Jones come to identify as mixed race—an identity that is today, as it was in the era of Du Bois, still regarded as "a problem," Jones said. She cited U.S. Supreme Court Associate Justice Anthony Kennedy's opinion in Schuette v. Coalition to Defend Affirmative Action, which referenced the nation's blurring race lines and the issues raised as a result.
"In some ways I suspect there is no neat end to this story or this talk," Jones said. "There will be more anecdotes and ways to think about how courts, legal culture, and our culture at large think about and grapple with the fact, the possibility, the problem that mixed-race people represent. There is nothing new about regarding mixed-race people as a problem in the United States, and Justice Kennedy adds just one more chapter to that saga."
more ....

New Report Reveals Record Number of Exonerations in 2014
By Lori Atherton
A record 125 exonerations of wrongly convicted criminals were recorded in 2014, according to a new report released Jan. 27 by the National Registry of Exonerations.
This is the first time the Registry, a project of Michigan Law School, has documented more than 100 exonerations in a year. In 2013, the Registry recorded 91 exonerations.
"The big story for the year is that more prosecutors are working hard to identify and investigate claims of innocence. And many more innocent defendants were exonerated after pleading guilty to crimes they did not commit," said Michigan Law Prof. Samuel Gross, the editor of the National Registry of Exonerations and the author of Exonerations in 2014.
According to the report, 47 of the 125 exonerees in 2014—or 38 percent—were exonerated for crimes to which they had pled guilty. Nearly half of the known exonerations last year—46 percent—were cases where no crime had occurred.
The states with the most exonerations in 2014 were Texas (39), New York (17), Illinois (7), Michigan (7), Ohio (6), North Carolina (4), Louisiana (3), Maryland (3), Oregon (3), Pennsylvania (3), and Tennessee (3). While these states have the most recorded exonerations, they are not necessarily those where most false convictions have occurred.
Launched in 2012, the National Registry of Exonerations provides detailed information about every known exoneration—currently 1,536—in the United States since 1989. The cases are those in which a person was wrongly convicted of a crime and later cleared of all charges based on new evidence of innocence.