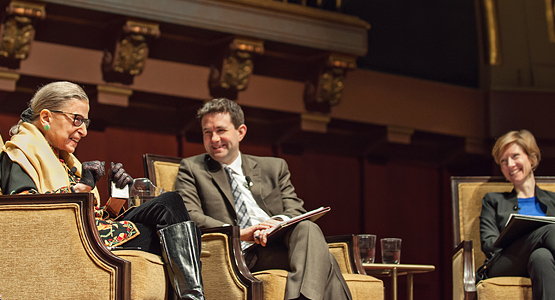 Justice Ginsburg: "I Like to Think Most of My Dissents Will be the Law Someday"
Justice Highlights Key Moments in Legal History During Tanner Lecture
By Katie Vloet
Associate Justice Ruth Bader Ginsburg is accustomed to being ahead of her time—and she thinks that her minority opinions in many U.S. Supreme Court cases might be as well.
"I like to think most of my dissents will be the law someday," Ginsburg said to thunderous applause Feb. 6 during the 2015 Tanner Lecture on Human Values at the University of Michigan's Hill Auditorium.
The justice participated in an engaging and spirited 90-minute conversation during which she spoke about milestones in her own life, as well as key moments in the legal history of the past several decades. She talked about her dissent in the Citizens United case in which the Supreme Court lifted restrictions on campaign finance. Ginsburg said that is the decision she would most want to see overturned. She also predicted that the pendulum would swing and that "there will come a time when people are disgusted" with the increasing influence of money in politics.
The 81-year-old justice also addressed the question of how long judges should serve. "As long as I can do the job at full steam, I will stay in it. But when I begin to slip, as I inevitably will, when that happens it will be the time to go," she said.
An opera enthusiast, Ginsburg told the audience of more than 3,000 people about an upcoming opera in which the characters are based on her, one of the Court's liberal voices, and Antonin Scalia, one of the most conservative justices on the Court. Scalia/Ginsburg will premiere in Virginia in July. It opens, she said, with a "rage aria" by Scalia in which he asserts his strict-constructionist view of the Constitution. Ginsburg's character then sings an answering aria in which she points out that the Constitution, like society, can evolve. Scalia is later imprisoned in a dark room for "excessive dissenting." She rescues him in dramatic fashion, by breaking through a glass ceiling.
In other portions of the talk:
The justice recalled her decision to go to law school in 1956. It was a choice between business school and law school at Harvard, and the former did not admit women at the time. "Business school was eliminated, and that left law school," she said. She was one of nine women in her class (she later transferred to, and earned her degree from, Columbia Law School).
She spoke about teaching her first classes on women and gender in the law at Rutgers. To prepare, she read everything about women and the law that had been written—which turned out to be very little. (At Rutgers, she cofounded the first law journal in the country to focus exclusively on women's rights, and later at Columbia, she became the first tenured woman and coauthored the first law school casebook on sex discrimination.)
Ginsburg advised those in the audience to "repair tears in your local community" through public service. "Pursue whatever is your passion, in addition to the job for which you are paid," she said. "It will give you satisfaction a paycheck never could."
She recounted having her clerks explain to her who the Notorious B.I.G. was after learning about the popular Notorious R.B.G. Tumblr page and T-shirts that were created as a tribute to her. She and the rapper "both grew up in Brooklyn."
Ginsburg was the second woman ever appointed to the Supreme Court, following Justice Sandra Day O'Connor, and the first female Jewish justice. President Bill Clinton nominated her in 1993. She previously was a judge on the U.S. Court of Appeals for the District of Columbia Circuit, a faculty member at Rutgers and Columbia, and founder of the Women's Rights Project at the American Civil Liberties Union.
This year's Tanner Lecture was presented by Michigan Law and the U-M Philosophy Department. Ginsburg was interviewed on stage by two of her former law clerks: Scott Hershovitz, professor of law and of philosophy and director of the Law and Ethics Program; and Kate Andrias, assistant professor of law.
Related coverage:
more ....

International Transactions Clinic Helps Jibu Test Waters of Franchise in Africa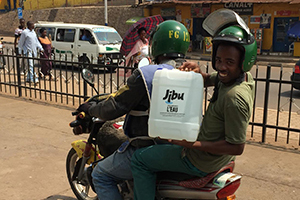 By Jenny Whalen
When a Jibu​ franchise opens in Uganda or Rwanda—and provides a new community with access to clean, affordable drinking water—traces of that success are felt 7,500 miles away in the International Transactions Clinic (ITC) at Michigan Law.
The source of this shared sense of achievement is the social franchise agreement that ITC students have developed to facilitate Jibu's continued expansion in Africa.
"It has been not just a tremendous pleasure to work with the ITC, but essential to Jibu's success," said Randy Welsch, cofounder and U.S. CEO of Jibu. "We needed to get a social franchise agreement written properly and quickly to be used with our new franchisees who were launching water businesses in Uganda and Rwanda."
Knowing the clinic's reputation for providing top-notch transactional work to social enterprises, Welsch approached ITC Director Deborah Burand in September 2014 to inquire about becoming a client of the clinic. For Burand, the significance of this request went beyond day-to-day business.
"That Randy [Welsch] came to the clinic suggested to me that we have succeeded at our mission of developing world-class legal services for our clients," Burand said. "He didn't come purely for the pro bono benefits. He came for our world-class service. It's a wonderful affirmation of the reputation that our clinic has been able to grow."
Jibu, which signed on with the ITC in October 2014, employs a business model that invests in local entrepreneurs. As the water sector's only incubator, Jibu seeks to supply its franchisees with the tools they need to launch independently owned water treatment, packaging, and distribution centers in African communities. These franchises in turn make quality drinking water convenient and affordable to the communities they serve.
"This is usually called microfranchising, which suggests a small investment for the franchisee," said David Koch, the project's supervising attorney and a 1984 Michigan Law graduate. "In most cases the program is sponsored by an organization that is trying to have a social impact of some kind. In Jibu's case, they are trying to get clean water to communities, but also to enable local people to build a business that is sustainable in places where it is often difficult to start one."
Key to the success of this mission is the strength of the relationship between Jibu, its regional developers (who are essentially country directors), and its individual franchisees. With this need in mind, ITC student-attorneys Sarah Fries and Megan Staub, both 2Ls, were tasked with drafting a social franchise agreement that would define each party's responsibilities and protect the Jibu brand.
"We wanted to build from the bottom, so we began drafting an agreement between the regional developers and the franchisees," Fries said. "Our supervising attorney, David Koch, has been amazing. He let us take the lead on each draft and has only stepped in to help us fine tune. In a clinic you can sometimes feel as though you're doing shadow work, but there was real pressure here to get the agreement done because Jibu was going to implement it in 2015."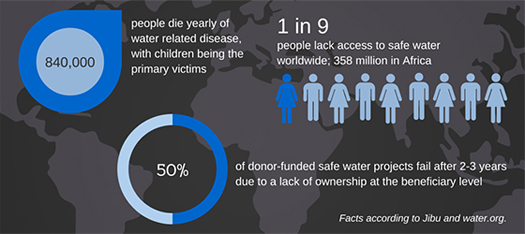 With the first agreement—between regional developers and franchisees—now in Jibu's hands, the ITC team has started drafting a second agreement concerning the relationship between regional developers and Jibu corporate.
"Sarah and Megan are doing real work for clients that I probably wasn't doing until I was five or six years into practice," Koch said. "The opportunity to work with the client directly, to sit in a meeting with him and ask questions about business, social objectives, and how the two work together, is not something you normally get during law school. This is a rare opportunity and one that will give them a big head start in their careers."
more ....

Around the Law School: An Events Roundup
As Michigan Law students and faculty rush toward the end of the winter semester and graduation, there are plenty of activities to keep them hopping. Here, we've compiled some of the big events that are taking place at the Law School in upcoming months. If you're in Ann Arbor on one of these days—or any day, for that matter—stop by and see us.
March 13: Inaugural Brian Simpson Lecture: Gibbons v. Ogden, without the Commerce Clause: Of Steamboats, a River, Slaves, a Quarrelsome Family, a Bank, and the Legal Lives of Two Old Men, 4-6 p.m., Hutchins Hall 132. Free and open to the public.
Presenter: Hendrik Hartog, the Class of 1921 Bicentennial Professor in the History of American Law and Liberty and director of the Program in American Studies at Princeton University.
The biennial Brian Simpson Lectures in Legal History bring distinguished scholars to the University and reinforce the longstanding ties between the U-M Law School and the Department of History. This series honors the late Prof. Brian Simpson, who was internationally recognized as one of the most gifted and wide-ranging historians of the English common law. The lecture series is made possible by the generous support of the Thomas and Ruth Green Legal History Endowment.​
more ....