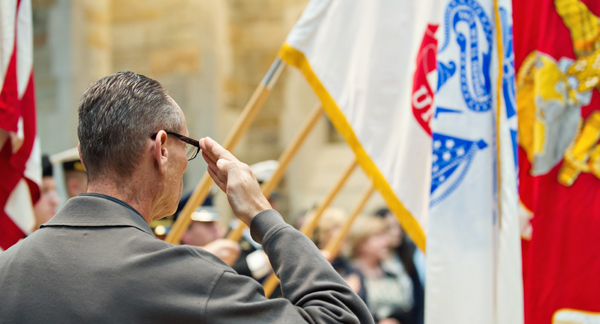 MLaw Community Celebrates Veterans Legal Clinic Kickoff
By Amy Spooner
The maize and blue honored the red, white, and blue as the presentation of the colors by the U-M ROTC Color Guard kicked off a festive celebration of Michigan Law's Veterans Legal Clinic.
"I have been looking forward to today for a very long time," said U-M Regent Katherine White at the November 5 event. "This celebration makes it official: the Veterans Legal Clinic at the University of Michigan Law School is standing ready to serve those who have served." White, who is both an attorney and a lieutenant colonel in the U.S. Army, said that many veterans can face daunting legal issues after returning from deployment, and the path toward quality legal care can be confusing and/or cost prohibitive. "The more than 660,000 veterans in the state of Michigan need someone to take their case, be their advocate, and have their back. We are compelled to step up. I am proud to say Michigan Law is doing precisely that."
With a seed gift from the Bob Woodruff Foundation, a lead gift from Susan and Tom Washing, '66, and gifts from other individuals, firms, and foundations, the Veterans Legal Clinic became the Law School's 18th clinic this fall. "Today's celebration wouldn't be happening without those whose generous support made the Veterans Clinic possible," said Dean Mark West. "We are grateful to them, and we also are grateful for the advice and enthusiastic response we have received from the community, from the military, and from other organizations that serve our veterans."
View an image gallery from the kickoff.
Staffed with six Michigan Law student-attorneys—five of whom are veterans—the clinic represents veterans and, in some instances, their immediate families in a variety of civil matters. It also will assist veterans with service-related matters such as disability benefits and discharge status challenges. In addition, the clinic will work collaboratively with other units on campus, including the schools of social work and medicine, to holistically address veterans' needs upon returning home. It's an array of services that is long overdue for the state of Michigan's military veterans, who number among the highest state totals nationwide. By seeking to address their needs, the Veterans Legal Clinic upholds Michigan's ideals as a public university, noted U-M President Mark Schlissel.
"We measure our success as a University by the impact we make on society," Schlissel said. "Over the years we have also built an impressive assembly of excellent academic programs in disciplines that have a tremendous impact of people's lives. These programs provide some of the best experiential opportunities, so our students learn as they serve. I am very proud that the University of Michigan's excellence and impact are both represented so strongly in the clinic we are celebrating today."
Keynote remarks were given by Dave Woodruff, the chairman of the Bob Woodruff Foundation, and his brother Bob Woodruff, who addressed attendees via video from Southeast Asia while on assignment for ABC News. The Bob Woodruff Foundation was established after Bob nearly died from injuries sustained in an explosion while on assignment for ABC in Iraq in 2006. As he recovered in a military hospital, he learned of a wounded veteran down the hall whose family couldn't afford to take leaves of absence from work to be with him. Woodruff later met another veteran who was not eligible to receive some benefits because while injuries had taken his vision, he was not declared to be 100 percent blind. "Imagine what would have happened if there had been law students fighting for these veterans' rights," Woodruff said. "Someday you will be able to look back on your time in law school, and share stories of what you witnessed in the veterans legal world and how you fixed it," he told the students in the audience. "You should be very, very proud."
One of the inaugural student-attorneys in the clinic, second-year student Alexis Bailey, shared that pride and excitement on behalf of the students. "To say that we are enthusiastic supporters of this endeavor would be an understatement," said Bailey, who is the president of the Michigan Law student veterans' organization and also a major in the United States Air Force Reserve. "We all have different service backgrounds and different career ambitions, but we are united in the cause of serving others who have served our country."
more ....

Theresa Kaiser-Jarvis Named Assistant Dean for International Affairs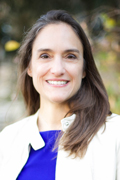 Theresa Kaiser-Jarvis—a lawyer and long-time international higher education administrator—has been named the Law School's assistant dean for international affairs.
"I'm thrilled to join Michigan Law's international team," said Kaiser-Jarvis. "The Law School has an unparalleled reputation in the international arena, and I look forward to working to continue to advance our influence, expand U-M's global footprint, and support students in engaging globally."
Kaiser-Jarvis joins the Law School from American University Washington College of Law, where she was director of global opportunities and responsible for the daily operation and strategic development of international programs, initiatives, and outreach. She also served, for a time, as the director of study abroad and international exchange. Kaiser-Jarvis's career includes work as: a research analyst for Harvard University's Faculty Development and Diversity Office; admissions file reader at Boston University School of Law; owner and director of English Now!—a private company that taught English as a second language to adults; corporate counsel at iNet Purchasing, Inc.; attorney-adviser for trademarks at the U.S. Patent and Trademark Office; and adjunct professor at the University of Maryland University College Europe and City Colleges of Chicago, European Division.
Kaiser-Jarvis holds a JD from Emory University School of Law and an EdM from Harvard's Graduate School of Education, as well as a BA and BSJ from the University of Kansas. In February 2012, she received a 20th Anniversary Award of Recognition and Support for work with Iraq–Commercial Law Development Program from the U.S. Department of Commerce. She is the immediate past chair of the AALS Section on International Legal Exchange and currently serves as a member of the ABA's Foreign Programs subcommittee.
more ....

MLaw Hosts International Experts to Discuss Interdisciplinary Approaches to Financial Stability
By Katie Vloet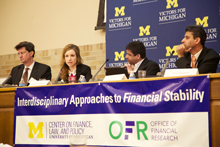 A conference at the University of Michigan Law School presented interdisciplinary approaches to financial stability, drawing from fields as diverse as complex systems and infectious diseases to gain a better understanding of why financ​ial systems fail—as well as how to prevent a repeat of the financial crisis of 2008.
The Oct. 22-23 conference, "Interdisciplinary Approaches to Financial Stability," featured regulators, policymakers, financial market participants, and academic researchers from a broad range of disciplines. Participants explored how methods from diverse fields, such as system analysis, agent-based modeling, and data visualization and security, can be used to better identify, measure, monitor, and mitigate risks in the financial system.
They also examined how risk is measured, monitored, and mitigated in other sectors and contexts, such as supply chains and electrical grids; how stakeholders make tradeoffs between stability, efficiency, and innovation in these contexts; and how lessons from these contexts can be applied to the financial system.
"An expert on complex systems—who helped to improve the safety of space-shuttle tiles—spoke about the ways that risk-analysis models fail to show everything that can go wrong. An epidemiologist talked about how contagion in the financial system resembles contagion of disease," said Michael S. Barr, the Roy F. and Jean Humphrey Proffitt Professor of Law at U-M Law School and a nonresident senior fellow at the Center for American Progress and the Brookings Institution. Barr was a key architect of the Dodd-Frank Wall Street Reform and Consumer Protection Act. He directs the U-M Center on Finance, Law, and Policy, which co-hosted the conference with the federal Office of Financial Research.
"A number of senior people said to me afterward that the conference helped them to think about financial stability in completely new and different ways," Barr said.
In the keynote conversation, Lawrence H. Summers, president emeritus and Charles W. Eliot University Professor at Harvard University, and former secretary of the U.S. Department of the Treasury, spoke with David Wessel, director of the Hutchins Center on Fiscal & Monetary Policy at the Brookings Institution. The financial system "has, with substantial frequency, failed," Summers said, leaving people's lives "hugely disrupted." The most important lesson of the 2008 crisis, he added, is that the financial system can't become "a source of instability that screws up the lives of millions of people." Economic crises will continue to happen from time to time, he said, but "a great success would be turning a once-in-a-century event into a once-every-four-century event." He said that the financial system is safer because of the enactment in 2010 of the Dodd-Frank Act and changes to global capital rules.
Andrew Haldane, chief economist and executive director of monetary analysis and statistics at the Bank of England, spoke in a keynote address about the need for interdisciplinary approaches in the financial sector—much like the patchwork of laws of nature detailed in the book The Dappled World (Cambridge University Press, 1999). With regard to making sense of the financial industry, "we are only beginning to scratch the surface of what might be possible," Haldane said.
Richard Berner, director of the U.S. Office of Financial Research, spoke about four financial stability analysis tools derived from other disciplines: data visualization, stress tests, network analysis, and agent-based modeling. He also pointed out that financial shocks can't be predicted or prevented. "Rather," Berner said during his keynote, "financial stability is about resilience. We want to be sure that when shocks hit, the financial system will continue to provide its basic functions to facilitate economic activity." Since the financial crisis of 2008, financial regulators have improved their ability to spot vulnerabilities and threats, he said, but more needs to be done.
It is important that financial systems not just manage boom cycles, but also that "the busts don't bring the ceiling down," said Sir Paul Tucker, senior fellow at the Harvard Kennedy School and former deputy governor of the Bank of England. Tucker spoke during his keynote address about the need for a standard of resilience—that is, the size of shock we want the financial system to be able to sustain—and what is meant by dynamic macroprudential supervision.
The conference was co-hosted by the federal Office of Financial Research and the U-M Center on Finance, Law and Policy, with support from the Smith Richardson Foundation, the U-M College of Engineering, and the U-M Ross School of Business. The Center also received support from alumni Paul Lee, Stef Tucker, Ron Glancz, and Bill Marcoux.
more ....