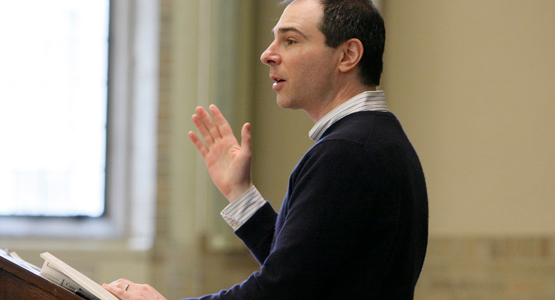 Richard Primus Named Theodore J. St. Antoine Collegiate Professor of Law
By Lori Atherton
Constitutional law scholar and longtime Michigan Law faculty member Richard Primus has been named the Theodore J. St. Antoine Collegiate Professor of Law. The newly endowed professorship was created with significant support from alumni in gratitude for Prof. St. Antoine's influence on their careers.
Prof. Primus said he was "surprised and delighted" to learn of his appointment to the St. Antoine chair. "When I first arrived at Michigan as a junior faculty member, my office was next to Ted's," Prof. Primus said. "He took me to lunch, gave me my first Michigan football ticket, and was unfailingly welcoming to me. Ted is a beloved figure at the Law School, and the professorship means a lot to me."
Prof. Primus joined the Law School in 2001 and teaches Introduction to Constitutional Law I and II, Equal Protection, and Problems in Constitutional Theory. A popular teacher among students, he has received the L. Hart Wright Award for Excellence in Teaching four times, most recently in 2011.
His writing and research focus on the history and interpretation of the U.S. Constitution, for which he received a Guggenheim Fellowship in Constitutional Studies in 2008. His current work involves analyses of the uses and limits of originalism in constitutional interpretation, the line between permissible and impermissible forms of race-conscious government behavior under both the Fourteenth Amendment and statutory antidiscrimination law, and the role in the constitutional system of the idea that Congress, unlike state legislatures, can act only on the basis of specifically enumerated powers.
"The enumerated-powers idea is Con Law 101," Prof. Primus said. "Every law student learns it, and people take it very seriously. Just think of the recent fight over the individual mandate in the Affordable Care Act, in which people asked whether there is anything that Congress can't do if it can require people to buy health insurance. But there is an enormous gap between the way that idea is traditionally discussed and the realities of federalism, constitutional history, and constitutional text. My job is to bring those realities more prominently into view. And I'm very glad to be able to do so now as the St. Antoine Professor, because Ted has always been a wonderful example of a scholar who understands that law and legal scholarship must live in the world of practical reality."
more ....

Bagenstos Argues Before Supreme Court in Young v. United Parcel Service
By Lori Atherton
Sam Bagenstos, the Frank G. Millard Professor of Law, argued before the U.S. Supreme Court Dec. 3 on behalf of plaintiff Peggy Young in the pregnancy discrimination case Young v. United Parcel Service. He was widely quoted about the case, including in The New York Times: "What went wrong here is that UPS did not treat Peggy Young as it did any other valued employee," in Bloomberg: "UPS argued they couldn't accommodate pregnant workers because it would violate their collective bargaining agreement and because it would be too burdensome. It turns out that those aren't obstacles to accommodating pregnant workers at UPS," and on NBC News: "[If the pregnancy anti-discrimination law means anything], it must mean that when an employee seeks an accommodation or benefit due to her pregnancy, she is entitled to the same accommodation that her employer would have given her otherwise." For an analysis of the case, read SCOTUSblog.com.

Conference in Hong Kong to Focus on Public and Private Enforcement of Corporate and Securities Law
Dec. 13–14 Event Presented by Michigan Law, Chinese University of Hong Kong Law Faculty, and U-M Lieberthal-Rogel Center for Chinese Studies
By Katie Vloet
The University of Michigan Law School, the Chinese University of Hong Kong's (CUHK's) Centre for Financial Regulation and Economic Development, and the Lieberthal-Rogel Center for Chinese Studies (LRCCS) at U-M will bring together some of the world's top experts in the public and private enforcement of corporate and securities law at a Dec. 13–14 conference in Hong Kong. The conference marks a significant milestone in global academic engagement by Michigan Law, as well as an occasion to examine the most critical issues affecting globalized capital markets and China's domestic legal system.
"Public and Private Enforcement of Corporate and Securities Law—China and the World," to be held at the Sha Tin campus of CUHK, will feature keynote remarks by the Hon. Jed Rakoff of the U.S. District Court of the Southern District of New York and Alexa Lam, JP, deputy chief executive officer and member of the Board Securities and Futures Commission of Hong Kong. In addition to the participation of seven Michigan Law faculty, the conference will feature papers presented by academics and officials from the United States, Canada, the United Kingdom, France, Germany, Italy, China, Hong Kong, Taiwan, Singapore, Korea, India, and Japan.
"This conference is a wonderful opportunity to explore critical issues pertaining to the protection of property rights under law, via both private and public enforcement, and in China and across the globe, in a truly comparative manner. It also directly showcases Michigan Law's unique strengths in U.S. and foreign corporate and securities law," said Nicholas C. Howson, professor of law at Michigan and a conference co-organizer with CUHK Professor Robin Huang Hui. "We are delighted to partner with CUHK and our own LRCCS to convene this unprecedented academic conference, which we expect will result in a published volume."
The organizers' shared vision for the conference, Prof. Howson said, is to bring together top academics and state officials from around the globe and inside China "to engage in a truly comparative discourse about public and private enforcement of these critically important norms in different national jurisdictions and across borders." Conference papers will address related issues in a specific jurisdiction or issue area, so that participants who specialize in the contemporary Chinese legal system can explore how these issues are considered abroad, and academics who do not specialize in Chinese law can gain greater insight into similar developments in China. "At just the moment China is once again undertaking wholesale amendment of its securities law, rather than celebrating the fact or possibility of convergence, we aim to understand ongoing divergence, and the reasons for it, even in the embrace of increasingly globalized capital markets," Prof. Howson said.
In addition to Prof. Howson, an expert in Chinese corporate and securities law, six other Michigan Law professors will present papers at the conference: Dean Mark D. West, the Nippon Life Professor of Law and an expert in Japanese corporate and securities law; Michael S. Barr, the Roy F. and Jean Humphrey Proffitt Professor of Law and a former assistant U.S. Treasury secretary for financial institutions and key participant in the drafting of the Dodd-Frank statute; Vikramaditya Khanna, the William W. Cook Professor of Law and an expert in Indian corporate and securities law; Hwa-Jin Kim, William W. Cook Global Law Professor at Michigan and a professor of law and business at Seoul National University School of Law, and perhaps the ranking expert in Korean corporate and securities law; Adam C. Pritchard, the Frances and George Skestos Professor of Law, a renowned expert in U.S. securities regulation; and Mathias W. Reimann, the Hessel E. Yntema Professor of Law, a comparativist who recently stepped down as editor-in-chief of the American Journal of Comparative Law. In addition, Professor Wang Liming, China People's University vice president, China People's Law School dean emeritus, and a former Michigan Law research scholar (1989-1990), will present at the conference on an enhanced private right of action in Chinese securities lawsuits.
more ....

Partnerships with Local Firms Abroad Expand Summer Internship Opportunities at MLaw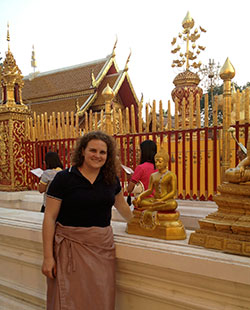 By Jenny Whalen
The jet lag had barely worn off when Hana Damore arrived from China for Michigan Law orientation, but already the 1L was planning her return to Asia.
Having spent the previous two years teaching English in China, Damore knew she wanted to spend her 1L summer at a local firm abroad. Persistence, Internet research, and an extensive international alumni community ultimately led her to a nine-week internship at DFDL Legal and Tax Services in Thailand.
The experience proved so incredible that Damore has been working with Michigan Law's Center for International and Comparative Law​, Office of Career Planning, and Office of Development and Alumni Relations to make similar opportunities available for other 1L and 2L students.
"Internships overseas are difficult to establish," Damore said. "It's a different system of law and, depending on the country, there are different explanations for what an internship actually is. In my search, I was relying on the fact that there was a partner out there able to understand what I was asking for and make the idea work."
Michigan Law's International Summer Firm Internship (ISFI) program intends to streamline this process by partnering with local law firms abroad and establishing the internship criteria in advance. The program, which is open to 1L and 2L students, will be offered for the first time during the summer of 2015.
"The International Summer Firm Internship has been an amazing collaborative effort," said Assistant Dean for International Affairs Roopal Shah​. "When Hana Damore presented the idea at the end of her 1L year, we were moved by her willingness to use her own experience to identify and create more international summer job opportunities for other Michigan Law students."
Shah added that she and other program organizers are particularly grateful to the Michigan Law alumni and friends who have made the program's first year of summer internships possible at their firms abroad. One of these is Schinders Law in China, where 2002 Michigan Law graduate Henry Liao serves as managing partner.
"Henry is very grateful for the education he obtained at Michigan Law and is pleased to contribute in return to the development of other Michigan Law graduates," Schinders Law said in a statement. "Michigan Law is one of the best schools in the United States. We believe the candidates for this program will be very skillful, diligent, and reliable, and will surely add value to our firm, too."
Other local firms participating in the 2015 program include Advocacia Ferreira Neto, Brazil; DFDL Legal and Tax Services, Thailand; Guerrero Olivos Novoa y Errázuriz, Chile; Maciel, Norman & Asociados, Argentina; and Samvad Partners, India. For more on this year's firm partners and internship descriptions, visit the ISFI program website.
more ....