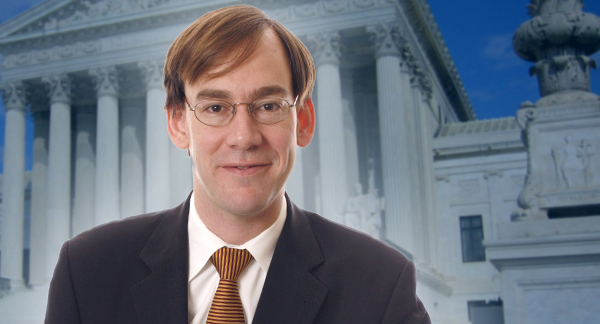 U.S. Supreme Court Issues Second Ruling on Bankruptcy Court Authority
Prof. John Pottow Played a Leading Role in Both Cases
The Supreme Court of the United States' 6-3 decision in Wellness International Network, Limited v. Sharif was somewhat déjà vu for Professor John Pottow.
Almost a year to the date of its 9-0 ruling in Executive Benefits Insurance Agency v. Arkison (EBIA v. Arkison)—which Pottow argued before the Court in January 2014—the U.S. Supreme Court issued a second decision bolstering bankruptcy court authority in Wellness International Network, Limited v. Sharif (May 26)—a case in which Pottow, the John Philip Dawson Collegiate Professor of Law, joined Jenner & Block's Catherine Steege to represent Wellness International. Also part of the Jenner team that helped prepare the case were Michigan Law graduates Melissa Root, '03, and Landon Raiford, '08.
"Better late than never, the Court gets it right and notes that its holding is 'nothing new,'" Pottow said. "In vindicating our reading of historical precedents and accepting our best practices reading of the recent fumble of Stern v. Marshall, the Court will calm the bankruptcy waters it disrupted four years ago."
In an opinion authored by Justice Sonia Sotomayor, the Court reversed an appellate court decision ruling that the bankruptcy court did not have the constitutional authority to determine even though the parties consented to that exercise of jurisdiction. The ruling also found that such consent may be implied and need not be expressed so long as the consent was knowing and voluntary.
Both EBIA and Wellness International Network serve to clarify the Court's 2011 ruling in Stern v. Marshall, which created jurisdictional chaos by invalidating a central provision of the Judicial Code by calling into question the power of bankruptcy judges to rule on key issues that arise in bankruptcy cases.
At issue in Wellness International Network, Limited v. Sharif was the question of whether assets seemingly held by Richard Sharif were actually held in a family trust, as he alleged when they were discovered. Wellness said they were his, and he said they were not. Confident he was right, Sharif asked the Bankruptcy Court to enter summary judgment in his favor, but the court ended up entering a default judgment against him when he refused to comply with discovery orders related to producing the alleged trust documents.
After Stern came down, in his subsequent appeals, Sharif argued the bankruptcy court had no authority to adjudicate the question of whether the assets were the debtor's (his) or someone else's under the new constitutional landscape post-Stern, regardless of his consent to its authority, because Stern identified new structural rights under Article III that were "unconsentable." He thus argued that the bankruptcy court could not adjudicate his claim even if (which he denied) he consented. The District Court rejected his Stern argument as untimely, but the Seventh Circuit Court of Appeals sided with Sharif, ruling that Stern objections were not only structural but could be neither waived nor forfeited.
The case was submitted to the Supreme Court in December 2013 and Steege delivered oral argument on behalf of Wellness International on Jan. 14, 2015. The Court decided Stern's violation of Article III turned on the objection of the litigant being dragged before a non-Article III judge, but nothing in that case intended to overturn the historical practice of consensual adjudication before magistrates, bankruptcy judges, and arbitrators on proper consent. It remanded to the Seventh Circuit the question whether on fair implication Sharif did, in fact, consent under these facts.
more ....

MLaw Grads Net 100 Percent Pass Rate for February Bar in Michigan, New York, and Illinois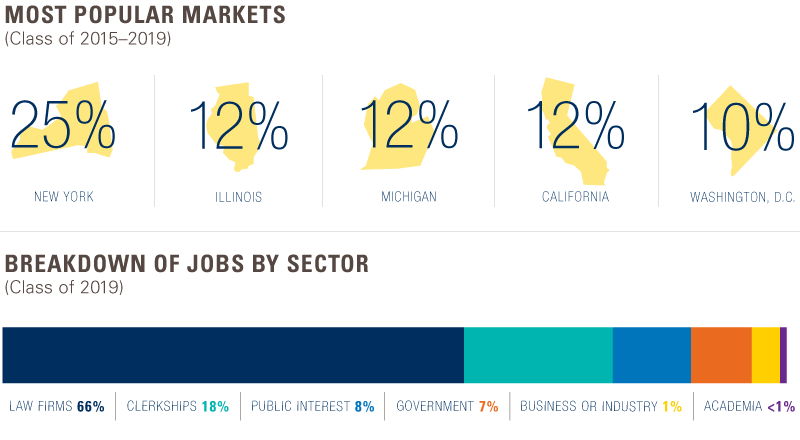 Among those who sat for the February 2015 bar, Michigan Law graduates posted a 100 percent passage rate in Michigan, New York, and Illinois—three of the most popular markets among 2014 Law School graduates.
Michigan Law graduates historically have performed well on bar exams across the United States and go on to work for a broad range of employers. The 2014 class spread out to 35 states, Washington, D.C., and 10 foreign countries. Our national placements include private practice (53.2 percent), judicial clerkships (18.7 percent), public interest (12 percent), government (10.7 percent), business (4.5 percent), and academia (0.8 percent). Post-graduation, 97.4 percent of the class was employed or continuing their education, and 99 of The American Lawyer's top-100 firms count Michigan Law graduates among their ranks.​​​​​​​​​​​

Alumni Invited to Support Outlaws' Inaugural Gayla
By Amy Spooner
Affinity organizations like the Black Law Students Association and the Latino Law Students Association have well-established and longstanding traditions of offering scholarships to Michigan Law students. Now Outlaws—a political and social organization that serves the needs of the lesbian, gay, bisexual, and transgender community at Michigan Law—hopes to establish a similar tradition.
This fall, the group will hold its inaugural Gayla banquet to reconnect with alumni and fundraise for the Spectrum Fund, which was established by Henry Grix, AB '70, JD '77, and Howard Israel, BFA '72, to provide summer funding support for a student working in the field of LGBTQ law. Outlaws' goal is to raise enough that the Spectrum Fund will be able to offer a second fellowship each summer to a member who is spending their 1L summer working in a public interest position.
The Outlaws Gayla will be held on Friday, Oct. 9, 2015, at the Michigan Union's Rogel Ballroom. The event coincides with U-M's Homecoming Weekend, and all alumni and friends are invited to attend. " This is an exciting time for Outlaws, as this will be the first time our group has held its own fellowship banquet in its 30-plus-year history," said co-chairs Kristina Meyer, a 3L, and Caitlin Fitzgerald, a rising 2L.
"Our group's history is one we are proud of, but it is also one that poses unique challenges to hosting such a large alumni event," said Meyer and Fitzgerald. "Unlike other student affinity groups, Outlaws does not have a formal alumni network or even a record of past membership. We hope that this gala will serve as a homecoming, allowing us to reconnect with Outlaws and allies of years past and develop intergenerational relationships."
If you are interested in being added to the mailing list for more information about the Gayla or the Spectrum Fund, complete the Outlaws online survey. "And please help us spread the word to other interested alumni," Meyer and Fitzgerald said. "We want as many alumni and supporters as possible to attend."