A Posthumous Win for Baseball Icon Branch Rickey

Commemorative Video Receives Emmy Award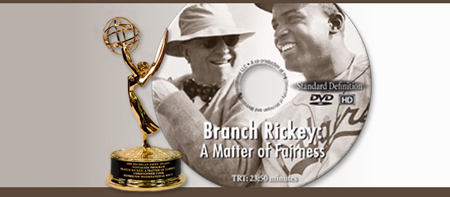 By Linda Fitzgerald, Law Quadrangle interim editor
To anyone who loves baseball, Branch Rickey, '11, is a familiar name—and the stuff of legends. He invented the farm team system. He developed the first spring training facility. He was the first general manager to use batting helmets, pitching machines, and batting cages. He introduced the concept of statistical analysis, otherwise known as sabermetrics. And he was the only baseball executive of his time to have earned a law degree.
Any one of these achievements would have made Rickey a notable figure in baseball history.
But today he is best remembered for another reason. In 1947, as general manager of the Brooklyn Dodgers, he transformed baseball—and American society—forever. With the stroke of a pen, he broke the sport's color line by signing Jack Roosevelt ("Jackie") Robinson to the team. Two years earlier, he had bridged the color barrier in the minor leagues by signing Robinson to the Montreal Royals.
Celebrating a Milestone, Honoring a Legend
Those trailblazing actions exemplify the values of Rickey's alma mater, Michigan Law. So it seemed only appropriate that his contributions should be commemorated during the School's 150th anniversary celebration in 2009.
Thus it was that the University of Michigan commissioned a video depicting the life and times of one of the Law School's most iconic graduates. Entitled "Branch Rickey: A Matter of Fairness," the 30-minute documentary was produced by Christopher Cook of Metrocom International, with assistance from sports writer John U. Bacon.
The film, which was funded by the U-M Office of the Vice President for Communications, ran for several months on the Big Ten Network. In April of this year, it was awarded a 2009 Emmy from the Michigan Chapter of the National Academy of Television Arts and Sciences.
Commenting on the video and the award, Dean Evan Caminker noted that "Branch Rickey and Jackie Robinson changed sports and society with the courageous integration of Major League Baseball, which, in turn, paved the way for integration of the military and schoolhouses across the land. This film tells the story of Rickey's life and accomplishments, including his time as a Michigan Law student and as the University's baseball coach. It is a story, and a legacy, of which we are very proud."
A Transforming Moment
Rickey's decision to integrate Major League Baseball was actually the result of an incident that had occurred some 40 years earlier. In April of 1901 then-coach Branch Rickey took his Ohio Wesleyan baseball team on a road trip to South Bend, Indiana, for a game with Notre Dame.
During room check-in, the desk clerk noticed Charles Thomas, an African-American and one of Rickey's best players. While all the other team members were assigned rooms, Thomas was refused accommodation. "He can't stay here" was the clerk's final comment—words that Rickey would never forget. From that moment forward, he vowed to correct racial injustice, when and if he could.
The Power of Change
For Rickey, baseball was both a profession and a passion. By the time he enrolled at the Law School in 1909, he had played professional baseball for four years in addition to earning two college degrees. In Ann Arbor, he quickly landed a job as coach of the U-M baseball team—and still managed to earn his LL.B. degree.
Rickey left the U-M team in 1913 to become general manager of the St. Louis Browns. By 1920, he was team president and manager of the St. Louis Cardinals.
In 1942, Rickey signed on as general manager for the Brooklyn Dodgers. It was a position of great power and possibility. And by 1945, he was telling friends and colleagues, in strict confidence, that he planned to bring a black baseball player into the major leagues.
As the staunchly religious Rickey noted in a 1947 interview: "I cannot face my God much longer knowing that his black creatures are held separate and distinct from his white creatures in the game that has given me all that I can call my own."
Safe at Home
With the signing of Jackie Robinson in 1947, Rickey achieved his grand ambition—and kept a promise he had made to himself decades earlier. But there was still more to do. In 1955, as president of the Pittsburgh Pirates, he drafted Roberto Clemente, who eventually became the first Hispanic American elected to the Baseball Hall of Fame.
In 1967, two years after his death, Rickey himself was named to the Hall of Fame. And in 2009, he received quite a different honor: With contributions from principal owner of the NY Mets Fred Wilpon, former Chicago Cubs owner Sam Zell, '66, and Major League Baseball, the Branch Rickey Collegiate Professorship of Law was established at the University of Michigan.