Public Lands, Public Trust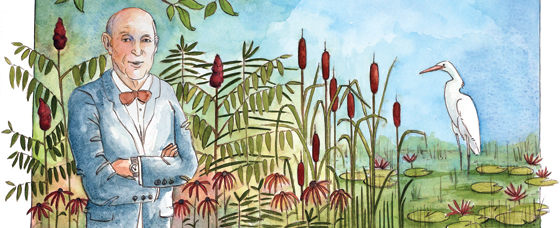 By James Tobin
Illustrations by Carolyn Reed Barritt
Editor's note: This is the fourth in a series of articles about the intellectual history of the Law School, and the impact our scholars have had, from the classroom to the Supreme Court.
In January 1969, Professor Joseph Sax of the Law School received a letter from Joan Wolfe, lead organizer of a group of small-town activists called the West Michigan Environmental Action Council. The group was fighting an irrigation project that would hurt nearby wetlands, and Wolfe had written to Sax because he was gaining a reputation for new ideas about environmental protection. She asked Sax for help. He agreed to try.
After a good deal of research and discussion, Sax sat down to write. In three and half days, he had a model bill to be proposed in the Michigan Legislature. He knew it was not quite what Joan Wolfe had envisioned, so he explained. The best way to guard the environment, he told her, was not to make a new state board or department or agency, but simply to ensure that any private citizen or community group had the right to sue to protect the state's natural resources.
Mrs. Wolfe was at first taken aback by Sax's approach, then intrigued.
"It discourages me to think that we can only be protected by having the right to sue—yet I agree that there doesn't seem to be any other way," she wrote Sax. "The fact that we might have that right then becomes terribly exciting and important!"
With grassroots backing from groups ranging from local PTAs to garden and gun clubs to the Michigan Jaycees, the bill Sax had written proceeded through the Legislature and became the Michigan Environmental Protection Act of 1970, a landmark that inspired similar statutes around the country.
Sax would become known as one of the nation's leading authorities on environmental law. Perhaps his greatest contribution to legal thought was his reinvigoration of the public trust doctrine. Traditionally the idea had been tied to public claims around waterways; Sax extended the idea to dry land, with major implications for the public's right to a say about what happened to natural resources. With this he became an intellectual parent of the burgeoning environment movement.
But he was hardly a child of wide-open spaces.
He grew up in Chicago, graduated magna cum laude from Harvard in 1957, then went to law school at the University of Chicago, where he edited The University of Chicago Law Review. After a few years at a private firm and the Department of Justice, he joined the law faculty at the University of Colorado, where his interest in the law of natural resources was kindled. Coming to Michigan Law in 1965, he worked on ingenious ideas about the law of natural resources that soon made up his first book, Defending the Environment: A Strategy for Citizen Action (Knopf, 1971).
Sax believed that administrative agencies, with all good intentions, often became as much an obstacle to environmental protection as polluters themselves. The best place to fight for a clean country was the courtroom, he wrote, "not because judges are thought wiser or because the processes of litigation are particularly rapid, but because the court preeminently is a forum where the individual citizen or community group can obtain a hearing on equal terms with the highly organized and experienced interests that have learned so skillfully to manipulate legislative and administrative institutions.
"If we are to save the environment, rather than merely revere it, the citizen can no longer be put off with the easy advice to 'go get a statute enacted' or 'wait until election day,' while the bulldozer or chain saw stands ready to move."
He quoted Chief Justice Warren Burger for support: "Consumers are generally among the best vindicators of the public interest."
In 1980, Sax published Mountains Without Handrails: Reflections on the National Parks (University of Michigan Press). Here he forcefully refuted the view that preserving wilderness is elitist. Nature was in the national interest, he argued. Nature had the "peculiar power to stimulate us to reflectiveness by its awesomeness and grandeur, its complexity, the unfamiliarity of untrammeled ecosystems to urban residents, and the absence of distraction." But it also offered "a successful model of many things that human communities seek: continuity, stability and sustenance, adaptation, sustained productivity, diversity and evolutionary change."
In 1983, he became the youngest U-M faculty member ever appointed Distinguished University Professor, an honor that allows the recipient to choose the person for whom the chair would be named. Sax chose the name of Philip A. Hart, the Law School alumnus ('37) and U.S. senator from Michigan who led efforts to have the state's Sleeping Bear Dunes and Pictured Rocks designated as national lakeshores.
Two years later, after 20 eventful years in Ann Arbor, Sax left the Law School for the University of California, Berkeley, where he would become James H. House and Hiram H. Hurd Professor of Environmental Regulation. His three daughters were grown. He wanted to live closer to mountains.
"As for the Law School," he wrote to his colleagues, "it is the place where I grew and prospered professionally, and it shall always be my intellectual home. It was one of the great schools when I first arrived in 1965, and it is a great school now."
Read More...
Alumni in Environmental Law
Professor Joseph Sax and his Intellectual Home at Michigan Law
Green Gavels Project
South Hall Awarded LEED Gold Rating