Richard Pogue earns Distinguished Alumni Service Award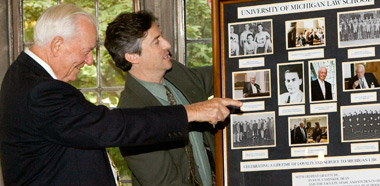 1953 grad Richard W. Pogue, left, points out one of the photos in a retrospective of his lifelong involvement with Michigan Law.
The guest of honor was ready with a quip.
"I think it's amazing that they're going to give this award to a guy from Ohio," said Richard W. Pogue, '53.
Believe it: the University of Michigan Alumni Association named Pogue one of four 2008 recipients of its Distinguished Alumni Service Award, the association's highest award for alumni. Pogue, of Shaker Heights, received the award at a ceremony October 2 in the Rackham Amphitheater.
The Law School nominated Pogue for the award, citing his leadership of the Dean's Advisory Council, his creation and teaching of a course on the business of law, his work on behalf of the University in northeast Ohio, and his philanthropy, which supports faculty recruitment and retention as well as study of the business of law.
"I feel incredibly fortunate that a person of Dick's integrity and passion for the Law School stepped forward to take on the inaugural chairmanship of the Dean's Advisory Council," said Dean Evan Caminker, who introduced Pogue at the ceremony. "He is a tremendous role model for everything we could ever hope our Michigan alumni to be."
Earlier in the day the Law School hosted a luncheon for Pogue and his wife, Pat Raney Pogue, a 1954 graduate of U-M's College of Literature, Science, and the Arts, joined by Law School senior faculty and emeritus professors.
The Dean presented Pogue with a framed collection of photos from Pogue's days as a law student and his current volunteer activities on behalf of the University.
"I can't tell you how overwhelmed I am," said Pogue. "It's just a great, great day."
He reiterated his desire to help keep Michigan Law a top school.
"I know what you're up against - it's a very competitive world," he said. "But we feel very strongly about the University of Michigan Law School, and we are committed to helping it keep its leadership position."