Spotlight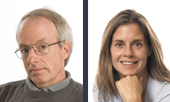 Dave Moran in Michigan Radio interview on Innocence Clinic
Focus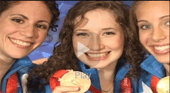 The Wall Street Journal reports incoming Michigan Law student Sada Jacobson's Olympic silver, part of American fencing sweep. More
Prima Facie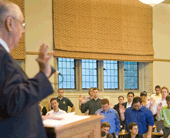 Senior Judge James L. Ryan of the Sixth Circuit Court of Appeals leads first-year Michigan Law students in their Pledge of Integrity August 29th.
---
---
Contact
Have a story of interest to fellow alumni? Contact e-news editor John Masson, Media Relations Officer for Michigan Law, law-enews@umich.edu Office: 734.647.7352

Supreme Court Justice teaches and tours at Michigan Law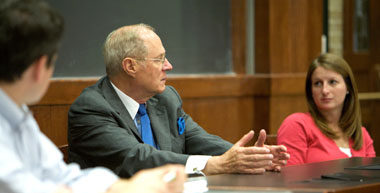 Justice Anthony Kennedy makes a point in Prof. Ellen Katz's seminar Sept. 11.
You'd have been welcome to argue constitutional technicalities with the guest instructor for Prof. Joan Larsen's recent Constitutional Law class -- although it must be stipulated that Justice Anthony Kennedy of the United States Supreme Court has a legal right to insist upon the last word. More...
---
Public Service with a smile

The University of Michigan Law School has good news for students planning to pursue careers in public interest or government: starting next summer, Michigan Law will launch the Public Service Guarantee – a summer stipend of $5,000 for all 2Ls who obtain summer internships with qualified government or public interest organizations. More...
---
One in a billion -- the truth about Michigan Law 1Ls

They build sailboats, they win Olympic medals, and they can keep up on the violin with Itzhak Perlman. They hold patents, drive Zambonis, and one of them came out No. 1 on an exam in a pool a mere 1.3 billion people deep. More...
---
Building up to it

On December 31, the Michigan Difference campaign comes to an end. So does the Law School's current campaign to raise $135 million in private gifts for student support, faculty support, the Law School Fund, program initiatives, and the building project. More...
In the News
Coming Up