Supreme Court Justice teaches and tours at Michigan Law
Anthony Kennedy also swears in alum to federal judgeship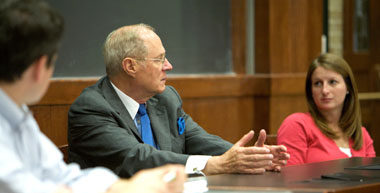 Justice Anthony Kennedy makes a point in Prof. Ellen Katz's seminar Sept. 11.
You'd have been welcome to argue constitutional technicalities with the guest instructor for Prof. Joan Larsen's recent Constitutional Law class - although it must be stipulated that Justice Anthony Kennedy of the United States Supreme Court has a legal right to insist upon the last word.
Justice Kennedy pulled off the robe and put on the academic mortarboard - figuratively speaking, at least - during his visit to the Law School Sept. 11 and 12. Besides the Con Law class, the Justice also dined with faculty, sat in on a seminar led by Prof. Ellen Katz, and conducted question-and-answer sessions with students and faculty.
The visit was timed to allow Justice Kennedy to administer the oath of office to one of his former clerks, newly appointed Sixth Circuit Court of Appeals Judge Raymond M. Kethledge - a 1993 Michigan Law graduate and one of the youngest appellate judges ever appointed.
Prof. J.J. White introduced Judge Kethledge to the crowd of family, friends and colleagues gathered in the Honigman Auditorium in Hutchins Hall. It was a classroom, the new judge told the group, in which he had encountered Prof. White before.

"It's very special for me to be in this room to have this happen," Judge Kethledge said. "And I want to thank Jim White … he is, truly, exactly what a professor should be."
Judge Kethledge's investiture ceremony also featured speeches from Sixth Circuit Court of Appeals Judge Ralph Guy Jr. (for whom the new judge also clerked) and one of his former law partners, Patrick Seyferth of Bush, Seyferth & Paige PLLC, in Troy, Mich. The ceremony was followed by a reception, hosted by the law firm and held on the Quad.
The investiture ceremony, which was also attended by more than a dozen of Judge Kethledge's fellow jurists, capped two busy days for Justice Kennedy during which he gave generously of his time in a series of warm and humorous off-the-record sessions with students.
On one end of the spectrum was the question-and-answer session, led by Prof. Daniel Halberstam, which packed Honigman Auditorium and was attended by University of Michigan President Mary Sue Coleman. Even more students watched on television monitors in two overflow rooms.
On the other end of the spectrum was Prof. Katz's small seminar, with only about two dozen students, some of whom sat elbow-to-elbow with the Justice at a round table.
Regardless of the setting, however, Professor Halberstam said "faculty and students remarked afterwards how impressed they were by the thoughtfulness and candor with which the Justice approached every single question." As Halberstam sees it, "The visit was simply a treat."