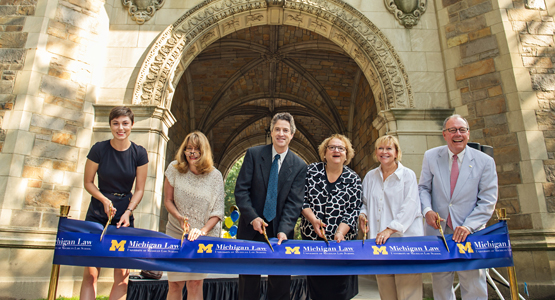 21st-Century Residence Opens Within
Gothic Walls of Lawyers Club

By Jenny Whalen, Law School Communications
To paraphrase a well-known adage: Don't judge a building by its façade.
At first glance, the Lawyers Club remains a celebrated example of the University of Michigan Law School's Collegiate Gothic style, but following a total interior renovation, made possible in large part by a $20 million gift from Charles T. Munger, HLLD '10, the structure has been transformed into a 21st-century living space.
"Today marks a beginning and an end," said former Dean Evan Caminker of the grand reopening celebration Aug. 19. "It is the end to a long, long process of updating and upgrading the Law Quadrangle. … It is fitting that we end the facility renewal process right here at the Lawyers Club where it began some 90 years ago."
After all, Caminker added, it was due to the support of another visionary that the Law Quad was built. Recognizing the merit of a community where students both live and learn, 1882 Michigan Law graduate William W. Cook funded construction of the entire collection of Law Quad buildings, starting with the Lawyers Club and Dormitory in 1923.
For decades, thousands of Michigan Law students have called the Lawyers Club home, but with the passage of time also came the realization that Cook's state-of-the-art facility was no longer meeting the needs of modern students.
"I've watched students move in year after year and clearly the definition of 'sufficient closet space' has changed over time," Caminker joked. On a more somber note, he spoke of the "burden of 90-year-old infrastructure" that meant the Lawyers Club would either have to be rebuilt or condemned.
And so Munger's gift, along with matched funds from the central university's investment proceeds and the Lawyers Club—which is run by a separately incorporated, self-sustaining non-profit organization—made possible a total interior renovation that resulted in the construction of a new Lawyers Club within the original.
The Lawyers Club and Charles T. Munger Residences now offer 227 fully furnished private rooms, complete with private or semi-private bathrooms, and 11 corridor lounges, known as Club Rooms, which provide space for study groups or social gatherings.
For 3L Lauren Rivard, who resided in the Lawyers Club as a 1L, the renovation is both awe-inspiring and enviable.
The Lawyers Club is the cornerstone of Law School community, with the renovations enhancing not just the creature comforts of the structure, but its spirit and the spirit of the Law School at large, Rivard said.
"I'm glad to see my little room's transformation," she added, referring to the conversion of her old dorm into a Club Room. "On behalf of the students, thank you."
Although Munger has yet to see the finished product, Caminker said his presence, like that of his predecessor Cook, can be felt in the details, all of which contribute to the support of a place where the study of law is enriched by the surrounding community.
"Charlie Munger is passionate about improving the quality of life for students on this campus," said Andrea Fischer Newman, chair of the U-M Board of Regents. "He believed that was key to their success. The opportunity to live in a phenomenal facility will enhance recruitment and retention at Michigan. I congratulate the Law School and Dean Caminker on this achievement."
(View photos from the celebration.)
Renovations include:
A total of 227 fully furnished private rooms, and private or semi-private bathrooms. The living arrangements include all utilities, high-speed wireless Internet access, and 12 meals per week, served in the beautiful and historic dining hall.
Each of the student rooms comes furnished with an extra-long, full-size bed and mattress (designed to accommodate under-bed storage), a nightstand, a desk, a rolling desk chair and a guest side chair, a microwave, a small refrigerator with freezer compartment, built-in overhead lighting, full-privacy window treatments, wood-grained tile flooring, a card-operated door lock, individual heating and cooling control, and smoke-detection and fire-suppression systems.
Each modular ensuite bathroom was completed offsite and brought into the structure. The efficient bathrooms feature fine tile and marble finishes. Medicine cabinets, vanities, storage cabinets, towel bars, and robe hooks are standard in all bathrooms.
Eleven corridor lounges, known as Club Rooms, are new to the Lawyers Club. Designed to foster community and camaraderie, the Club Rooms are ideal settings for study groups, social gatherings, and student organization meetings. Many include kitchenettes and flat-screen televisions with full audiovisual capabilities, making them as useful for group class assignments as they are for watching Big House football.
Some of the unseen elements of the renovation include new plumbing, heating, and ventilation; installation of a wireless high-speed network and swipe-card entry controls; repair of the historic windows; and improvements to safety and accessibility.
Preserving the Lawyers Club's majestic Collegiate Gothic façade was a priority in the renovation, made more difficult because, in essence, an entirely new building was erected behind the original walls. The interior demolition—completed with painstaking care so as not to damage the exterior walls—took six full months to complete. New interior architectural flourishes—like nine-panel oak doors, ogee molding, hand-wrought iron railings, and salvaged ventilation grates—nod to the building's past.
more ....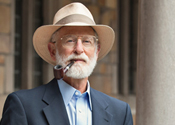 Emeritus Professor Tom Green Gives $75,000 to Legal History

By Amy Spooner, Law School Development
Tom Green and his wife, Ruth, have given $75,000 to create the Green Legal History Endowment Fund at the University of Michigan. The gift from the Greens, and any additional gifts to the endowment, will be used to develop and sustain interest in and scholarly contributions to legal history at U-M, and to provide direct support and mentorship to the next generation of legal historians. In addition, the Greens hope to foster closer relations between the Law School and the Department of History in the College of Literature, Science, and the Arts (LSA), which will jointly administer the fund.
The Green Legal History Endowment Fund will be used to bring prominent legal historians from a wide range of specializations to the University of Michigan for lectures, proseminars, and meetings with students. A committee representing both Law and LSA faculty will select the speakers. The inaugural committee, which was appointed by Dean Mark West and Kathleen Canning, chair of the history department, is comprised of Professors Rachel Neis, Bill Novak, and Rebecca Scott. "It is always special when a faculty member chooses to lend significant financial support to the institution that already has claimed so much of his or her time and intellectual rigor," said former Dean Evan Caminker. "Tom and Ruth's gift will open up exciting new channels for discourse and collaboration at the University."
"Our gift is in grateful recognition of the support and encouragement extended to me, and the friendship extended to us both, over four decades by two truly great and collegial scholarly communities," said Green, who is the John P. Dawson Collegiate Professor of Law Emeritus and professor emeritus of history. "Establishing the endowment seems an appropriate step to take, as the activities of these communities—as with all scholarly communities—are as much a matter of building a foundation for those who will inherit and shape the future of the enterprise as they are a manifestation of present interests."
In conceptualizing the gift, Green was drawn to the community-building aspects that such a series of events will offer. "It is my hope that the lectures, proseminars, and other corresponding events will draw attention to legal history work being done on campus, help like-minded scholars find and connect with each other, and, especially, facilitate the establishment of mentoring relationships," he said.
The annual or biannual public lecture will be known as the Simpson Lecture in honor of A.W. Brian Simpson. The former Michigan Law professor, who died in 2011, was recognized around the world as one of the leading academic lawyers of his generation. "Brian was an enormously active and valuable member of this institution," Green said. "This pays some measure of tribute to the eminence of his scholarship and the importance of his role at Michigan."
The associated proseminar, intended for faculty and graduate students with special interest in legal history, will be named for John P. "Jack" Dawson, who taught at Michigan Law from 1927 to 1958. "He was my Contracts teacher, a friend of Ruth's and mine, and a very fine legal historian whose most important legal-historical work was completed, or mostly so, while he was at Michigan," Green said.
He added, "In naming the lecture after Brian and the proseminar after Jack, we honor two superb legal historians and common-law teachers who spent many years at the Law School and contributed greatly to its scholarly tradition."
more ....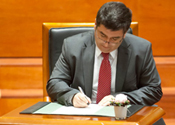 LLM Graduate Appointed Judge of European Court of Justice

By Lori Atherton, Law School Communications
Michigan Law LLM graduate Siniša Rodin, the Jean Monnet Chair at the University of Zagreb Faculty of Law in Croatia, has been appointed a judge on the Court of Justice of the European Union in Luxembourg. Judge Rodin, whose term began July 1, is the first judge from Croatia to join the Court.
Mirna Romić, LLM' 12, who will serve as Judge Rodin's first réferéndaire (law clerk), joined him in August.
"Serving as a judge at the Court of Justice of the European Union is a dream job for every European lawyer," Judge Rodin, '92, said of his appointment. "Over the years the Court has acted as an engine of European integration and a guardian of the founding treaties of the EU. It is more than an institution. It is a symbol of the rule of law on the European continent and a genuine subject of legal integration."
The European Court of Justice—the highest court in the European Union legal system—interprets EU law to make sure it is applied in the same way in all EU countries. It also settles legal disputes between EU governments and EU institutions. Individuals, companies, and organizations can also bring cases before the Court if they feel their rights have been infringed upon by an EU institution.
Daniel Halberstam, the Eric Stein Collegiate Professor of Law and director of the European Legal Studies Program at Michigan Law, said it's only fitting that Judge Rodin is Croatia's inaugural judge on the Court, given that he "has been a principal architect of Croatia's entry into the European Union."
"I remember visiting the University of Zagreb over a dozen years ago when Siniša began to build Croatia's EU law program from scratch—often against the entrenched interests within the academic establishment," Prof. Halberstam said. "Since then, the program has flourished, and his students (several of whom followed in his footsteps to Ann Arbor) have won prizes in European-wide competitions."
Judge Rodin teaches a general course on EU law and an advanced course on human rights in the EU at the University of Zagreb. He also supervises students participating in the European Law Moot Court Competition and Central and East European Moot Court. In 2012, he was the Marc and Beth Goldberg Distinguished Visiting Professor at Cornell University Law School.
After earning his LLM from Michigan Law in 1992, where he received the Law School's Merit Award, he earned his PhD from the University of Zagreb Faculty of Law in 1995. He specialized in European law at the European University Institute in Florence and German constitutional law at the Max Planck Institute for Comparative Public Law and International Law in Heidelberg, Germany. He is the author of two books and more than 50 research papers, and coauthored the first textbook on EU law in the Croatian language. His research interests include issues of constitutional interpretation, fundamental rights, constitutional aspects of European integration, and free movement of services.
Judge Rodin said he is grateful to the Law School for providing him with an education that "equipped me with the qualities necessary for this high service" on the Court. "It feels good to be a Wolverine in Luxembourg," he said.
more ....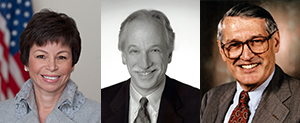 Michigan Law to Honor Three Distinguished Alumni

By Amy Spooner, Law School Development
Michigan Law will recognize three notable alumni with 2013 Distinguished Alumni Awards at a ceremony to be held during Reunion Weekend on Oct. 4. This year's recipients of the annual award—which highlights individuals who have made an exceptional impact on their profession, community, and/or Michigan Law—are Valerie Jarrett, '81, John Nannes, '73, and Theodore (Ted) St. Antoine, '54.
"Valerie, John, and Ted are wonderful examples of the very best of Michigan Law," said former dean Evan Caminker, who announced the award recipients and oversaw the selection process. "Not only have they excelled at their careers, but they have chosen very different career paths, all while maintaining an unwavering commitment to the Law School."
Jarrett, of Washington, D.C., is a senior adviser to President Barack Obama and also is the chair of the White House Council on Women and Girls. Prior to joining the Obama administration, she was CEO of the Habitat Co., based in Chicago. She also served as co-chair of the Obama-Biden Presidential Transition Team and was senior adviser to Obama's presidential campaign. Jarrett has held positions in both the public and private sectors, including chairman of the Chicago Transit Board, commissioner of planning and development for the city of Chicago, and deputy chief of staff for Mayor Richard M. Daley. She also practiced law with two private firms. In addition, Jarrett has served as a director of several corporate and nonprofit boards, including chairman of the board of the Chicago Stock Exchange, director of the Federal Reserve Bank of Chicago, and chairman of the University of Chicago Medical Center's Board of Trustees. In 2013, she was named one of Time magazine's 100 most influential people as well as the National Newspaper Publishers Association's Newsmaker of the Year.
Nannes, of Washington, D.C., is a partner in Skadden, Arps, Slate, Meagher & Flom LLP. He has served on numerous Law School alumni committees over the past 40 years, including the National Committee for the Law School Fund, the Committee of Visitors, the Dean's Advisory Council, and multiple campaign steering committees. He currently chairs the Development and Alumni Relations Committee. Nannes conceived and funded the 3L Challenge, which annually offers third-year students the chance to designate $250 to the Law School student activity of their choice in exchange for their commitment to contribute to the Law School in each of their first four years after graduation—thus introducing students to the importance of alumni support. Following graduation from the Law School and a clerkship with Justice William Rehnquist, Nannes was a special assistant to Tom Kauper in the Antitrust Division of the U.S. Department of Justice before becoming the first associate in the new Washington office of Skadden. He has remained at Skadden since then, except for when he served as deputy assistant attorney general and then acting assistant attorney general in the Antitrust Division from 1998 to 2001.
St. Antoine, of Ann Arbor, is the James E. & Sarah A. Degan Professor Emeritus of Law at Michigan. He practiced labor law in Washington, D.C., with Woll, Mayer & St. Antoine before joining the Michigan Law faculty in 1965, where his teaching specialties were labor and employment law and contracts. He also was dean of the Law School from 1971 to 1978. St. Antoine has been a labor arbitrator for more than 40 years and is a past president of the National Academy of Arbitrators. For his writing and activities in the labor and human rights fields, St. Antoine received the State Bar's Champion of Justice Award and the Labor Law Section's Distinguished Service Award. He is co-editor of a leading labor law casebook, now in its 12th edition, and editor of the National Academy of Arbitrators' publication, The Common Law of the Workplace: The Views of Arbitrators (2d ed. 2005). St. Antoine has been a visiting professor at universities in the United States and abroad, and has taught at the Salzburg Seminar in American Studies. He also has lectured widely on labor and employment law in Europe and China.
To submit a nomination for the 2014 Distinguished Alumni Award, visit www.law.umich.edu/alumniandfriends/Pages/DistinguishedAlumniAward.aspx.
more ....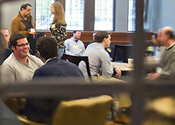 Alumni-Student Mentoring Program Takes Shape at Michigan Law

By Jenny Whalen, Law School Communications
From college and dating, to employment and savings, there are countless choices made by our younger selves that would benefit greatly from the wisdom and advice of an older version.
As time travel is not in the line of Michigan Law, the Office of Career Planning and Office of Development & Alumni Relations is piloting the next best thing. Launched in fall 2012, the Law School's inaugural one-on-one mentoring program works to pair alumni and students who share not only a career path, but also similar backgrounds, interests, and hobbies.
"The matching is personal," said recruitment manager Kim LeClair. "Organizers of the program match the participants by hand based on criteria they identify. This includes information such as area of interest, participation in student groups, undergraduate institution, personal interests, hometown, desired employment sector, and preferred or current practice location."
Although the program is still in its infancy—26 students and alumni were matched during a reunion weekend in fall 2012 and 56 when the program traveled to Washington, D.C., in May—LeClair said the Office of Career Planning has had a positive response from current student and alumni participants.
For rising 2L Nate West, participation in the D.C. installment of the program offered an opportunity to explore one area of law while serving another.
A legal intern in the U.S. Department of Justice's Criminal Division, Appellate Section, West is gaining first-hand experience in the public sector but relying on his mentor, who works in one of D.C.'s private firms, for insight into Big Law.
"Michigan is one of those schools where people are not only proud to attend but they are excited to meet alumni and that really helps in terms of networking down the line," West said. "The alumni seem to be very amenable to helping fellow alumni and current students, and there are so many alumni across the country doing every possible thing you can do with a JD."
From networking tips to reviewing his bid list for upcoming on-campus interviews, West said his mentor has already proved a valuable resource in just the past two months.
Mentor Cyrus Nezhad, '03, an attorney in the Office of the General Counsel at the U.S. Department of Energy, hopes to assist his own mentee similarly.
"I didn't participate in anything like this when I was in Law School and, in hindsight, it could have been helpful," said Nezhad of his motivation to serve as a mentor. "It was a way to help out Michigan Law students and to give back."
This willingness on the part of alumni to assist younger generations of the Michigan Law community is both overwhelming and intensely gratifying to organizers of the mentoring program, the future of which depends on student and alumni interest.
"It really is the Michigan Law difference," said LeClair. "Our alumni are so willing to work with current students. The key is to let students and alumni know these networking relationships exist and, through them, we can make the Michigan community that much stronger around the world."
more ....