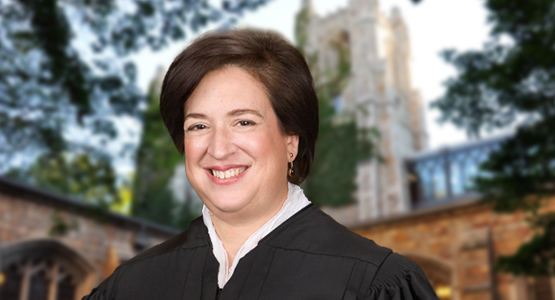 Justice Kagan Highlights South Hall Dedication Weekend
By Katie Vloet, Quadrangle editor
Associate Justice Elena Kagan gave an inside look at the Supreme Court during a Friday morning talk presented by the U-M Law School, in which she said justices are not motivated to rule in certain cases to favor or disfavor a particular president, that even the politically divergent members of the Court genuinely like and respect one another, and that she—the junior justice—has tasks such as serving on the Court's cafeteria committee.
more ....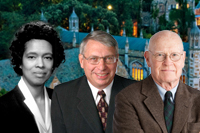 Bickner, Kearse, and White Named Distinguished Alumni for 2012
By Rebecca Freligh, Law School Development
The three recipients of Michigan Law's 2012 Distinguished Alumni Award have achieved eminent careers in business, the judiciary, and academia. The awardees are Bruce P. Bickner, '68; the Honorable Amalya L. Kearse, '62; and James J. White, '62, Michigan's Robert A. Sullivan Professor of Law.
"We are delighted to honor such remarkable alumni as the 2012 recipients of this prestigious award," said Dean Evan Caminker. "All have made an important difference in their fields and to the Law School. All represent the best of Michigan Law."
more ....

Early Modern England, Scatological Humor, and the Democratizing Force of the Internet
By Clarissa Sansone, Law School Communications
Sometimes an off-color joke can be more culturally revealing than a philosophical tome. Where 17th-century British gender roles are concerned, sources well outside the canon have plenty to say on the subject. Prof. Don Herzog had surmised as much, and his research confirmed it.
more ....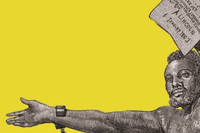 Law School, University mark the 150th anniversary of the Emancipation Proclamation
By John Masson, Amicus editor
With the 150th anniversary of the Emancipation Proclamation rapidly approaching, the University of Michigan has plans for a commemoration that draws upon the institution's strengths in the history of race and law.
Presented by the Law School's Program in Race, Law & History and the William L. Clements Library, in cooperation with the Hatcher Graduate Library, activities will run from Oct. 15, 2012, until Feb. 18, 2013. President Abraham Lincoln issued the Emancipation Proclamation as an executive order on Jan. 1, 1863.
more ....

First Director Hired for Zell Entrepreneurship and Law Program
By John Masson, Amicus editor
As Michigan Law's unique new program in entrepreneurship and law ramps up, newly appointed director Prof. Erik Gordon wants his students to gain three main things: knowledge, a skill set, and—most important—a mindset.
"We can boil it down to just a few broad concepts," said Prof. Gordon, of nurturing an entrepreneurial spirit in Michigan Law graduates. He should know: an entrepreneur himself, he comes to his new full-time position leading the Law School's recently established Zell Entrepreneurship and Law (ZEAL) Program from Michigan's top-ranked Ross School of Business, where he was a clinical professor and associate director of the Zell Lurie Institute.
more ....