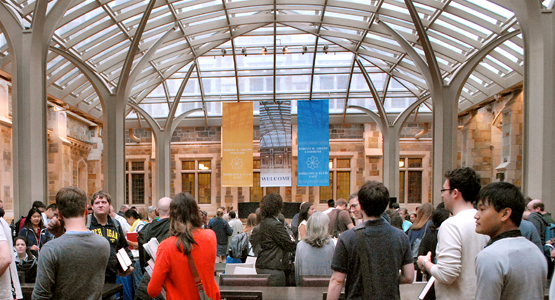 Grand Opening of Robert B. Aikens Commons and Kirkland & Ellis Café Draws Hundreds
By John Masson, Amicus editor
The opening September 7 of the magnificent glass-roofed Robert B. Aikens Commons left little doubt about where the social heart of the Law School now lies.
Several hundred students, faculty, and staff formed up outside four new sets of double doors leading into the space from Hutchins Hall. When the doors finally swung open precisely at noon (after the last construction worker had finished polishing the last piece of trim), a flood of humanity broke over the Commons' comfortable furnishings like a wave and settled in as if the place had always been there.
Built on the site of a formerly unused courtyard between Hutchins Hall, the stacks building, and the Reading Room, the gathering space now links all three. Featuring a curved glass roof supported by tree-like steel beams, the Commons—with its student gathering spots, spaces for student organizations, meeting rooms, and the beautiful new Kirkland & Ellis Café—also will serve as the main entry point for Hutchins Hall.
After the opening festivities, students, faculty, and staff stayed to study and socialize.
This opening is the first step to solving a serious space crunch at the Law School. When the new South Hall academic building opens later this fall, the school will also have added classroom and office space for a student body that's more than doubled and a faculty that's more than quadrupled since the last new instructional spaces opened in Hutchins Hall in 1933.
But there were pitfalls to dodge in the design and building process.
The first was to avoid detracting from the beauty already present. The second was to resist the temptation to try slavishly to duplicate the existing buildings. Instead, in the words of the project's architects, the goal became designing structures that clearly belonged in the same family as the existing buildings. That way the work would celebrate the Law School's storied past while keeping an eye firmly fixed on the future.
Visitors to Aikens Commons will find that architects somehow managed to bring the warm granite of the outside walls indoors. Both levels of the space are bathed in natural light, with the top level divided between a café space and an open gathering spot. The steel towers holding up the roof add to the impression of being outdoors—they're shaped like the soaring elms of the Law Quad.
Outside, builders employed time-honored techniques to ensure the new entrance to Hutchins Hall matched the existing building.
"I defy anyone to say which part ... was built in 2010, and which was built in 1931," Dean Evan Caminker joked during a brief welcoming talk.
Downstairs, a special events and media room with retractable walls is at the center of the space. The perimeter features ample seating and places for members of the Law School community to chat and mingle. Building materials are a mix of the old and the new, with granite, limestone, and glass mingling with softer surfaces like leather and fabric paneling.
Taken in combination with South Hall, the structures promise to transform the way one of America's great schools trains future generations of the leaders and best in one discipline that governs every important aspect of our lives: the law.
more ....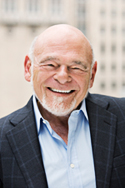 Michigan Law Launches Groundbreaking Entrepreneurial Law Program
Free legal clinic will serve student entrepreneurs
By John Masson, Amicus editor
A rare program in entrepreneurship and law launching this fall at the University of Michigan Law School will steep student lawyers in the arts of entrepreneurial businesses and also lead to groundbreaking entrepreneurial opportunities for students University-wide.
The Zell Entrepreneurship and Law (ZEAL) Program establishes a clinic to offer free legal advice to Michigan's burgeoning number of student entrepreneurs, while simultaneously boosting the Law School's curriculum to train law students to better serve both start-up and existing entrepreneurial businesses. This dual approach, combined with the depth and scope of resources involved across the full spectrum of the University, makes the ZEAL program unique.
Together the two parts of the program will encourage law students to offer legal advice to—and ideally, to join forces with—the growing number of student enterprises bubbling up as a result of U-M's campus-wide culture of entrepreneurship.
The program has broad implications for students and the economy. Small businesses are the leading driver of job growth in the United States, creating 64 percent of new jobs in the country. There are roughly 29.6 million small businesses in the country, and approximately 627,000 are started every year.
"The University has created an entrepreneurial ecosystem across this campus that is exciting and distinctive," said University of Michigan President Mary Sue Coleman. "Whether in classes, business plan competitions, or incubators, students have an opportunity to bring a good business idea to life. These new Law School offerings add an important new dimension to support student innovation."
Sam Zell, the Chicago-based entrepreneur who earned his undergraduate and law degrees at Michigan, is seeding ZEAL with a $5 million gift. Zell began an apartment management and investment company while attending the University.
"My goal with entrepreneurial endeavors at the University has always been to create cross-pollination across multiple disciplines," Zell said. "We've got top schools in law, engineering, business, and medicine. That's an entrepreneurial jackpot just waiting to be cashed in."
ZEAL is the newest in a series of University initiatives geared toward business development, including the Samuel Zell and Robert H. Lurie Institute for Entrepreneurial Studies at the Ross School of Business (ZLI), the Center for Entrepreneurship within the School of Engineering, a unique new professional master's degree in entrepreneurship created by the College of Engineering and the Ross School, the Michigan Venture Center, student-run programs like the Wolverine Venture Fund, and a variety of competitions and grant programs that encourage student start-ups. Overall, more than 5,000 students across campus participated in an entrepreneurial activity last year.
"What we're trying to do at Michigan is something no other top school has done: truly connecting and coordinating entrepreneurial efforts across the entire campus to maximize opportunities for all students," said Thomas Zurbuchen, a professor of aerospace engineering and the Associate Dean for Entrepreneurial Programs in the College of Engineering. "That's why the Law School's new program is so exciting. This kind of connectedness across disciplines makes U-M truly unique among peers."
The ZEAL program's dual approach to entrepreneurial education—the clinic, together with several new courses tailored for the entrepreneurial lawyer, for businesses large and small—is at the heart of the school's philosophy of joining the practical with the purely academic, said Law School Dean Evan Caminker.
"We are preparing our law students with a specialized skill set that will enable them to serve the small business community through entrepreneurial start-ups," Caminker said. "At the same time, we can encourage up-and-coming entrepreneurs by helping them get started and grow."
Significantly, the approach also benefits the largest number of students from across all disciplines and schools on the Ann Arbor campus.
"While our law students have huge interest in business law courses, there's an even larger, unmet need for legal advice among campus entrepreneurs," Caminker said.
The clinical aspect of ZEAL will deploy student-attorneys, supervised by faculty members, to help founders of promising student ventures iron out the business formation, trademark, finance, patent, regulatory, and other issues that can complicate the establishment of any entrepreneurial business.
The program will support such existing initiatives as the ZLI at the Ross School of Business, which was cofounded by Zell in 1999 and has granted more than $2.3 million in support of start-ups for graduate students and undergraduates alike. Tim Faley, ZLI's managing director, said the rest of the University community will be grateful for Law School help.
"We know the Law School is going to be a great partner," Faley said. "All of Michigan's entrepreneurial programs are looking for legal counsel. And law students are saying much the same thing—that they'd love to learn how these deals go down."
more ....
A Different Kind of Cook Book
Recently retired Law Library Director Margaret Leary examines life of MLaw benefactor
By John Masson, Amicus editor
When Margaret A. Leary came to work at the Law Library at the University of Michigan in 1973, she found an unexpected item in a vault in her office: a large black object that turned out to be the death mask of Michigan Law's most famous benefactor, William W. Cook.
Thus began a three-decade fascination with the life and work of Cook, best known at the Law School as the man whose generous bequest simultaneously launched the school into the top rank of legal education and gave Ann Arbor perhaps its most recognized buildings—the magnificent Law Quadrangle that bears Cook's name.
Problem was, little else was commonly known about the Gilded Age lawyer, who was born in 1858. What was known was often a pastiche of misconceptions and distortions. So Leary set to work discovering the truth about Cook, and shares her discoveries in her newly published book, Giving it All Away: The Story of William W. Cook and His Michigan Law Quadrangle (University of Michigan Press, 2011). The recently retired librarian will be meeting readers and signing books in Room 100 of the Hatcher Graduate Library on campus from 4 to 5:30 p.m. Sept. 27.
The hunt for information on Cook, who made his fortune in the famously rancorous telegraph industry and never returned to Michigan after he earned undergraduate and law degrees here, took Leary far beyond the confines of her library. Among her goals was determining what made Cook a philanthropic trendsetter among his peers and how his relationship with his alma mater was carefully fostered by university officials.
Learn more about Leary's findings in this Michigan Law video, appropriately recorded in Cook's personal library, the Cook Room, which was painstakingly rebuilt at Cook's request on the ninth floor of Michigan Law's Legal Research Building.
more ....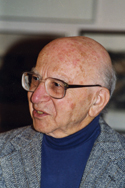 Memorial Celebration Planned for Professor Eric Stein, "Europe's Prophet," who died at 98
By John Masson, Amicus editor
A celebration of the life of beloved Michigan Law Professor Eric Stein, who died in late July after an illness, will be held at the Law School Oct. 30.
Stein, who first came to the University of Michigan Law School as a refugee from Nazi-occupied Czechoslovakia, was universally acknowledged as the father of legal scholarship on the European Union. His passing at age 98 means the loss of two bridges in the legal world—one spanning the Atlantic, and the other spanning the pre- and post-World War II eras.
Those who knew Professor Stein well acknowledged the loss of a brilliant scholar who was also among the most gracious people they knew.
"Eric Stein's life embodied everything civilized society strives for," said Lee C. Bollinger, the president of Columbia University and a former president of the University of Michigan and dean of its law school. "He worked ceaselessly for laws and policies whose purpose and function would be to unite peoples and nations."
He applied that spirit in his personal and professional life, as well, Bollinger said.
"He was sensitive and cultured. Nothing was separate and discrete with Eric; it was all part of a whole and integrated existence," Bollinger said. "And that made him the most natural and best mentor and friend you could ever have."
Professor Stein's connection to the University of Michigan Law School, where he was the Hessel E. Yntema Professor of Law Emeritus, began long before he joined its faculty in 1955. He was born in 1913 in Holice, Bohemia, in what was then the Austro-Hungarian Empire, to Zikmund and Hermina (Zalud) Stein. By 1939 Professor Stein was already a young lawyer who had trained at Prague's prestigious Charles University.
He was also a Jew. And with war in Europe looming, he found himself serving in the Czechoslovakian army. Hitler's occupation came suddenly; in an interview Professor Stein described awakening in his barracks one morning and seeing German armored personnel carriers parked in the courtyard.
By 1940 he was in Naples, where he obtained a U.S. visa in what he described as "an extraordinary set of circumstances." An embassy staffer had stepped completely beyond his authority to issue Stein a student visa. The risk quickly turned to reward for Stein's new country; after earning an American JD at the University of Michigan Law School, Stein joined the U.S. Army and trained as an intelligence officer. He returned to Italy in uniform and helped design the temporary Allied military government. He even found himself unexpectedly drafting an abdication decree for the King of Italy. (The king ultimately decided to use a decree drafted by his own staff, possibly, Stein suspected, because of Stein's faulty Italian.)
He also learned in Italy that only two of his close relatives had survived the war. His parents, a sister, his brother-in-law, and a nephew died in Nazi concentration camps.
Professor Stein's service earned him a Bronze Star and the Order of the Italian Crown, Italian Military Cross. With the war over, he went to work for the U.S. Department of State, which assigned him to its new United Nations bureau. Armed only with the UN Charter—its ink barely dry—Stein and others set to work organizing the General Assembly, the Security Council, and other institutions still at work today.
Stein stumbled across what would become the center of his life's work, in international and comparative law, while he was still with the State Department in the early 1950s. Europe's Coal and Steel Community represented the marriage of the strategic industries of West Germany and Italy, along with France, Belgium, the Netherlands, and Luxembourg—a group of nations whose members had been on opposite sides of the recent European World War II death struggle. Stein began seeing State Department cables about the new organization, which turned out to be the prototype for the European Community, and ultimately today's European Union. Stein became fascinated by the group's potential to prevent catastrophes like World War II, even as he was becoming increasingly disappointed with the UN's obvious Cold War-era shortcomings.
During this period an Army buddy from his time in Italy introduced him to Virginia Rhine, who was following developments in the Soviet Union for the State Department's Office of Intelligence Research. A trailblazing Arkansas native, Rhine first came to Washington as a National Institute of Public Affairs intern, then worked for the Food Distribution Administration and the Bureau of Economic Warfare. When peace came she enrolled in Columbia University's newly formed Russian Institute, and later earned a graduate degree in art history from the University of Michigan.
She said she was immediately drawn to "this rather exotic character."
"I was simply attracted to him for his intelligence, his kindness, and his sense of humor," Mrs. Stein said. "He has a wonderful sense of humor."
The two married in 1955, and Professor Stein earned a steadfast soulmate—and a top-notch editor who helped prepare everything he wrote for publication.
The same year, after a chance meeting with the dean of the University of Michigan Law School, Professor Stein returned to Ann Arbor as a professor of law. But as a legal scholar, it wasn't the UN that Stein wanted to study. Nor was it another fledgling international institution, the International Atomic Energy Agency, whose charter he had helped draft while with the State Department. It was the European Coal and Steel Community. Stein seemed to sense that hopes for peace in his battered native continent might well hinge on the success—and expansion—of such a community.
European scholars began streaming to the small Midwestern city of Ann Arbor to study with Professor Stein the legal underpinnings of the nascent European Community. Many of those scholars, like Bruno Simma who is currently a justice of the International Court of Justice in The Hague, returned to Europe and achieved leadership positions, spreading Professor Stein's influence even further.
"Eric was one of the few people you meet in life who help you believe in the good in human beings," said Justice Simma, now a William W. Cook Global Law Professor at the Law School. "Here is a man who, having barely escaped the Holocaust ... turned into a father figure and made Ann Arbor a home for many German scholars. ... I consider myself immensely fortunate to have caught his attention 40 years ago."
Michigan's current dean, Evan Caminker, agreed.
"All of us who knew Eric were grateful for the privilege," Caminker said. "Eric has been associated with Michigan Law since the middle of the last century, and his vitality and exuberance will be sorely missed."
Some who were directly influenced by Professor Stein, such as Professor José Alvarez of New York University School of Law, became leading scholars of international law in their own right.
"Of course, he helped to establish the field of European Community law," Professor Alvarez said. "But he also shaped the careers of many of today's leading lights."
By 1960 Professor Stein had coauthored with Thomas Nicholson the first book on the Community, which correctly predicted that the organization could morph over time into a constitutional pan-European government. He also wrote 10 other scholarly books and dozens of articles.
"Eric taught the first course and wrote the first book on what we would now call European Union law," said Professor Daniel Halberstam, who holds the endowed professorship created to honor Professor Stein at the University of Michigan Law School. "He also was the first to make people see the constitutional dimension of European integration. And he did all this with a wonderful gift for writing and a compelling spirit of decency."
Other Michigan law professors, such as comparative international law expert Mathias W. Reimann and public international law expert Steven R. Ratner, said Stein was instrumental in making Michigan a leader in international and comparative law.
"But most important, he was an uncommonly kind, self-effacing and generous man," Professor Ratner said. Professor Reimann added that, because of Stein's training in law schools in both Europe and America, he had "an inherently comparative perspective ... which enabled him to perceive fundamental developments before the Europeans themselves could see them."
Looking back on Professor Stein's work, a leading German newspaper recently proclaimed him "Europe's Prophet."
His remarkable career didn't slow as Stein aged and the century waned. After the collapse of Communism, he helped draft a proposed constitution for a Czecho-Slovak Federal Republic, then consulted on the Czech Republic's constitution after the two halves of his birth country finally parted. At age 84, he published the prize-winning book Czecho/Slovakia: Ethnic Conflict, Constitutional Fissure, Negotiated Breakup, which provided the first in-depth study of the separation. In 2001, Czech President Vaclav Havel personally presented Professor Stein with the Medal of Merit First Degree for his scholarly achievement. Over the next few years, Stein received prestigious lifetime achievement awards in every discipline he had touched: from the American Society of Comparative Law in 2004, from the European Union Studies Association in 2005, and this year from the American Society of International Law.
"His career spanned the vital moments of the 20th Century," said New York University Law professor and renowned expert on European integration Joseph Weiler. "As a human being, his life, alongside his wife Virginia, was rich and marked by an uncommon generosity of spirit and endless curiosity and energy."
Through it all, his students and those who knew him adored him. He placed many in internships around the world, long before such arrangements became commonplace. In return, many streamed back to Ann Arbor from Europe and Asia in recent months to say goodbye.
"Eric Stein was far more than a mentor to me and many other international lawyers of my generation," Professor Alvarez said. "He was the embodiment of all that any academic—any human being—could aspire to be."
Professor Stein is survived by his wife of 56 years, Virginia Stein; his grand-niece Karen Weiner of New York City; and cousins in Prague and the United States. In lieu of flowers, contributions may be made to the Eric and Virginia Stein Fund for International and Comparative Law at the University of Michigan Law School, 625 S. State St., Ann Arbor MI 48109, or to Arbor Hospice, 2366 Oak Valley Drive, Ann Arbor MI 48103.
More information about the celebration of Professor Stein's life, scheduled for 1:30 p.m. Oct. 30 in the Lawyers Club Lounge, is available at (734) 615-4501.
more ....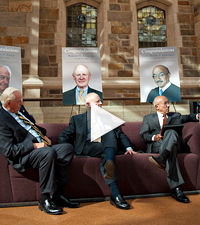 Law School announces first Distinguished Alumni Awards
By Becky Freligh, Law School Development
From a pool of more than 20,000 alumni, Michigan Law has chosen three inaugural recipients of the new Distinguished Alumni Award: the Honorable Harry T. Edwards, '65; Robert B. Fiske Jr., '55, HLLD, '97; and Richard W. Pogue, '53.
"We are thrilled to name these exemplary alumni as the first honorees of this prestigious new award," said Dean Evan Caminker. "Their professional achievements are of the highest order, and their dedication to the Law School is unsurpassed."
The dean presented the awards at a ceremony on September 16 in the new Robert B. Aikens Commons.
Edwards, of Washington, D.C., was appointed to the U.S. Court of Appeals for the D.C. Circuit in 1980 and served as chief judge from 1994-2001. He began his legal career with Seyfarth, Shaw, Fairweather & Geraldson in Chicago. He was a tenured member of the Michigan Law and Harvard Law faculties, and also taught at the Harvard Institute for Educational Management. Edwards has served as a member and chairman of the Board of Directors of Amtrak. In 2006, he was appointed co-chair of the Forensics Science Committee at the National Academy of Sciences, which issued a seminal report in 2009 calling for major reform. Edwards is the coauthor of five books and the author of scores of law review articles.
Fiske, of Darien, Connecticut, began his legal career at Davis Polk & Wardwell in 1955 and is currently a senior counsel in the firm's litigation department. His extensive experience as a government prosecutor includes service as assistant U.S. attorney and U.S. attorney for the Southern District of New York and as independent counsel in the Whitewater investigation. He currently serves on the Judicial Compensation Commission established by the New York Legislature to determine the compensation of New York State judges. At Michigan Law, Fiske is the benefactor of the Fiske Fellowship Program for Government Service, now 10 years old. He serves on President Mary Sue Coleman's Advisory Group, the Dean's Advisory Council, and the Development and Alumni Relations Committee.
Pogue, of Shaker Heights, Ohio, became managing partner of Jones Day in 1985, guiding the firm in significant growth and entrance to international markets. He specialized in antitrust and corporate takeover defense and currently is a senior advisor at Jones Day. A past chair of the Antitrust Law Section of the American Bar Association, Pogue has also been active in many civic leadership roles in Cleveland and Northeast Ohio. At Michigan Law, he created and taught a course in "The Business of Law" and endowed a fund to sponsor programming in this area. The inaugural chair (since 2006) of the Dean's Advisory Council, Pogue is a recipient of the Distinguished Alumni Service Award from the U-M Alumni Association, its highest award.
To submit a nomination for the 2012 Distinguished Alumni Award, please visit www.law.umich.edu/alumniandfriends/Pages/DistinguishedAlumniAward.aspx. A slideshow of this year's event is available here.
more ....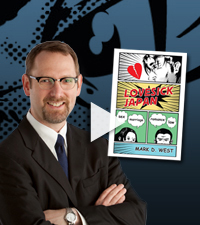 Labor of Love
Profesor Mark West talks about his new book, Lovesick Japan
By John Masson, Amicus editor
A new book by Michigan Law Professor Mark D. West takes a lively look at the painful reality of love, as seen through the eyes of Japanese judges.
Lovesick Japan: Sex/Marriage/Romance/Law is the fifth book for West, the Nippon Life Professor of Law and Associate Dean at the Law School. He has written Secrets, Sex, and Spectacle: The Rules of Scandal in Japan and the United States(2006); Law in Everyday Japan: Sex, Sumo, Suicide, and Statutes (2005); and Economic Organizations and Corporate Governance in Japan (2004). He is also an editor of The Japanese Legal System: Cases, Codes, and Commentary(2006).
The latest book sprang, West said, from a classroom discussion of divorce law in Japan. But don't take our word for it—instead, play the short video interview with the author.