A Hunger for Munger

Law School benefactor dispenses candid wisdom during "A Conversation With Charlie Munger"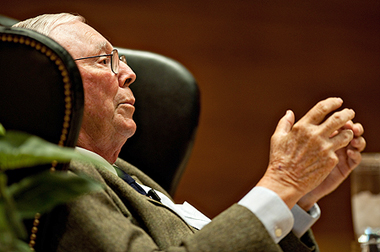 By John Masson, Amicus editor
An appearance by Berkshire Hathaway vice-chairman Charlie Munger drew several hundred people to campus September 14 for a two-hour dose of a Munger specialty: the unvarnished truth.
Never known for his reticence, the force of nature behind Poor Charlie's Almanack and key advisor to Warren Buffett left the crowd of mostly law and business students laughing. But he also left them with some sobering ideas to chew on: Employment isn't likely to improve in the near term, in his opinion, and the real estate situation probably will get worse, at least in some sectors. The housing crisis was orchestrated by "idiots and knaves ... making a fortune on shoddy mortgages." Meantime, the "adults" in the room at the time (that's you, accountants) didn't act. More
---
Here Comes the Sun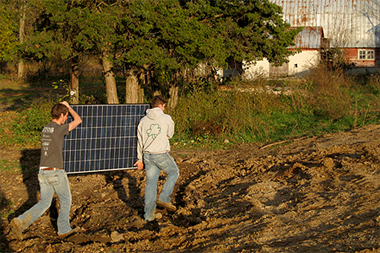 (Photo courtesy of Sam Field)
Solar power is a family affair for Sam Field, a 1977 Law School grad – and so is the University of Michigan, where his wife and son also studied. Field's Kalamazoo-area solar farm – Michigan's largest – was documented in a recent edition of Michigan's LSAWire, an online publication of the School of Literature, Science, and the Arts. More
---
Alumni Profile: Roopal R. Shah, '95
By Becky Freligh, Law School Development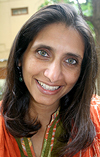 When the University of Michigan hosts a 50th anniversary celebration of the Peace Corps on campus next month, the speakers on international service will include Roopal R. Shah, '95.
It probably wouldn't surprise Shah's classmates that the inaugural recipient of the Dean's Exceptional Service Award keeps service at the center of her life. But she insists the process of committing to service as a career path has been gradual, and not without internal resistance. More