Alumni Profile: Roopal R. Shah, '95
By Becky Freligh, Law School Development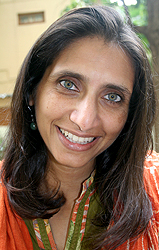 When the University of Michigan hosts a 50th anniversary celebration of the Peace Corps on campus next month, the speakers on international service will include Roopal R. Shah, '95.
It probably wouldn't surprise Shah's classmates that the inaugural recipient of the Dean's Exceptional Service Award keeps service at the center of her life. But she insists the process of committing to service as a career path has been gradual, and not without internal resistance.
Still, she adds, "I realize that the direction I'm headed is the direction I need to be going."
Shah's most recent professional venture is Indicorps, an eight-year-old nonprofit organization that brings young people of Indian origin to India to work on community development projects. She co-founded (and co-funded) Indicorps with her sister, Sonal, and her brother, Anand, as a natural extension of their family's tradition of giving back to the community.
With the motto "Service for the Soul," Indicorps is aimed as much at personal transformation for its participants as at doing good in India.
"What we do best is to get young people to see their potential as change makers and attempt to do something about it," says Shah. "Even if they go back to a traditional career, it's having them think differently about what's possible."
Dedicated as ever to Michigan Law, she took the Law School's Alumni Service Day program international last May, leading a group to clean a park in Ahmedabad, India. Though Shah was the only participant with a Michigan connection, she viewed the day as a success and says she'll try again next year.
Shah came to law school with political aspirations—not to become President of the United States, because she wasn't born in the U.S., "but to get as far as I could," she recalls. "While I was pretty nontraditional as a student, I was really traditional in terms of what I understood my options to be."
Former dean of students Susan M. Eklund, '73, says the former Law School Student Senate president was as compassionate as she was competitive. "Roopal was one of those law students who were really open to understanding the other person's point of view," says Eklund, with whom Shah worked to establish Service Day as part of the 1L orientation program.
After graduation, Shah did a judicial clerkship in Hawaii, litigated in the Washington office of Shearman & Sterling, and worked as a prosecutor with the U.S. Attorney's office in San Diego. Outside the office she continued to pursue her passion for community service and, while in California anyway, surfing.
Twice during her years as Indicorps' executive director, Shah has returned to the U.S. to try more traditional legal work, and both times, feeling unfulfilled, she has returned to India. On August 1 she stepped down from the Indicorps post, open to whatever comes next, whether that's running a surf shop or a grass-roots project in India.
"I'm excited," she says, "because for the first time in a really long time, I don't feel the pressure of proving myself. I don't feel like I need to make an upward career move. I see it as a real learning opportunity."
When Shah speaks of values, Gandhi's name surfaces with some regularity. But asked about people who have inspired her, she's as likely to mention the judge she clerked for, her parents, Eklund, former law-firm colleagues, even the custodial staff at the Law School.
"There's a lot of goodness out there, and a lot of good to learn from, but I don't need an icon," she says. "I need to find my own way. Each of us has our own path to truth."