A Hunger for Munger

Law School benefactor dispenses candid wisdom during "A Conversation With Charlie Munger"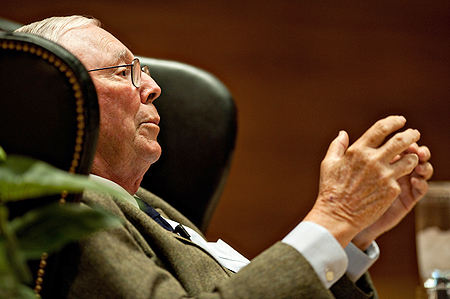 By John Masson, Amicus editor
An appearance by Berkshire Hathaway vice-chairman Charlie Munger drew several hundred people to campus September 14 for a two-hour dose of a Munger specialty: the unvarnished truth.
Never known for his reticence, the force of nature behind Poor Charlie's Almanack and key advisor to Warren Buffett left the crowd of mostly law and business students laughing. But he also left them with some sobering ideas to chew on: Employment isn't likely to improve in the near term, in his opinion, and the real estate situation probably will get worse, at least in some sectors. The housing crisis was orchestrated by "idiots and knaves ... making a fortune on shoddy mortgages." Meantime, the "adults" in the room at the time (that's you, accountants) didn't act.
"It's their duty under God, and they failed us terribly," Munger, 86, said of the green eyeshade crowd. And the crooked dealmakers on Wall Street? "You can't blame the tiger for being a tiger. But we need a gamekeeper."
The conversation was moderated by CNBC anchor Becky Quick and punctuated with questions from some of the several hundred students, faculty, and interested onlookers who crowded Blau Auditorium at the Stephen M. Ross School of Business. Munger, whose $3 million gift in 2007 paid for lighting and electrical upgrades throughout Hutchins Hall and the Reading Room, was introduced by Law School Dean Evan Caminker. University President Mary Sue Coleman spoke briefly, and Ross School Dean Robert Dolan, fund manager and investor Li Lu, and business leaders John Conlin (MBA '83) and Peter Kaufman also were in attendance.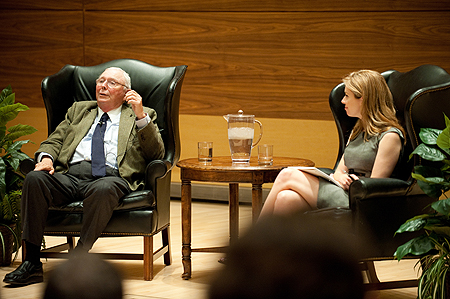 Clearly, though, the star of the show was Munger. Like partner Warren Buffett, the 86-year-old investment wizard draws what he calls "groupies," shareholders who fly in from all over to hear what he has to say.

Among the assertions: Sure, the idea of making fuel from corn was "asinine," but that doesn't mean renewable energy – especially solar energy – isn't the future. And there's still time for Americans to embark on "the biggest infrastructure campaign imaginable" to build what we need for the shift to solar power. Even borrowing the money to create the necessary infrastructure is a worthy idea, Munger said, because it's obviously better than "just shoveling money at people." 

Some of Munger's statements were decidedly counterintuitive, coming from someone so near the top of the economic food chain. For example: "I think my taxes are a little too low." Others seemed surprising based on Munger's self-identification as a Republican:  "My only objection to (Wall Street uber-watchdog) Elizabeth Warren, who is not in my political party, is that she's not tough enough."

Other assertions were just, well, righteous: "I don't believe in hoarding gold. Even if you succeed, you're a jerk." 

The ultimate question for many revolved around the anemic state of the current economy. Munger's answer was characteristic: Do what generations of Americans have always done when the economy sours: "Keep your head down and do your best."

It fell to an anonymous 2L near the end of the program to ask the question at the back of everybody's mind: Is this generation up to the task of rebuilding American prosperity?

Yes, Munger answered. It's a different mix of people in America these days, but they're plenty smart enough for the challenge.

Oh, and one more thing: "This is hog heaven compared to the 30s.

Video of the remarks; or check out a slideshow of the event.