Legends of the Fall: 1Ls
descend on Michigan Law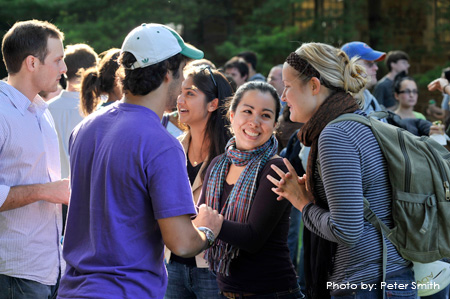 New first-year students learn the ropes outside Hutchins Hall this year.
By John Masson, Amicus editor
Michigan Law's incoming class has arrived in Hutchins Hall, and for faculty and staff, that can only mean one thing: so has the annual letter describing the group, courtesy of Admissions Dean Sarah Zearfoss.
The letter, written with trademark wit and self-deprecating humor, has become something of a rite of fall around the Law School. Through it, faculty and staff get some small sense of the caliber of student drawn to Michigan Law.
And here's a hint: the economic downturn hasn't been matched by a similar downturn in the extraordinary qualifications of the students who choose to come here.
To be sure, Zearfoss wrote, "it was a bit of a hairy last couple of weeks, as the economy put nerves into several folks who withdrew at the last minute for financial reasons—but we were over-enrolled anyway, so we could be relatively sanguine (although sanguine isn't really my thing)."
Those who chose to come, Zearfoss wrote, are as strongly positioned academically as last year's class – which means they're more highly qualified than any other class in Law School history.
Some of the numbers: the class totals 371 people, 89 of whom are summer starters. Forty-five percent are women, and 23 percent self-identify as ethnic minorities (Asian American, 13 percent; African American, 5 percent; Latino, 4 percent; and Native American, 2 percent.)
"And yes," Zearfoss adds parenthetically, "I know this adds up to 24 percent, but that's due to rounding, not to my inability to add."
Three percent are non-citizens, and 10 percent were living abroad during the law school application process. Thirty-one percent have at least one parent with no degree beyond high school, and 11 percent have two parents in that category. In addition to the 21 percent who are from Michigan, people came to the Law School this year from 38 states, plus D.C. and Guam, Puerto Rico, and the Virgin Islands.
"This was a sort of exciting number of U.S. territories, I thought, so next year we'll be focusing our recruiting efforts on the Northern Marianas and American Samoa," Zearfoss deadpanned.
Also represented are 14 countries, including Australia, Bangladesh, Brazil, Canada (some suspect the Canadians are just here for the health care), China, England, France, Germany, Hong Kong, India, the Netherlands, Russia, Singapore, and South Korea. They come from 144 undergrad institutions, including 11 from women's colleges, and range in age from 21 to an all-time high of 63. The mean age is 24.4.
Seventy percent took a year or more off following their undergraduate studies, and 12 percent of them got advanced degrees during that time (including one student with a PhD from Cornell in Experimental Particle Physics, "which just sounds crazy-hard to me," Zearfoss noted).
For hard-core number crunchers, LSAT and UGPA medians and 25th/75th percentiles are as follows:
GPA 25/50/75: 3.55/3.70/3.84
LSAT 25/50/75: 167/169/170
Those numbers are essentially identical to last year's, and so are once again an all-time high, she wrote. "Don't complain," Zearfoss added. "At least I didn't implement my nascent plan to return to whatever our all-time low was and start the climb afresh."
Beyond the numbers, the new students' accomplishments also tell a story. Three are Fulbright scholars, seven were AmeriCorps volunteers, and four were in the Peace Corps. Six are Teach for America alumni, one is a Truman Scholar, and seven are military veterans.
Some come from other fairly weighty careers, as well. One was a reactor systems engineer for the US Nuclear Regulatory Commission; another was the assistant director of operations for the Detroit Shock of the WNBA; and one was a tight end on the football team at Notre Dame. Another was "Booty Master" – read, treasurer – for a pirate-themed a cappella group. Argh, matey.


The legal fencing starts early on the Law Quad this year. Fortunately, the combatants are using inflatable rapiers.
Also among them is a seasonal wilderness ranger and a wildland firefighter for the US Forest Service; someone with a top-secret clearance at the National Security Agency, and another person who did intelligence for the US army. There's also a police officer; a political and legislative analyst for the Israeli Embassy; five Department of Justice antitrust paralegals; and someone who had never been in a motorized vehicle until she got on a plane seeking political asylum.
"Finally," Zearfoss wrote, "the following get my nomination for best combination of life experiences: the person who was a life coach for teens and young adults with autism and Asperger's, as well as an Arabic linguist for the US Army; a person who was "VP of Jamming," for the Amateur Rock Guitarist Organization as well as a patent examiner for the US Patent and Trademark Office; and the person with a diploma from Le Cordon Bleu and work experience as an EMT."
Faculty and staff wish them all the best of luck. With backgrounds like these, we can't help but wonder whose career trajectory will provide the most pleasant surprise 10 or 15 years down the road.