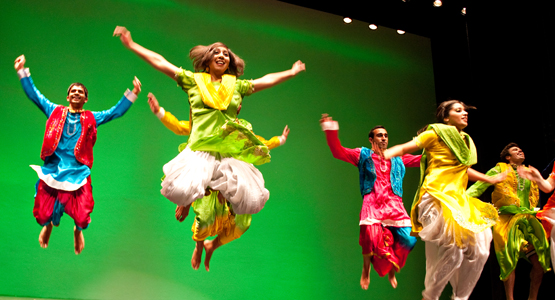 A Culture of Caring
Culture Show helps student groups raise cash for charity
By John Masson, Amicus editor
From the leaps of a Bollywood dance to the lilt of a gentle folk tune—and just about everywhere in between—2011's Michigan Law Culture Show spanned the globe in celebration of the many cultures that come together to form Michigan Law.
The third annual Culture Show, held this month and led by many of the Law School's student groups, sold out the Michigan League's Mendelssohn Theatre and raised money for Ozone House, an Ann Arbor facility for families in crisis. Thirteen acts took the stage, but for the first time this year, not all the acts were students. See which members of the faculty twisted the night away in this Michigan Law video, produced by the Law School's web designer, Alex Lee. Or check out a slideshow by noted Ann Arbor photographer Leisa Thompson.

Marie Claire names Bridgette Carr, '02, "Top Lawyer" for work fighting human trafficking
By John Masson, Amicus editor
Professor Bridgette Carr, a 2002 Michigan Law graduate who founded the Law School's Human Trafficking Clinical Program in 2009, has been named one of 16 Women on Top by Marie Claire magazine.
Carr was named the year's Top Lawyer by the magazine in its second annual presentation of the award. The honor followed months of research by the magazine, which sought out women under 40 who lead in business, finance, fashion, film, science, and more. (Incidentally, two of the other honorees—Top Green Engineer, Angela Harris, and Top Military Commander, Lt. Col. Tracy Onufer—also received degrees from U-M.)
"I'm delighted to see Bridgette honored by a national magazine for her tenacious work on behalf of human trafficking victims who otherwise might never be heard," said Michigan Law Dean Evan Caminker. "But given her track record here, I can't say I'm surprised."
More important to Carr than the award itself is the opportunity to grow understanding of one of the world's most insidious problems: human trafficking. Many of the people who are trafficked become virtual prisoners, terrorized into submission and forced to work long hours in the sex, restaurant, agriculture, beauty, and landscaping industries.
Slavery isn't confined to developing nations. Every year, about 20,000 people are enslaved in the United States, Carr said. Tens of thousands more are at risk.
The Human Trafficking Clinic combats slavery by representing victims in domestic and international cases, by helping educate law enforcement and the rest of the criminal justice community about the problem, and by working with government and nongovernmental organizations to prevent trafficking in the first place. Carr's affiliated Human Trafficking Law Project, the first publicly available database of U.S. human trafficking cases, launched in February 2011.
The United Nations Office on Drugs and Crime, which recently launched its own global database on human trafficking case law, now gets all its U.S. data from the database maintained by Carr's students at Michigan Law.
"It's wonderful that Marie Claire is recognizing the issue of human trafficking, which is responsible for so much suffering around the world," Carr said. "But what's also important is the magazine recognizing the importance and innovation of Michigan Law, which saw how difficult the human trafficking problem is and led the way by establishing the clinic in the first place."
Actor Katie Holmes hosted a luncheon for Carr and the 15 other honorees at the Hearst Tower in Manhattan on October 19 as part of the program. The magazine's November issue, which hit newsstands Oct. 25, also featured profiles of each honoree.
View a podcast featuring Professor Carr discussing human trafficking.
more ....

Having it to lose: Bill Miller's Losing It finds sweet spot
By John Masson, Amicus editor
"Affable misanthropy," like "military intelligence," seems like an oxymoron at first.
And then you meet Bill Miller.
For a man who's spent his scholarly career dabbling in the least-pleasant environs of his own soul—and the collective soul of humanity, with courses like Bloodfeuds, his highly sought-after examination of score-settling in medieval Iceland—Michigan Law's Thomas G. Long Professor of Law may have reservations about the human race's claims to nobility.
But just because you authored Bloodtaking and Peacemaking, one of the great books of medieval history, doesn't mean you can't also enjoy riding your giant motorcycle from Ann Arbor through the late-autumn chill, back to your hometown of Green Bay, Wisc., to enjoy a Packers game. Without casting aspersions on the good people of Green Bay, it may have been on one such trip that the subject of Miller's just-published work, Losing It, came to him.
"The 'losing it' of this title refers to losing my mental abilities, which just happens with age," Miller said. "The joke is you get wiser, but come on. My head doesn't work as well as it once did, in the same way that I can't run as far or as fast."
If that's true, it's hard to tell from the resulting 260-odd pages of delightfully rendered prose, which are bound to reinforce whatever self-doubts readers may already carry about their own mentation.
"I write about things that everybody's thought about at some level," Miller said of his body of work, which, beside Bloodtaking, also includes The Anatomy of Disgust, Faking It, and The Mystery of Courage. "They might not own up to it, but they've thought about it."
Better still, for a certain type of law professor, is the freedom to write about topics like revenge—which most would agree forms one ancient underpinning of the law—while completely avoiding the often-constraining format of a law review article.
"None of my stuff's utilitarian, unless you actually want to take revenge," Miller said. "We don't put an axe in people's heads anymore, but we certainly are constantly getting even, or figuring out ways of getting even, or people are getting even with us."
Some, such as longtime friend John Hudson, a history professor at St. Andrews University in Scotland, argue that Losing It was the book Miller was meant to write since he published his first book, at what Miller now would consider the infantile age of 44.
"At first, he meant to write a misanthropy trilogy," Hudson said: Faking It, Disgust, and a book that was to have been called Cowardice.
But Cowardice became The Mystery of Courage because Miller, uncharacteristically became fascinated with bravery while studying its opposite. Inconveniently, Hudson said, that didn't fit with Miller's leitmotif of malevolence and malfeasance. So until Losing It came along, the misanthropy trilogy remained incomplete.
Hudson says one of the most remarkable things about Miller is his ability to sort through a vast array of knowledge on a huge variety of topics, and still cobble his conclusions together in an understandable and personal way.
Face to face, conversations with Miller proceed the same way. They may be peppered with references to Norse-era sagas or quotations from Seneca, but any shadow of ponderousness is instantly deflated when Miller utters some of the English language's oldest and least-acceptable words, or when he asks a question about last week's Packers game. There may be a tomahawk-like Icelandic battle-axe on his bookcase, in other words, but just a few feet away rests an old Green Bay Packers cheese-head hat that looks old enough to have been the prototype.
Mark West, the Nippon Life Professor of Law at Michigan and the Law School's associate dean, verified Miller's intellectual range-of-motion.
"He gets a reputation, after all these years teaching Bloodfeuds, of being a historian trying to pull law in," West said. "But he also teaches 1L property. He's a first-rate 1L teacher ... and he's a serious legal scholar, as well. I'm not sure people give him credit for that."
West cites an entertaining passage in Losing It in which Miller crafts an elegant explanation—in five simple pages—of the Rule Against Perpetuities. RAP has confounded law students (and lawyers) for generations, but that doesn't bother Miller, whose lucid explication also manages to refer to an invasion from outer space.
"And it's buried in Losing It!" West lamented. "So, yes. His façade is everyman, but the thing is, everyman doesn't have a seat at the table of one of the world's great law schools."
In short, the distillation process that goes on when Bill Miller takes a serious look at the world is more or less unique.
"If anybody ever tried to imitate it, it could all go horribly wrong," Hudson said with a laugh.
Miller agreed. Sort of.
"You try and write in this witty, clever style, and of course you want to intimidate your younger colleagues so they'll say, 'Hey, man, if he's losing it, where am I?'" Miller said. "So there's a couple of claims. One, that you haven't lost it yet, or even if you have, you can still kick the crap out of them; and two, you actually had it once to lose. Of course, that could be totally false.
The real joke is, I wrote a whole book on being a fraud—Faking It."
That encapsulates the Bill Miller that generations of Michigan Law alumni know and love. He seems utterly self-obsessed without being the least bit self-absorbed. Whatever is going on in his (apparently now failing) mind is instantly on display.
West and former students say his books read less like literature than like roadmaps of the uncharted byways of the Bill Miller brain. One such former student, Sarah Zearfoss, returned to work at the Law School several years after graduating and is now one of the School's senior assistant deans.
"The thing about Miller is, you feel like you know him better than any of your other professors. He's so very, very open about everything he thinks," said Zearfoss, a 1992 graduate.
Now, she says, she's capable of appalling Miller by her mere presence. "That's what's horrifying for Miller—when he first knew me, I was young, and now, well, I'm losing it, too," Zearfoss said.
But behind the kidding and what everybody, especially Miller himself, knows is schtick is the realization that what Miller does—analyzing the baser elements of human nature as experienced by each of us and by every one of our predecessors—opens a valuable window on the study of modern-day law.
"Bloodfeuds is the class that people cite when they want to make fun of Michigan's curriculum," Zearfoss said."But I spent more time thinking about Bloodfeuds than any other class I took.
It's about dispute resolution and human dynamics—it's the foundation of the law. Law was invented to resolve disputes. So knowing how people think about disputes is incredibly useful for figuring out how to solve them."
Read Miller's essay on Losing It in The Chronicle of Higher Education. Or, check out the Michigan Law video of Miller discussing the book.
more ....

Martha Bergmark, '73, is honored at White House's Champions of Change program
By John Masson, Amicus editor
The White House's Champions of Change program recently honored Michigan Law grad Martha Bergmark and 15 other lawyers from around the country who help ensure that poor and marginalized people have access to justice.
The program and panel discussion—hosted by Attorney General Eric Holder and webcast live to hundreds of law students all over the country, including a roomful at Michigan Law—served to highlight the longstanding tradition of public service of Michigan Law grads.
Bergmark, a Mississippi native who graduated in 1973, said she went to law school in part because she thought her home state needed more skilled advocates. So once she graduated, she returned home and established a civil rights and poverty law practice, then founded Southeast Mississippi Legal Services. Later she went to Washington, where she served as executive vice president and president of the Legal Services Corporation, and as senior vice president for programs at the National Legal Aid and Defender Association.
"Public interest law was something I went to law school for," Bergmark said. "I had grown up in Mississippi with parents who had been active in the civil rights movement, so I knew I needed to go to a top-tier law school."
That's where Michigan came in. But as at almost all law schools at the time, Michigan's commitment to public service was more philosophical than practical—until the establishment of the school's first clinic, in which Bergmark participated. The clinic was so popular, she said, students had to be selected by lottery.
"Since then, Michigan has obviously come a very long way in terms of promoting and supporting public interest careers," she said.
And so it has. From the Dean's Office down, the Law School today encourages public service with, among other programs:
The Champions of Change event helped illustrate the possibilities for some Michigan Law students participating in one or more of those programs right now. And it also served to remind Bergmark of the progress that's been made since she started her work in Mississippi.
But the work needs to continue, she said, because there's still a lot to be done. That's why, in 2003, she helped found the Mississippi Center for Justice, which has grown into a 30-person office with a $3 million annual budget.
"This is my crowning chapter, to come back home to Mississippi and start the center in 2003. We've grown it from a gleam in the eye of the founding board members," Bergmark said. "It's very gratifying to take all those years of public service experience and connections and put all that experience to work in its creation."
In the last few years those experiences and connections have helped people who otherwise wouldn't have access to high-caliber legal talent protect themselves in the aftermath of devastating natural disasters and the calamitous BP oil spill—all while continuing to fight civil rights problems that still crop up in the region.
"We live in a different world in the South than the one I grew up in," Bergmark told the panel. But it's still a world of large needs and small resources, she added, and it's one where people "live with our Confederate heritage.... Mississippi is still at the bottom of every list, and we can trace that back to the Civil War."
Find out more about the Mississippi Center for Justice at www.mscenterforjustice.org/staff.php.
more ....

Study casts doubt on sex-offender notification laws
REGISTRATION REDUCES, NOTIFICATION INCREASES RISK THEY'LL RE-OFFEND
By John Masson, Amicus editor
While evidence suggests that requiring convicted sex offenders to register with the police reduces the chance they'll re-offend, a recent paper coauthored by a Michigan Law professor shows that publicizing sex offenders' identities actually may increase the likelihood they'll commit another sex crime.
Written by Michigan Law Prof. J.J. Prescott and Prof. Jonah E. Rockoff of the Columbia Business School, the paper, published in The Journal of Law & Economics (read an earlier version of it), examines 10 years of data from 15 states. It takes a systematic look at the aftermath of two stages of the ever-changing get-tough legislative response to sex offenders: first, laws that require convicted offenders to register with their local police, and second, laws that also require notification—that is, publication of offenders' identities, their crimes, etc.—either through searchable Internet pages or other means, including personal visits or newspaper notices.
The outcomes of the two approaches are distinctly different, the professors found.
First, their evidence indicates that a registration requirement without public notification reduces reported sex crimes substantially, probably because police are better able to monitor and arrest recidivists. In jurisdictions with an average number of offenders registered, that reduction can be as high as 13 percent, and grows larger as the registries grow. This last fact implies that registration laws lower crime more by discouraging registered offenders from committing new crimes than by discouraging potential first offenders from committing crimes in the first place.
Second, the data suggest that making the identities of registered offenders public may actually weaken public safety by making registered sex offenders more likely to commit new crimes. In jurisdictions that require notification, the deterrence provided by making convicted offenders' identities known for would-be first offenders may be more than offset by released offenders' tendency to commit new crimes when they are subjected to notification requirements. The data also indicate that jurisdictions with notification laws suffer slightly higher rates of overall reported sex crimes.
So while registration appears to discourage repeat offenses, notification requirements actually seem to encourage them—possibly, according to the authors, "because the associated psychological, social, or financial costs (of notification requirements) make a crime-free life relatively less desirable."
Watch a Michigan Law video interview with Prof. Prescott.
more ....
One of U-M's Highest Honors Awarded to Prof. Rebecca Scott
By Katie Vloet, Law Quadrangle editor
Rebecca J. Scott, professor of law and the Charles Gibson Distinguished University Professor of History, has been named the University's Henry Russel Lecturer for 2012. Considered one of the University's highest honors for a senior member of its active faculty, the Henry Russel Lectureship is awarded annually in recognition of a scholar's exceptional achievements in research, scholarship and/or creative endeavors, and an outstanding record of teaching, mentoring, and service.
Prof. Scott is best known for her groundbreaking publications on slavery, and on race and the law, in post-emancipation Cuba, Brazil, and the United States. Her accomplishments have been acknowledged throughout her career with numerous awards and honors.
With Jean M. Hébrard from the École des Hautes Études in Paris, Scott recently completed a book titled Freedom Papers: An Atlantic Odyssey in the Age of Emancipation (Harvard University Press), scheduled for publication in February 2012. The book explores questions of freedom, law, and dignity in the Atlantic world. It recounts the history of several generations of one family, starting with the captivity in West Africa of a woman named Rosalie. The book follows Rosalie through her enslavement in the French West Indies and her emancipation during the Haitian Revolution. Scott and Hébrard then examine the winding path of the next two generations through Santiago de Cuba, New Orleans, Paris, Veracruz, and Antwerp. Along the way, two of Rosalie's grandsons served in the Union Army, and one of them was elected to the Louisiana Constitutional Convention of 1868, helping to write the state's Reconstruction Constitution, with its remarkable guarantees of equal rights. The book continues into the twentieth century, with an epilogue on the participation of Rosalie's great-great-granddaughter Marie-José Tinchant in the resistance to the Nazi occupation of Belgium.
Scott's Russel Lecture on February 23 will explore the relationship of slavery to law, both in the nineteenth century and in the present.
more ....
Law School Fund Marks 50 Years
By Becky Freligh, Law School Development
"It was bound to come, and it has come," wrote Dean Allan Smith in the August 1961 issue of Law Quadrangle Notes.
What watershed moment in Michigan Law history was the dean referring to? None other than the creation of the Law School Fund, the oldest annual fund on the U-M campus, marking its 50th anniversary this year.
Yes, Dean Smith told alumni, the Law School had financial needs that state appropriations alone couldn't meet (sound familiar?), and so it was, for the first time, turning to all alumni for fiscal help in an organized fashion. Mega-gifts from alumni like William W. Cook, 1882, the building benefactor, and Frederick Leckie, 1904, the scholarship donor, had been amazing boons. But the school also needed to rely upon a system of regular annual alumni giving.
Now, it was clear, everyone had to step up.
In the half century since, thousands of Michigan Law alumni have done so, some reliably, every year. The Law School Fund—that pool of discretionary funding available for where it's most needed—has been a steady source of financial support for every dean from Smith to Caminker.
"The Law School Fund is one of the things that made this institution more than an ordinary state law school," says Theodore J. St. Antoine, '54, the James E. and Sarah A. Degan Professor Emeritus and dean of the Law School from 1971–78.
The person most closely associated with the Law School Fund is the late Professor Emeritus Roy Proffitt, '48, who served Michigan Law from 1956–86 as both teacher (of admiralty law and criminal law and procedure) and administrator, and who passed away just last month at age 93. Proffitt's duties included directing the Law School Fund for nearly a quarter century until his retirement, a task he performed with uncommon warmth and dedication. A Regents' memoir upon Proffitt's retirement credited his imaginative leadership and his talent for personal relationships as critical factors in the Fund's success.
"I kept hammering home that this is your Law School, and it's important that it stay strong," Proffitt recalled in a 2007 interview. To that end, he developed a large, nationwide network of alumni volunteers with the goal of securing gifts from all alumni through annual campaigns, headed by a national chair.
Every success was celebrated. In 1965, then-national chair Emmett Eagan, '34, announced that for the first time in the Fund's history, an entire state, Alaska, reported a gift from every Michigan Law alumnus living there—all 10 of them.
In his annual message, "Reading Between the Sheets," Proffitt sliced and diced the numbers, urging on volunteers and donors with the fervor of a proud parent. "WE DID IT! WE DID IT!" read the headline of his 1972 column. The 1979 results were simply "WONDERFUL!"
The Fund evolved with the Law School and with the times. The first campaign benefited student aid, "practice court," the library, and a visiting professor. The 1965 campaign strategy called for getting "man-to-man contact in every instance where this is possible." By 1984 the Fund had begun a drive toward a collegiate professorship honoring Wade H. McCree Jr., the first endowed chair at Michigan named for an African American. The next year, the Fund provided faculty with personal computers. At century's end, Fund dollars helped to launch the Legal Practice Program, still part of the 1L core curriculum.
Today's Fund continues to rely on a wide volunteer base that includes the national chair, class agents, reunion volunteers, and firm captains. Since 2006, student volunteers have staffed the annual Nannes Challenge.
Throughout its history, the Fund has kept Michigan "one of the highest-quality law schools in the world," as Dean Smith said in announcing the Fund's creation. But while Emeritus Dean St. Antoine recalls he used Fund dollars primarily for enrichment—"the frosting on the cake," he says—today, says Dean Evan Caminker, the Fund buys necessities.
"As state support has declined to historic lows, the Law School Fund has become ever more critical to our mission," says Dean Caminker. "Gifts to the Fund truly touch every aspect of life in the Quad. The transformative power of collective annual alumni giving cannot be overestimated. Michigan Law would not be the same without the work of the Law School Fund."
Click the following links for more information about the Law School Fund:
Into the future: Matthew J. Nolan, '06
50 years of giving back: Richard M. Leslie, '61
The Law School Fund Site

more ....
IN MEMORIAM

Longtime Adjunct Paula Ettelbrick
By John Masson, Amicus editor
Paula Ettelbrick, a longtime Michigan Law adjunct professor and pioneering LGBT advocate, died recently after a fight with cancer. Her passing was noted in obituaries in both The New York Times and Britain's The Guardian. Former students are encouraged to send their memories of Prof. Ettelbrick to Pamela Shifman, who is compiling stories about Prof. Ettelbrick to present to her family. Reach Shifman at pshifman@yahoo.com.

Emeritus Prof. Roy F. Proffitt
By John Masson, Amicus editor
For several generations of Michigan Law students and alumni, the kindly face of Roy F. Proffitt was also the face of the Law School itself. So it was with great sadness that members of the Law School family recently learned of his death at age 93.
Emeritus Prof. Proffitt, who earned his JD and LLM degrees at Michigan in 1946 and 1948, joined Michigan's law faculty in 1956 and served in that role for more than 30 years. In addition to teaching admiralty and criminal law, he also served as assistant and associate dean. Additionally, he helped lead the Law School Fund, now in its 50th year, to make it easier for alumni to give back to the Law School.
"Roy Proffitt's warm and friendly demeanor helped define Michigan Law for hundreds of students over the years. Alumni remembered him with affection and gratitude," said Law School Dean Evan Caminker. "It's no wonder he was able to build such a strong alumni network, and to help foster Michigan Law's culture of giving back to the community."
Prof. Proffitt was born in Hastings, Neb., the, son of Harry and Vera Proffitt. He earned a bachelor of science in business administration from the University of Nebraska in 1940, then, with World War II looming, joined the United States Naval Reserve. He began active service as a seaman apprentice, survived Pearl Harbor, then went on to serve in the Naval Reserve for decades after the war. He retired from the Navy as a commander.
After his wartime duty he came to Michigan Law. He practiced for a time in Greeley, Colo., then accepted faculty appointments at the University of Nebraska and the University of Missouri before returning to Michigan for the remainder of his career.
Perhaps that wide breadth of experience gave Prof. Proffitt his legendary empathy, said Emeritus Prof. Theodore J. St. Antoine, '54, who was dean of the Law School during some of Prof. Proffitt's career.
"Roy embodied the human face of the Law School," St. Antoine said. "Formally or informally, he was dean of students, principal fundraiser, placement advisor, and dispenser of financial aid. In the latter capacity, to the everlasting gratitude of a legion of graduates, the funds often came out of Roy's own pocket."
Prof. Proffitt is survived by his wife of 67 years, Jean Humphrey Proffitt. Memorials in memory of Roy Proffitt may be made to the Carolina Meadows Residents Remembrance and Gift Fund, 100 Carolina Meadows Dr., Chapel Hill, N.C., 27517 or to the Roy F. and Jean Humphrey Proffitt Professorship, University of Michigan Law School, 625 South State Street, Ann Arbor, Mich., 48109
more ....