University of Michigan Law School - November 2010 Amicus
Spotlight
Charlie Rose spends the better part of an hour on PBS interviewing 1989 grad Melody Barnes, now director of the domestic policy council in the Obama White House.
Focus
One of CBC Radio's flagship programs sets up debate between Prof. Jim Hathaway, director of MLaw's Program in Refugee & Asylum Law, and Canada's Minister of Immigration on the country's new restrictions on human smugglers.
Prima Facie
Bach's Lunch: The law may make a music all its own, but a little Shostakovich never hurts, either. The faculty and students of the Classical Music Society recently treated the Law School to its first lunch-hour concert of the year; listen to the music and watch a slideshow here.
Career Corner
Two Michigan Law assistant deans, Sarah Zearfoss, '92, and David Baum, '89, took on new roles this fall as the Law School continued its tradition of innovation in preparing its students for success.
Where in the World?
Dora-Maria Sonderhoff, assistant director of admissions for the advanced legal studies degree programs, is launching a new newsletter by and for Michigan Law's international alumni. Whether you started life overseas or found yourself there after law school, she wants to hear your stories. E-mail ideas to dmsonder@umich.edu.
Dominick's Memories
Remember sipping sangria while studying for Con Law, or trying to master the art of pouring beer from a large Mason jar into several smaller ones? We want to hear about your experiences at Dominick's for possible inclusion in a story in the Law Quadrangle. For inspiration, see this article from Michigan Today.
Construction Update
HALFTIME CEREMONY: MLaw invited leadership donors in the building project back to campus for a special capstone ceremony marking the halfway point of construction Oct. 15-16.
---
Slate of the Union

Popular Political Gabfest podcast comes to Michigan Law
By John Masson, Amicus editor
The crowd began forming more than an hour before the taping was scheduled to start at Slate.com's popular Political Gabfest podcast in Honigman Auditorium Nov. 10.
By showtime, a line snaked backward from Hutchins Hall's State Street doors, down the stairs, around a corner, and all the way to the snack bar beneath the Reading Room. More than 350 people turned out for the taping, sponsored by the Law School, the William Davidson Institute at the University of Michigan, and TIAA-CREF.
The podcast featured the customary animated political discussion among Slate's Emily Bazelon, John Dickerson, and David Plotz and is available online at Slate.com.
The participants were introduced by Law School Prof. Becky Eisenberg, a longtime fan of the show.
"Every Friday morning I have just the greatest conversation with three of my best friends," she told the crowd. "And today I finally got to meet them."
The panel drew laughs, applause, and the occasional good-natured groan while talk bounced between the recent midterm elections (especially as they affect the industrial Midwest), the re-emergence of former President George W. Bush as he promotes his memoir on television talk shows, a thorny Supreme Court case, and more.
As the session wound down after about an hour and a half, panelists fielded questions from the audience.
The next morning Dickerson wrote on the Gabfest's Facebook page that "(w)e had a great time last night. Thanks to everyone who turned out, waited in line, laughed at the right moments and made the evening such a pleasure."
And the feeling was obviously mutual. In addition to requests from several other college towns for their own visit from the Gabfest (the Ann Arbor stop was the show's first trip away from its home on the East Coast), one participant wrote that participating in the taping made it worth the 300-mile round trip from Midland, Mich.
"Thanks Emily, John and David for coming to Ann Arbor," wrote another Facebook fan. "It was a fantastic show!"
Listen to or download the podcast at http://www.slate.com, or check out a slideshow.
Michigan Law, India's Jindal Global Law School Sign Memorandum of Understanding for International Collaboration

Schools establish Joint Centre for Global Corporate and Financial Law & Policy
By John Masson, Amicus editor
A recently signed Memorandum of Understanding between Michigan Law School and Jindal Global Law School of O.P. Jindal Global University, near Delhi, establishes a Joint Centre for Global Corporate and Financial Law & Policy, as well as opening the door for future cooperative efforts between the two schools.
The MoU, signed by Michigan Law's Dean Evan Caminker and Prof. C. Raj Kumar, O.P. Jindal Global University's Vice Chancellor and Dean of Jindal Global Law School, provides the framework for Michigan and Jindal to develop collaborative initiatives on faculty and student exchange programs, teaching and research initiatives, conferences and publications and continuing legal education programs. The Centre's directors will be Michigan's Prof. Vikramaditya Khanna and JGLS Professors Vivek Pande, Charles Maddox, and Ajay Goyal.
Among the areas of planned study are the regulation of financial markets and corporate governance in the United States, India, and other jurisdictions. Key activities at the Centre will be research and legal policy analysis, facilitating development of collaborative research and teaching, and organizing lectures, conferences and symposia.
"The collaboration between the University of Michigan and O.P. Jindal Global University is truly historic and in many ways reflects the strong commitment of both these institutions to promote global education across various disciplines," Vice Chancellor C. Raj Kumar said.
Dean Caminker agreed.
"Michigan Law has a long and proud tradition of global law, and today, most areas of the law have international aspects," Caminker said. "We look forward to working with O.P. Jindal Global University to establish new initiatives and exchanges of benefit to our students and faculty in this global context."
As the school's first step toward developing a strong partnership, JGU has appointed Michigan's Prof. Khanna a Distinguished Visiting Professor for 2010-2011. Prof. Khanna, a term member of the Council on Foreign Relations and editor of India Law Abstracts and the White Collar Crime Abstracts on the Social Science Research Network, will travel to India in January and spend a semester teaching courses and pursuing research. Prof. Khanna earned his S.J.D. at Harvard Law School; his areas of research and teaching interest include corporate and securities law, corporate crime, law in India, corporate governance in emerging markets, corporate and managerial liability, and law and economics. He said he is eager to get started on the new effort with JGU.
"Building a strategic relationship with a prestigious Indian institution is important," Khanna said. "India is one of the fastest growing major economies in the world as well as being the world's largest democracy and its second most populous nation. Studying legal issues related to India and the U.S. is both fascinating and critical for faculty and students to better understand the role of the law in a fluid, heterogeneous and increasingly global environment."
More information about O.P. Jindal Global University and Michigan Law is available at http://www.jgu.edu.in and www.law.umich.edu. Learn more about Michigan Law's international focus at our new MLaw Global website.
Around the World (… Wide Web)
By Katie Vloet, Law Quadrangle editor
Michigan Law's global presence goes back at least as far as 1878, when two students from Japan earned their degrees here, and continues today with its leadership in international, comparative, and foreign law, and the global perspective that faculty bring to their teaching and scholarship.
Now, that expertise and leadership is reflected in a newly launched MLaw Global website that presents the myriad ways the Law School proves its global significance. The site knits together elements that previously existed on the web, though not in a central location, as well as new landing pages regarding faculty and administration, student activities, curriculum, and more.

"It's been our belief for a long time that it's simply impossible to be a good lawyer without having a knowledge of how law works across borders," says Steven Ratner, the Bruno Simma Collegiate Professor of Law. "The new website reflects the rich environment Michigan Law provides for students in the classroom and beyond, through classes on international and comparative law, interactions between students and world-class faculty, and externships and study abroad programs."
The faculty and administration section of the site notes that Michigan Law is home to The American Journal of Comparative Law, which was started at the Law School in 1952 and whose first editor-in-chief was Professor Hessel E. Yntema. That legacy continues today as the journal is housed at Michigan Law once again because Mathias Reimann, the Hessel E. Yntema Professor of Law, is editor-in-chief.
Student activities identified on the site include the student-run Michigan Journal of International Law, as well as student groups such as the Asia Law Society, the Latino Law Students Association, and the Middle Eastern Law Students Association.

"Michigan Law offers our students one of the most complete sets of course offerings in international, comparative, and foreign law of any law faculty in the world," the curriculum section of the site points out. "Students may choose from a wide array of courses from our full-time faculty, William W. Cook Global Law Faculty, and distinguished visitors."

Virginia Gordan, assistant dean for international affairs who manages the Center for International and Comparative Law at Michigan Law, notes that "we have an abundance of vibrant and exciting international opportunities, and the new website presents these opportunities in a thorough and lively manner."
Bishop Lecture features State Department's Top Lawyer, Harold Koh
By John Masson, Amicus editor
This month's Bishop Lecture in International Law was a homecoming of sorts for Yale Prof. Harold H. Koh, now the Legal Adviser to the United States Department of State.
"In 1984 I came out here … to look for a teaching job under the auspices of Yale Kamisar," Koh told a packed Hutchins Hall lecture room Nov. 11. "We fell in love with the place, but we ended up being called to New Haven, which is my hometown."
A faculty appointment at Yale Law eventually led to the deanship, and ultimately to Koh's current appointment as the Department of State's top lawyer. Now, as the Legal Adviser, his four main roles include being the State Department's general counsel, acting as a conscience of the U.S. government regarding compliance with international and foreign law, defending American interests in domestic and international litigation, and serving as a spokesperson about the American attitude toward international law.
"Each of these roles has forced me to confront the question … is there an international law that Americans can believe in, but that foreigners can understand?"
With that question in mind, when Michigan invited Koh to deliver the Bishop Lecture—which commemorates the life and work of Prof. William W. Bishop, '31, who helped lead the school's march to prominence in international law—he gladly took it with a talk titled "An American International Law?"
"Let me say again what an extraordinary international legal tradition you have here at Michigan," Koh told the crowd.
Many of the reasons for that tradition trace back to William Bishop himself, who taught at Michigan for three decades and became one of the Law School's best-loved professors. In academic circles, perhaps his greatest work was authoring the groundbreaking International Law: Cases and Materials. But before joining the legal academy, he worked as a legal adviser to the U.S. delegation to the Council of Foreign Ministers and to the Paris Peace Conference in the immediate post-war years. And he worked as an Assistant Legal Adviser in the office Koh now leads.
"Bill Bishop was a Midwesterner, from Michigan, and from the heartland he wrote this path-breaking casebook about international law from which I studied, and my father, a Korean international lawyer studied," Koh said. "Only later did I learn that … he was part of the beginning of the international law tradition at Michigan."
Dean Evan Caminker, who helped introduce Koh, also cited the late Prof. Hessel Yntema and Prof. Eric Stein, '42 (who was in attendance at the lecture), as Michigan's international law trailblazers.
"It is on the shoulders of these visionary lawyers, who saw the future of international and comparative law in a global society, that Michigan has built one of the most distinguished international law programs," Caminker said. "Professor Bishop was one of a small cadre of distinguished scholars who laid the foundations for Michigan Law to become the center of global legal studies that it is today." 
See a slideshow of the Bishop Lecture or check out Michigan's international programs at our new MLaw Global website.
---
In the News
In a front-page story in The New York Times about the increasing length of Supreme Court opinions, Prof. Edward Cooper says the more words the Justices write, the more chances they have to sow confusion.
Is being deferred always a bad thing? Not if you're working for Freedom Now, like '09 grad Beth Schwanke is, and one of your clients wins the Nobel Peace Prize.
The chocolate's better in Switzerland, but the scrutiny is a little less intense in Singapore or Hong Kong: Prof. Reuven Avi-Yonah details the rise of two Asian governments as banking havens in The New York Times.
Republican Rick Snyder, '82, is elected governor of Michigan.
The Hindu, one of India's largest newspapers, is one of dozens around the world to take note of the new Michigan Law/Jindal Global Law School collaboration featuring MLaw Prof. Vikramaditya Khanna.
The Los Angeles Times quotes Prof. David Uhlmann in its story on findings by a presidential panel that BP doesn't appear to have cut corners to save cash.
Uhlmann is also highlighted in PBS' comprehensive ProPublica/Frontline report on the back story behind the BP oil spill.
Republican Rob Portman, '84, takes one of Ohio's seats in the U.S. Senate, The Plain Dealer of Cleveland reports.
Reuters quotes MLaw professors Nina Mendelson and Adam Pritchard in practically the same breath in a story about augmented powers for the SEC.
A 1937 MLaw grad and the first black member of the Cincinnati Bar Association, Judge William McClain, is profiled by the Cincinnati Enquirer.
Republican Justin Amash, '05, is elected to Congress from Michigan's west side.
The Plain Dealer of Cleveland reports that 2002 MLaw alum David Mills argued a case in the Supreme Court this month (and doesn't note that his opponent, Ohio Solicitor General Benjamin Mizer, was his Law School classmate).
The Daily Iowan quotes Prof. John Reed in story about the ouster of three Iowa Supreme Court justices over their votes to declare a gay marriage ban unconstitutional.
2002 graduate and Prof. Bridgette Carr's announcement about partnering with a university in Mexico to fight human trafficking goes global.
Kamal Ahmad, '96, tells Newsweek about founding an educational institution for women in Chittagong, Bangladesh.
Alumni Profile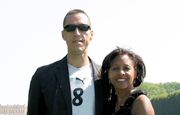 What if someone dining at a table in a restaurant balcony drops a fork into a table for eight on the floor below?
That's not a Torts hypothetical, but an actual feat by Terry Harris, '91, on her first date with Jim Rowader, '90, at Ann Arbor's Gratzi on Main Street. (Reader, they married anyway.)
Alumni Profile
What if someone dining at a table in a restaurant balcony drops a fork into a table for eight on the floor below?
That's not a Torts hypothetical, but an actual feat by Terry Harris, '91, on her first date with Jim Rowader, '90, at Ann Arbor's Gratzi on Main Street. (Reader, they married anyway.)
Coming Up
Contact
Have a story of interest to fellow alumni? Contact Amicus editor John Masson, Media Relations Officer for Michigan Law, at amicusnews@umich.edu or call 734.647.7352.