Alumni Profile

Theresa M. Harris, '91, and James R. Rowader, '90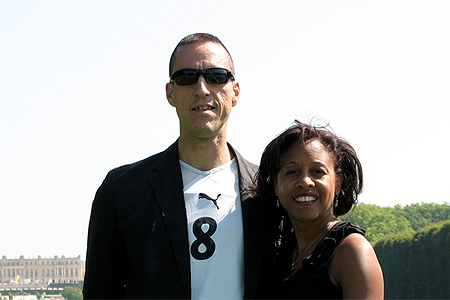 By Becky Freligh, Law School Development
What if someone dining at a table in a restaurant balcony drops a fork into a table for eight on the floor below?
That's not a Torts hypothetical, but an actual feat by Terry Harris, '91, on her first date with Jim Rowader, '90, at Ann Arbor's Gratzi on Main Street. (Reader, they married anyway.)
These days, the couple, who live in Minneapolis, is balancing a lot more than tableware. They're busy working as attorneys for Target Corporation, where he's vice president and general counsel of employee and labor relations, and she's an attorney with the company's marketing group. They're the parents of two young children. And they're continuing to work toward a greater balance of diversity in the legal profession, a commitment they began in law school.
Both Midwesterners—she's from Milwaukee, he's from Chicago—they met early in Harris' 1L year when Rowader was an orientation leader (though not for Harris' group). By the middle of the year, he was convinced that she was the life partner for him.
Rowader was just as intent upon labor law as a career, following a summer clerkship where he got some experience in the field. Harris took a bit more time to find her connection to the law.
"For me, law school was a touch esoteric, and I struggled to find something I could relate to," Harris recalls. "But taking seminars with Jeff Lehman and Catherine MacKinnon—that's what gave me hope that law could be truly fascinating and impactful on people's lives."
Rowader's first job after law school was with the National Labor Relations Board's Detroit office, a career move suggested by his mentor, Professor Emeritus Ted St. Antoine. When Harris took a job with a boutique products-liability defense firm in Minneapolis, the couple decided their future lay in the Twin Cities.
After one more law firm stint for each, they went to Target. For Rowader, who had worked for a corporation as a college student, it seemed like destiny.
"When I was a law clerk in the 1980s, in-house work was completely frowned upon, but I never saw it that way," he says. "I was probably ahead of my time—I always had a goal of being in house, doing labor and employment work."
Today he heads a department of more than 80, including 15 attorneys, as many paralegals, and a few dozen HR professionals responsible for labor employment litigation and labor relations strategy, compliance, field investigations, legislative strategy and lobbying pertaining to HR matters.
In her job for the marketing group, Harris works largely on contracts, many connected to the company's polished promotional endeavors.
"I tell people I am the queen of the odd," she says with a laugh. "If you want to bring a live animal into a store, hang [illusionist] David Blaine in the middle of Times Square or do a pop-up shot in the middle of Grand Central Station, I'll have some ideas of the contracts you'll need and the problems you'll run into."
Balancing work and family responsibilities is "a work in progress," says Harris, who has been able to work mostly four-day weeks since their son, 9, was born. The couple also has a daughter, 11.  The family lives minutes from downtown Minneapolis, and Target headquarters, in a century-old home a block away from a lake. "All our life is within about a three-mile radius," she says, which makes scheduling a whole lot easier.
Both Rowader, who is half Puerto Rican and half German, and Harris, who is African American, have a longstanding interest in diversity issues at both the Law School and professional levels. Active in La Raza (now Latino Law Student Association) and the Black Law Student Alliance in law school, they went on to become active members of the Hispanic and African American bars in Minneapolis.
At Target, Rowader has been heavily involved in the company's diversity efforts and is using that platform to work toward greater diversity within the local bar. "It's such a struggle, and not just in this city, but in a lot of major cities," he says.
This fall Target sponsored the Hispanic National Bar Association's national convention, held in Minneapolis, which included a Michigan Law alumni event. Earlier this year, Rowader co-hosted a dinner where Christine Gregory, '96, Michigan Law assistant dean for student affairs, spoke to Michigan Law alumni about diversity efforts at the Law School.
Rowader is also working to address the issues of minority retention and of minorities becoming partners at law firms, a place where he believes corporations can (and should) take a major role, especially given the economic challenges facing law firms. Earlier this month, Target rolled out a program with outside counsel where, he says, "We're formalizing our expectations about the number of diverse and female attorneys working on our matters as well as grading firms on their diversity recruitment and retention efforts. It will become part of their overall performance grade that we give them."
Many in diversity circles today say the key for minority attorneys is not just mentorship, but sponsorship, Harris adds: Finding someone who will not only advise you, but advocate for you.
"What I saw when I was in law firms was a real resistance to taking along someone who may not be what the client expected," Harris says. "So when you look at the question of how you get a senior partner to sponsor you—that becomes very tricky. That's where in-house counsel can play a major role, setting expectations for new and different skill sets."