Bishop Lecture features State Department's Top Lawyer, Harold Koh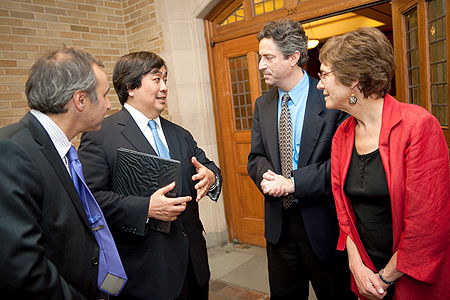 By John Masson, Amicus editor
This month's Bishop Lecture in International Law was a homecoming of sorts for Yale Prof. Harold H. Koh, now the Legal Adviser to the United States Department of State.
"In 1984 I came out here … to look for a teaching job under the auspices of Yale Kamisar," Koh told a packed Hutchins Hall lecture room Nov. 11. "We fell in love with the place, but we ended up being called to New Haven, which is my hometown."
A faculty appointment at Yale Law eventually led to the deanship, and ultimately to Koh's current appointment as the Department of State's top lawyer. Now, as the Legal Adviser, his four main roles include being the State Department's general counsel, acting as a conscience of the U.S. government regarding compliance with international and foreign law, defending American interests in domestic and international litigation, and serving as a spokesperson about the American attitude toward international law.
"Each of these roles has forced me to confront the question … is there an international law that Americans can believe in, but that foreigners can understand?"
With that question in mind, when Michigan invited Koh to deliver the Bishop Lecture—which commemorates the life and work of Prof. William W. Bishop, '31, who helped lead the school's march to prominence in international law—he gladly took it with a talk titled "An American International Law?"
"Let me say again what an extraordinary international legal tradition you have here at Michigan," Koh told the crowd.
Many of the reasons for that tradition trace back to William Bishop himself, who taught at Michigan for three decades and became one of the Law School's best-loved professors. In academic circles, perhaps his greatest work was authoring the groundbreaking International Law: Cases and Materials. But before joining the legal academy, he worked as a legal adviser to the U.S. delegation to the Council of Foreign Ministers and to the Paris Peace Conference in the immediate post-war years. And he worked as an Assistant Legal Adviser in the office Koh now leads.
"Bill Bishop was a Midwesterner, from Michigan, and from the heartland he wrote this path-breaking casebook about international law from which I studied, and my father, a Korean international lawyer studied," Koh said. "Only later did I learn that … he was part of the beginning of the international law tradition at Michigan."
Dean Evan Caminker, who helped introduce Koh, also cited the late Prof. Hessel Yntema and Prof. Eric Stein, '42 (who was in attendance at the lecture), as Michigan's international law trailblazers.
"It is on the shoulders of these visionary lawyers, who saw the future of international and comparative law in a global society, that Michigan has built one of the most distinguished international law programs," Caminker said. "Professor Bishop was one of a small cadre of distinguished scholars who laid the foundations for Michigan Law to become the center of global legal studies that it is today." 
See a slideshow of the Bishop Lecture or check out Michigan's international programs at our new MLaw Global website.