Around the World (… Wide Web)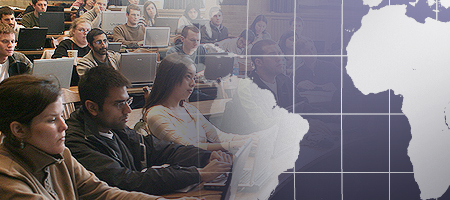 By Katie Vloet, Law Quadrangle editor
Michigan Law's global presence goes back at least as far as 1878, when two students from Japan earned their degrees here, and continues today with its leadership in international, comparative, and foreign law, and the global perspective that faculty bring to their teaching and scholarship.
Now, that expertise and leadership is reflected in a newly launched MLaw Global website that presents the myriad ways the Law School proves its global significance. The site knits together elements that previously existed on the web, though not in a central location, as well as new landing pages regarding faculty and administration, student activities, curriculum, and more.

"It's been our belief for a long time that it's simply impossible to be a good lawyer without having a knowledge of how law works across borders," says Steven Ratner, the Bruno Simma Collegiate Professor of Law. "The new website reflects the rich environment Michigan Law provides for students in the classroom and beyond, through classes on international and comparative law, interactions between students and world-class faculty, and externships and study abroad programs."
The faculty and administration section of the site notes that Michigan Law is home to The American Journal of Comparative Law, which was started at the Law School in 1952 and whose first editor-in-chief was Professor Hessel E. Yntema. That legacy continues today as the journal is housed at Michigan Law once again because Mathias Reimann, the Hessel E. Yntema Professor of Law, is editor-in-chief.
Student activities identified on the site include the student-run Michigan Journal of International Law, as well as student groups such as the Asia Law Society, the Latino Law Students Association, and the Middle Eastern Law Students Association.

"Michigan Law offers our students one of the most complete sets of course offerings in international, comparative, and foreign law of any law faculty in the world," the curriculum section of the site points out. "Students may choose from a wide array of courses from our full-time faculty, William W. Cook Global Law Faculty, and distinguished visitors."

Virginia Gordan, assistant dean for international affairs who manages the Center for International and Comparative Law at Michigan Law, notes that "we have an abundance of vibrant and exciting international opportunities, and the new website presents these opportunities in a thorough and lively manner."