Slate of the Union

Popular Political Gabfest podcast comes to Michigan Law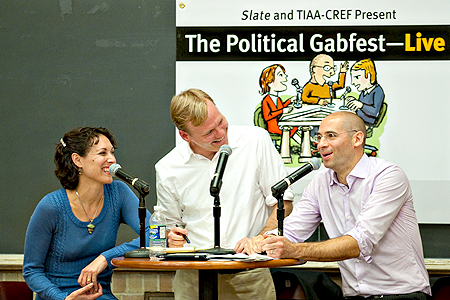 By John Masson, Amicus editor
The crowd began forming more than an hour before the taping was scheduled to start at Slate.com's popular Political Gabfest podcast in Honigman Auditorium Nov. 10.
By showtime, a line snaked backward from Hutchins Hall's State Street doors, down the stairs, around a corner, and all the way to the snack bar beneath the Reading Room. More than 350 people turned out for the taping, sponsored by the Law School, the William Davidson Institute at the University of Michigan, and TIAA-CREF.
The podcast featured the customary animated political discussion among Slate's Emily Bazelon, John Dickerson, and David Plotz and is available online at Slate.com.
The participants were introduced by Law School Prof. Becky Eisenberg, a longtime fan of the show.
"Every Friday morning I have just the greatest conversation with three of my best friends," she told the crowd. "And today I finally got to meet them."
The panel drew laughs, applause, and the occasional good-natured groan while talk bounced between the recent midterm elections (especially as they affect the industrial Midwest), the re-emergence of former President George W. Bush as he promotes his memoir on television talk shows, a thorny Supreme Court case, and more.
As the session wound down after about an hour and a half, panelists fielded questions from the audience.
The next morning Dickerson wrote on the Gabfest's Facebook page that "(w)e had a great time last night. Thanks to everyone who turned out, waited in line, laughed at the right moments and made the evening such a pleasure."
And the feeling was obviously mutual. In addition to requests from several other college towns for their own visit from the Gabfest (the Ann Arbor stop was the show's first trip away from its home on the East Coast), one participant wrote that participating in the taping made it worth the 300-mile round trip from Midland, Mich.
"Thanks Emily, John and David for coming to Ann Arbor," wrote another Facebook fan. "It was a fantastic show!"
Listen to or download the podcast at www.slate.com, or check out a slideshow.