$10 Million Aikens Gift Boosts
Building Project

New Law School Commons to bear Aikens name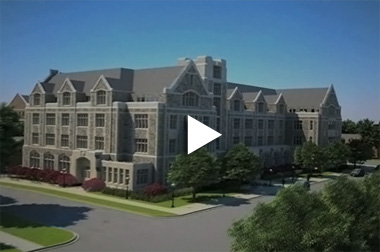 By Becky Freligh, Law School Development
Robert and Ann Aikens have made a $10 million gift to the University of Michigan Law School for the School's ongoing building expansion and renovation project. Robert Aikens, of Bloomfield Hills, Mich., is chairman of Robert B. Aikens & Associates L.L.C., a commercial real estate development and management firm based in suburban Detroit, and a 1954 alumnus of the Law School. The gift is the largest ever made to the Law School by a living donor. More ...
---
Simply Super

New rankings put Michigan Law in second spot
By John Masson, Amicus editor
A new ranking of American law schools finds Michigan Law in second place, trailing only Harvard in the estimation of Super Lawyers magazine.
The ranking system, published last week, reduces the convoluted comparisons used by other ranking systems to a single, eminently practical criterion: the number of graduates who go on to become Super Lawyers. It's a method Super Lawyers publisher Bill White says makes perfect sense. More ...
---
Retired military brass push
for Guantánamo closure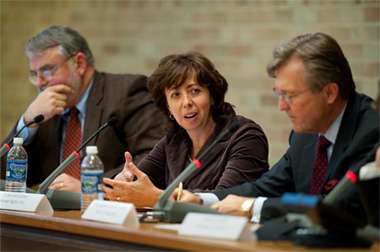 By John Masson, Amicus editor
Guantánamo Bay almost certainly won't close on schedule in January, a panel of experts told a Law School audience recently—but that doesn't mean the Obama Administration's ambitious public one-year timeline to close the detention facility was for naught.
The panel—comprising the Navy's retired top lawyer, Rear Admiral John Hutson; retired Major General William Nash, who commanded troops in the first Iraq war and in Bosnia; and 1988 Law School graduate Elisa Massimino—addressed legal problems surrounding the facility, as well as the difficulties of protecting the United States once the prison is closed. The discussion was sponsored by the Law School's Office of Public Service and moderated by Michigan Law Professor Monica Hakimi. More ...
---
Law alum continues musical
tradition of holiday cheer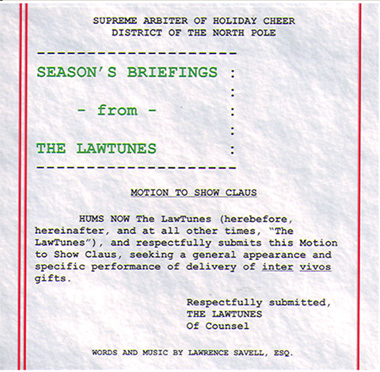 By John Masson, Amicus editor
Clearly the holiday spirit, for Lawrence Savell, includes a healthy dollop of music—and legal humor.
The New York City litigator and 1982 Michigan Law grad is releasing his fifth CD, "Seasons Briefings from the LawTunes," which he composed, performed, and recorded in his home studio in what he dubiously refers to as his spare time. More ...