Law alum continues musical tradition
of holiday cheer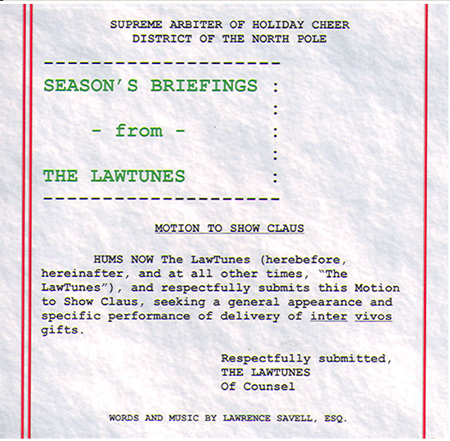 By John Masson, Amicus editor
Clearly the holiday spirit, for Lawrence Savell, includes a healthy dollop of music—and legal humor.
The New York City litigator and 1982 Michigan Law grad is releasing his fifth CD, "Seasons Briefings from the LawTunes," which he composed, performed, and recorded in his home studio in what he dubiously refers to as his spare time.
Among the 10 selections are "Season's Briefings," "Was That You I Saw in Santa's Suit?" "De Novo Dreidel," and "There's No Billin' on Christmas"—which dares to admonish listeners to shut off their BlackBerries.
Savell maintains that inspiration for a recording career came from his participation in what he modestly refers to as Michigan Law's Law Revue " 'alleged' talent competitions." Standards of evidence being what they are, it's unclear how much proof will be required before those talent allegations are proven – five CDs of material seems like it may constitute a preponderance – but listeners are bound to get a wry chuckle out of Savell's legal-themed lyrics, no matter what.
More information is available on Savell's website, www.lawtunes.com.