Retired military brass continue push for Guantánamo closure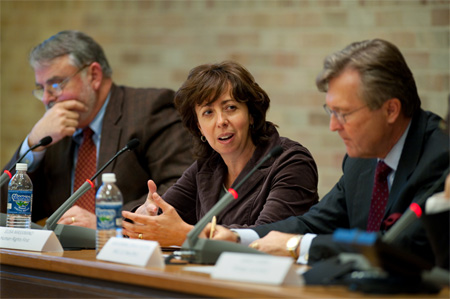 Panelists Maj. Gen. William Nash, USA (Ret.), Elisa Massimino, '88, and Rear Adm. John Hutson, USN (Ret.) address a point during the Law School's recent panel on Protecting America, Post-Guantánamo. LAW SCHOOL PHOTO BY LEISA THOMPSON.
By John Masson, Amicus editor
Guantánamo Bay almost certainly won't close on schedule in January, a panel of experts told a Law School audience recently—but that doesn't mean the Obama Administration's ambitious public one-year timeline to close the detention facility was for naught.
The panel—comprising the Navy's retired top lawyer, Rear Admiral John Hutson; retired Major General William Nash, who commanded troops in the first Iraq war and in Bosnia; and 1988 Law School graduate Elisa Massimino—addressed legal problems surrounding the facility, as well as the difficulties of protecting the United States once the prison is closed. The discussion was sponsored by the Law School's Office of Public Service and moderated by Michigan Law Professor Monica Hakimi.
The panelists, who were introduced by 1987 grad and Assistant Dean for Public Service MaryAnn Sarosi, said they weren't surprised by the delay in closing the prison, located on the American naval base in Cuba. Rear Adm. Hutson said detainees' cases were disorganized to the point of near-chaos when the new Administration took over and "just putting it all together was a pretty Herculean task." Among the problems, he said: "Who should we prosecute, who should we release, and if we do release them, where do we put them?"
Massimino, who heads up the advocacy group Human Rights First, said that closing the prison remains an important step in restoring American credibility among allies and foes alike.
Massimino argued that the federal courts are the appropriate place to try people now locked up at Gitmo. Since 2001, she said, federal courts have convicted 195 terrorism suspects, compared to the military's three.
Furthermore, she argued, the place to lock them up is in the existing prison system.
"Have you looked at who's already in there?" she asked. In addition to the aforementioned 195 terrorism convicts, the most dangerous domestic criminals, obviously, are also inmates. She added that the American Corrections Association, while not taking a position on whether Guantánamo should be closed, has already stated publicly that the system can handle the people now housed in Cuba.
"We should trust our institutions and stay true to our values," Massimino said. "That's how we will get to our post-Guantánamo place."
Gen. Nash agreed, and added emphatically that for most Gitmo detainees, declaring them enemy combatants and holding them as prisoners of war is a bad option. To do so, he added, would be tantamount to making a thug into a soldier.
"I don't want to credit them with being warriors—they're not soldiers, they're goddamn criminals," Nash said. "Closing Guantánamo will hurt our enemies, help our friends, and it will help save soldiers' lives. … The whole legitimacy of our effort, and the legitimacy of our fighting soldiers, is at stake."
The sad fact, Rear Adm. Hutson said, is that there are no perfect solutions—and there's been "an abject lack of leadership on … the part of the last two Administrations and certainly in Congress" for failing to say so to the American people.
"What we're looking for now is the least-bad solution," he said. "And what's the least-bad solution may involve releasing some very bad people."
Massimino agreed.
"If it were easy, it would already be done," she said. "Guantánamo itself was never just a place, you know. It was a symbol … of a great nation setting aside its values for expediency."