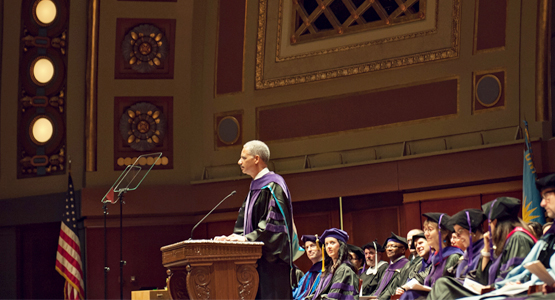 AG's Senior Day speech focuses on service
By John Masson, Amicus editor
Exhorting the Class of 2012 to take up the weighty responsibilities of a rapidly changing world, U.S. Attorney General Eric H. Holder welcomed 341 fresh Michigan Law degree holders to new roles in the legal profession.
"Very soon, you will learn that times of difficulty, of novel questions and new tests, are the most exciting, consequential times to be a lawyer," Holder told the seniors. "Since our nation's earliest days, the service and contributions of attorneys—and very often of young attorneys—have kept our great American experiment in motion."
Holder focused heavily on public service during his talk to the graduates and a packed Hill Auditorium. He noted that one quarter of the 303 2012 JD candidates seated before him had chosen to follow the public service path.
But before that, the talk featured the usual banter between Law School Dean Evan Caminker and the guest speakers. Practically everyone made fun of Caminker's famously coiffed hair—including Caminker himself, who also poked good-natured fun at elected student speaker Stephen Gilson.
"I'm told he has spent more time working on his hairdo here than working on anything else," Caminker said, in introducing Gilson. "Not that I would know anything personally about that."
Gilson called on the experience of three years of Socratic, Law School grilling to fire right back.
"Dean Caminker, thanks a lot—that means a lot to me, coming from my personal hair hero," Gilson said. Then, reaching for the be-tassled purple beret on his head, he looked out at the audience. "On the recommendation of the Attorney General of the United States of America, I'm losing the tam."
But Gilson had heavier themes in mind, as well. Plans for his mother to attend Senior Day were derailed when she suffered a brain aneurism days before the event, Gilson told the crowd. As he boarded a plane to fly home, he put up a five-sentence appeal to his classmates on Facebook for help navigating the health care system. Then he shut his phone off for takeoff.
By the time he landed a couple of hours later, he had 56 messages from Michigan Law students. Within two days, the number had swollen to more than 200.
"When discussing what the Michigan Difference is, we can point to the top-notch faculty or to the standout academics, and we would be right on both counts," Gilson said. "But in my opinion and my experience, that true difference has been the students."
Gilson made a more poignant point, as well.
"We have a limited and indeterminate time here," he said. "Pursue your passions deliberately and with urgency.… Growing up does not have to be synonymous with giving up. And reminders of our mortality should drive us to pursue those passions with more vigor today than ever before."
That was a sentiment echoed by Zoë Adele Justice, who was elected to speak on behalf of 34 LLM students, three International Tax LLMs, and four SJDs.
"You have before you, graduating today, some extremely active members of the global community," Justice said of her fellow graduate students.
The same could be said of the graduating JDs, Holder said. He detailed the thousands of hours donated by members of the class to people who needed help around the world—and around the corner. Pro bono projects helped seniors, children, and veterans in Detroit, he said, and also helped human trafficking victims, refugees, and torture victims here and in far-flung regions of the globe.
None of which should be surprising, Holder said, for a group that defined their student careers "not as a means to an end, but as a step toward a larger societal goal."
"As of today, you're no longer merely students of the law," Holder said. "You are now stewards of our justice system."
He also urged students to never give up the fight to create a more just world.
"Your duty," he concluded, "is to make certain that what might be possible does not become what might have been."
more ....

No Slack: Barr book tackles troubles of the unbanked
By John Masson, Amicus editor
No Slack: The Financial Lives of Low-Income Americans—a new book by Michigan Law Prof. Michael S. Barr—analyzes the financial choices made by the low- and moderate-income Americans who were among those most battered by the Great Recession.
Drawing on data gathered from low- and moderate-income neighborhoods in Metro Detroit during the subprime lending boom, Prof. Barr, a nonresident senior fellow in economics at the Brookings Institution, analyzes how the financial system has largely failed low-income households. That failure often forces a reliance on payday loans, pawnshops, and paycheck-cashing services to help provide some breathing room in budgets that otherwise would contain no slack. Each of those services, serving customers who don't hold bank accounts, comes at a disproportionately high cost for a population that can ill afford to pay for services most Americans take for granted.
In No Slack, published by Brookings Institution Press, Prof. Barr also recommends policy changes that would help low-income Americans by, among other things, reforming mortgage lending practices and improving consumer protections—both topics he helped the Obama Administration champion during his tenure as assistant secretary of the treasury for financial institutions.
Prof. Barr argues that improving financial education and consumer protection, as well as providing low- and moderate-income Americans access to low-cost, no-frills banking services—which can help prevent dependence on expensive financial services provided by nonfinancial institutions—will improve the lives of millions of Americans who work hard and play by the rules.
more ....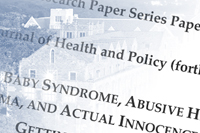 New paper, math theorem erode confidence in shaken baby syndrome
By John Masson, Amicus editor
Scholarly debate over the prevalence of shaken baby syndrome intensifies in a paper coauthored by Michigan Law Prof. David Moran, scheduled for publication this summer in the Houston Journal of Health Law and Policy.
But the contribution of a scholar and litigator like Moran—who cofounded Michigan Law's Innocence Clinic and whose work so far has exonerated several Michigan prisoners serving long terms for crimes they didn't commit—sometimes comes in an unexpected way. Especially when that scholar's educational background includes degrees in physics, theoretical physics, and mathematics.
Who better to explain how a basic statistical blunder helped create the misperception at the root of the shaken baby debate: that any child with certain symptoms must, ipso facto, have been abusively shaken by a caretaker?
"My contribution was pretty minimal. I only wrote a couple of pages of the paper," Moran said.
But those couple of pages explained a statistics concept known as Bayes' Theorem. It's a mistake so common it has its own grimly ironic nickname: the Prosecutor's Fallacy. Here's how Moran explains it in the paper, which is available now for free download via the Social Science Research Network:
Suppose that an airport machine that checks for explosives hidden in checked bags is 99% accurate in detecting explosives. This means that the machine will sound an alarm 99 times if 100 bags with explosives are fed through the machine, and will sound an alarm only once if 100 bags without explosives are fed through the machine. In other words, bags containing explosives are 99 times as likely to make the alarm sound as bags not containing explosives. If the alarm sounds, how likely is it that the bag contains explosives? Probably not very likely at all. If one million bags are checked by machine, one of which contains explosives (a number that is almost certainly too high), there would be approximately 10,000 false alarms for every true alarm.
Similarly, if significantly more children suffer a particular injury from natural or accidental causes than suffer the same injury as a result of abuse, then it's clearly wrong to extrapolate, from the set that was abused, that that particular injury is a clear sign of abuse.
The paper is one sign that the diagnosis of shaken baby syndrome, once accepted as virtually indisputable scientific fact, is now a highly controversial one. Another is the recent California wrongful conviction case Cavazos v. Smith, which worked its way to the Supreme Court before ultimately ending with a grant of clemency last month. And Moran's successful Innocence Clinic case involving Julie Baumer, who was exonerated in 2010 after being wrongfully convicted in a shaken baby case, is a third.
Nevertheless, Moran hopes the article helps bring the two sides of the debate closer together.
"The article is written in a mostly conciliatory tone. What we're really hoping is to get a dialogue going within the medical community," Moran said. "Nobody is well served when people who didn't commit child abuse are punished—and we know that happens. We've seen the cases."
more ....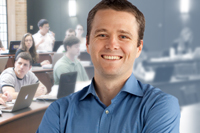 Students reward Prof. Bagley with L. Hart Wright teaching award
By John Masson, Amicus editor
In just his second year of teaching at the University of Michigan Law School, Prof. Nicholas Bagley has been chosen by students to receive the L. Hart Wright Teaching Award.
The coveted award, managed by the Law School Student Senate and voted on this year by more than 200 students, is named after a legendary Michigan Law professor who was both widely influential in the law and deeply revered by the students he taught. It will be presented to Prof. Bagley at a faculty wine and cheese reception next fall.
"It's easily the greatest honor of my professional career," said Prof. Bagley, a former attorney with the appellate staff in the Justice Department's Civil Division, who also clerked for Justice John Paul Stevens. "But I don't think by winning this award I can just claim victory and sit on my laurels. My plan for the next three, four, five, 10, 20 years is to keep doing whatever I can to be more effective."
For Prof. Bagley, that means copious preparation before each class. He painstakingly maps out where each session will go so he knows precisely the information he wants to convey and what he wants students to understand before they walk out of the classroom.
"I have a clear sense of my ultimate endpoint and how I want to get there," he said.
One of his students, 2L Kate Gilbert, said she was fortunate to take health law and civil procedure from Prof. Bagley, and his hard work and preparation were always evident to students.
"He was so obviously incredibly well prepared every day," Gilbert said. "Each class is incredibly well structured. He crafted the classes and had clear educational objectives, and at the end of each class he would make sure that you left with those."
Gilbert said Prof. Bagley also brought huge amounts of enthusiasm and energy to every class—especially in civil procedure—along with a charmingly self-deprecating sense of humor.
"No one goes to law school and says, 'I can't wait to take civil procedure,' but they might now," Gilbert said. "Professor Bagley does such an incredible job. He was lively, funny, engaging—he's hilarious, and he's really teaching you, too. You come out of that class having a firm grasp on the material. And we're talking about the federal rules of civil procedure!"
She particularly remembers his first reading assignment: Rules 1–12, the completion of which Gilbert describes as "one of the more painful experiences of my law school career."
"I got to class and there was just no way I was going to retain that information," Gilbert said. "But I realized he just wanted to expose us to it, and we were going to go back and work our way through it. In the end, he had given me a picture of why we have these rules, how they work, and what the driving rationale is behind them."
Prof. Bagley said some of his penchant for preparation and a clearly delineated class session comes from his two years teaching eighth-grade English in the South Bronx as part of the Teach for America program.
"The experience made an enormous impact on me and changed the way I approach teaching," he said. "And it certainly changed my approach to classroom management."
All for the better, according the law students who voted to honor him—including Gilbert, who would have this to say to future 1Ls preparing to take Prof. Bagley's civil procedure class:
"First, I would say that I'm jealous," she said, laughing. "Because I wish I could have that experience again. But I'd also say to enjoy it, and to listen carefully, because it's one of the most positive educational experiences you're going to have. Oh, and don't worry about that first assignment."
more ....

New Report Shows Great Lakes Pipeline Vulnerabilities
By John Masson, Amicus editor
A legal analysis released today, produced with the help of Michigan Law students in the wake of one of the largest oil spills in Midwest history, finds significant gaps in federal and state laws designed to protect the Great Lakes and the communities that surround them.
The report, "After the Marshall Spill: Oil Pipelines in the Great Lakes Region," was written by Michigan Law lecturer and National Wildlife Federation water resources attorney Sara Gosman, with the assistance of second-year law students from Michigan's Environmental Law & Policy Program. Its release nearly coincides with the second anniversary of the spill near Marshall, Mich., which sent approximately a million gallons of oil into the Kalamazoo River and its tributaries and contaminated 30 miles of a river that flows into Lake Michigan.
Michigan Law students working with Gosman on the report were 2Ls Lesley MacGregor, Gabe Tabak, and Jamie Woolard. The project was funded with a grant from the National Sea Grant Law Center and the C.S. Mott Foundation, and was conducted under the auspices of the Law School's Environmental Law & Policy Program. One of the goals of the project was to give Michigan Law students practical experience researching a critical environmental issue in the Great Lakes region.
"The project was a great opportunity to learn about the combination of energy policy and environmental policy that drives pipeline safety laws," Tabak said. "Hopefully the report will increase awareness of the current regulatory system and play a small role in helping to improve it."
Among the key findings: the federal government doesn't review the long-term risks of pipeline routing decisions, a federal program requiring pipeline operators to assess the condition of existing pipelines protects only some of the region's environmentally sensitive areas, and the responsibility for reviewing spill contingency plans may be inadequate because review responsibility is divided between federal agencies.
"One of the things that came out of the study that was most surprising to me was that there's no federal oversight of the routing of oil pipelines, unlike natural gas pipelines," Gosman said. "So we looked at the Great Lakes states" to see whether the states tried to provide that oversight.
Three states in the region—Michigan, Minnesota, and Illinois—had laws on their books, Gosman and the students found. But the Michigan law was weak.
"Minnesota has a very interesting set of requirements that allows citizens to suggest a route," Gosman said. Illinois also has a strong system, she said.
That particular discovery highlighted another key finding in the study, Gosman said: Most states in the Great Lakes region have done little to improve pipeline safety, even in areas where they have the authority to do so.
The analysis recommended several policy changes at the state and federal level designed to help regulators do a better job protecting a region that contains 20 percent of the world's fresh water. (Although the work was conducted under the Law School's Environmental Law & Policy Program, the findings and policy recommendations are the authors'.)
Among the policy recommendations: First, laws governing pipelines should take into account the Great Lakes basin as a whole, paying particular attention to all of its environmentally sensitive areas. Second, information about pipelines should be much more available to the public, while protecting national security interests. And third, states should take a more aggressive role in regulating the intrastate pipelines that fall within their jurisdictions, at the same time as they help the federal government oversee pipelines that run between states.
"Oil pipelines may be out of sight, but that doesn't mean the risks of oil pipelines should be out of mind," Gosman said. "The best way to mind these risks is to ensure that federal and state law is fully protective of the environment and the communities that depend on it."
Read more about the report, or download a PDF of the complete report.
more ....