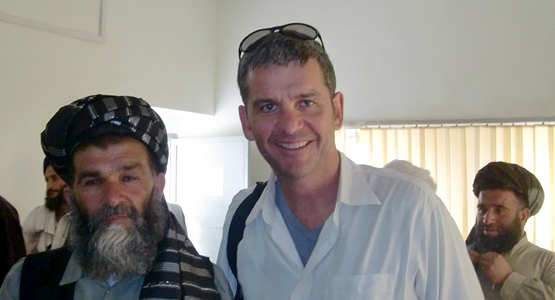 A Matter of Trust
Grad helps State Dept. connect Afghan people to their government
By John Masson
Amicus editor
Joe Burke certainly isn't the first attorney to grind out a seemingly endless series of 14-hour days. But not many can say they grind those days out in a place like Lashkar Gah.
Burke, a 1989 Michigan Law graduate, is a Foreign Service Officer with the U.S. Department of State in Afghanistan. His ongoing year-long posting as the senior American civilian in the British-led Provincial Reconstruction Team for Helmand Province has him helping lead a group of about 120 civilians and a similar number of soldiers and Marines with the overarching goal of connecting the Afghan government to the Afghan people.
more ....

Senior Day Draws Hundreds to Hill Auditorium
By John Masson
Amicus editor
The Michigan Law family gathered at Hill Auditorium May 7 for Senior Day, the annual springtime celebration of the Law School's graduating class.
With faculty and honored guests lined up in full academic regalia on the stage, Dean Evan Caminker kicked off the ceremonies with brief opening remarks before yielding the floor to LLM candidate Cormac Kerins, a native of Ireland whose classmates chose him as their speaker. Kerins summed up his feelings by telling the graduates "I feel unstoppable. And so should each one of you."
more ....

Google's "It Gets Better" Ad Features MLaw Students
By John Masson
Amicus Editor
Four Michigan Law students are featured in the new Google-produced "It Gets Better" commercial, which debuted during a recent episode of the Fox high school musical dramedy Glee.
The It Gets Better Project was created in September 2010 by author and columnist Dan Savage, in the wake of several suicides around the country of youth who were bullied over their sexuality. Savage and his partner, recognizing that some LGBT youth have trouble imagining what life will be like as adults, videotaped a simple message to help remind them that even though life can be difficult, it gets better with age.
more ....

MLaw Launching Improved Loan Repayment Program
Available this fall, plan will dovetail with federal guidelines
By John Masson
Amicus editor
Michigan Law is rolling out an improved Loan Repayment Assistance Program (LRAP), carefully tailored to mesh with newly revised federal guidelines, for public-service graduates and others whose legal careers provide lower salaries.
Among the plan's key provisions: loan repayment assistance for graduates earning up to $88,000, with no out-of-pocket contributions for those earning less than $50,000; availability to students working in both the public and private sectors; and federal loan forgiveness for graduates working in the public sector after 10 years.
more ....