Senior Day Speaker, 1981 grad Valerie Jarrett Has Advice for Next Generation of Leaders
By Jared Wadley, University of Michigan News Service
Senior White House advisor Valerie Jarrett, '81, took a break May 8 from advising President Barack Obama to dispense a few pearls to 310 graduating Michigan Law students instead.
"Please savor the pride and satisfaction in the challenges you've met, and the obstacles you've overcome,"Jarrett told graduates and their families at Hill Auditorium. "Let your much-deserved self-confidence carry you forward to the next phase of your life, because you will need that confidence, and it will be tested time and time again." More ...
---
Victors Valiant emerge from Campbell Moot Court Competition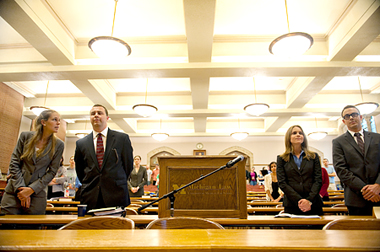 By John Masson, Amicus editor
The Henry M. Campbell Moot Court Competition, a Michigan Law tradition that stretches back more than 80 years, earned top team and best brief honors in April for 3Ls Jake Walker and Jane Metcalf, and a best oralist award for 2L Cheryl Palmeri.
Palmeri and classmate Rory Wellever were runners-up for the best team award. More ...
---
Emeritus prof's first novel, a haunting look at aging, wins publisher's award
By John Masson, Amicus editor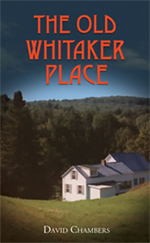 Tom Whitaker, tough as the stony Vermont hillsides that cradle the farmhouse his great-grandfather built, clearly doesn't believe in aging gracefully. The hero of Emeritus Professor David Chambers' new novella, The Old Whitaker Place, speaks sharply, makes plenty of mistakes, and will do what it takes to stay in his going-to-seed family home despite his increasing pain and confusion.
Chambers' lean, elegant prose takes us unflinchingly through the closing years of narrator Tom Whitaker's life, chronicling his relationship with his son, with other people who love or at least tolerate him, and with the Green Mountain soil his life is grounded in. More ...