Emeritus prof's first novel, a haunting look at aging, wins publisher's award
By John Masson, Amicus Editor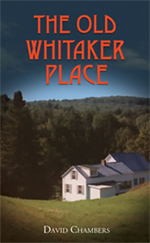 Tom Whitaker, tough as the stony Vermont hillsides that cradle the farmhouse his great-grandfather built, clearly doesn't believe in aging gracefully. The hero of Emeritus Professor David Chambers' new novella, The Old Whitaker Place, speaks sharply, makes plenty of mistakes, and will do what it takes to stay in his going-to-seed family home despite his increasing pain and confusion.
Chambers' lean, elegant prose takes us unflinchingly through the closing years of narrator Tom Whitaker's life, chronicling his relationship with his son, with other people who love or at least tolerate him, and with the Green Mountain soil his life is grounded in.
Whitaker is no diplomat, and as age increasingly robs him of his independence and dignity, his occasional petulance and absent-mindedness grows. Alongside him ages his old dog Roscoe, who—unlike his master—suffers the infirmities of age without complaint. Also on hand is Tom's new wife Teresa, 30 years his junior, whose arrival has allowed Tom to remain in the house he loves perhaps more than anything else in his life.
Chambers, who retired to write fiction in 2002 after three decades of teaching law, creates a character whose fine balance of nobility and baseness won't be easy to forget. The slender work is co-winner of the 2009 Miami University Press Novella Contest. More information and ordering information is available on the publisher's website.