Spotlight


Senior Day Speaker Larry Dean Thompson, general counsel of Pepsico, addresses the graduates.
Focus

The Supremes should leave adjustment of Section 5 of the Voting Rights Act to our elected representatives in Congress, despite the election of Barack Obama, Ellen Katz argues in National Law Journal op-ed.
Prima Facie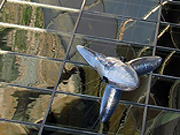 Michigan Law's underground law library has long fooled the eyes of patrons by spilling light through generous aquarium-like window wells. What if that light was actually salt water?
---
---
Contact
Have a story of interest to fellow alumni? Contact Amicus editor John Masson, Media Relations Officer for Michigan Law, at amicusnews@umich.edu or call 734.647.7352.
---

Roots and Branch
Dodgers legend, M Law grad Branch Rickey -- and a new
professorship created in his name -- honored at Mets' new stadium
In the stately rotunda that bears Jackie Robinson's name, the New York Mets rolled out the red carpet in celebration of the Law School's new Branch Rickey Collegiate Professorship.

Mets principal owner Fred Wilpon, LSA '58, one of the benefactors of the Rickey Professorship, welcomed about 240 people to a reception April 30 at the Mets' new Citi Field, where Rickey, JD '11, was remembered as epitomizing Michigan Law's values.
Story and video here.



---
Purple Haze

He's not royalty, but Michigan Law student Nick Chang is in the purple anyway as fellow student Rukku Singla bombards him with a burst of colored powder. Sponsored by the South Asian Law Students Association, the April 17 celebration on the Law Quad marked Holi, an annual rite of spring celebrated by Hindus around the world. More ...
---
Moot Court champs
exultant — and exhausted
Team of 2Ls takes top honors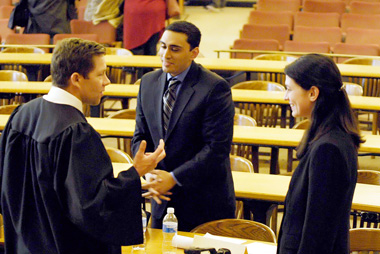 Judge Jeffrey Sutton congratulates 2Ls Usman Ahmed and Frances Lewis after their Campbell Moot Court victory.
The champions of the 2009 Henry M. Campbell Moot Court Competition could hardly have afforded not to win.
Because if 2Ls Frances Lewis and Usman Ahmed had come up short, Lewis says they would have felt compelled to try again in 2010.
"Now we don't feel the need to come back and compete again next year," said an only partly joking Lewis, who also captured Best Oralist honors. The Best Brief award went to the other team that reached the finals -- Isabel Daniels and Dan Hipskind, both third-year students. More ...