Roots and Branch
Dodgers legend, M Law grad Branch Rickey
honored at Mets' new stadium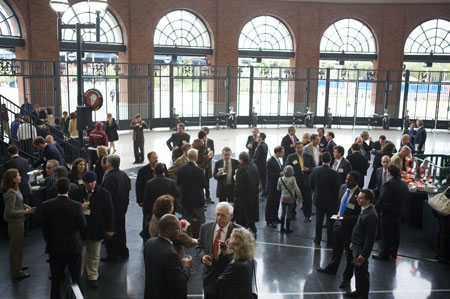 Guests mingle in the Jackie Robinson Rotunda at Citi Field in New York.
In the stately rotunda that bears Jackie Robinson's name, the New York Mets rolled out the red carpet in celebration of the Law School's new Branch Rickey Collegiate Professorship.
Mets principal owner Fred Wilpon, LSA '58, one of the benefactors of the Rickey Professorship, welcomed about 240 people to a reception April 30 at the Mets' new Citi Field, where Rickey, JD '11, was remembered as epitomizing Michigan Law's values.
Wilpon met Rickey when the latter was the Brooklyn Dodgers' general manager, and Wilpon was a ball-playing teen-ager who pitched batting practice to the team. Wilpon's wife, Judy, LSA '58, later worked as an assistant to Rickey.
"Branch Rickey was a giant of a man, not in stature, but with a great intellect, creativity, and total honesty," Wilpon said. "Judy and I learned so much about life from Branch Rickey."
The guests—mostly Michigan Law alumni, family and friends from the Tri-State area—mingled under large black-and-white photos on the rotunda's walls depicting scenes from Robinson's career. One image shows him with Rickey, the executive who brought Robinson onto the team 62 years ago to break the sport's color barrier and permanently change the face of American society.
The star player and the visionary manager were similarly linked in other speakers' remarks. Bud Selig, commissioner of Major League Baseball, talked about the historical significance of Rickey and Robinson. Major League Baseball is also a principal benefactor of the Rickey Professorship.
"He was baseball's greatest front-office executive, and more importantly, I believe he was the greatest executive in American sports history," said Selig. "It was Branch Rickey and Jackie Robinson together who stood up to the bigots of that day and declared that racial hatred and segregation were things of the past and would no longer be tolerated in our national pastime."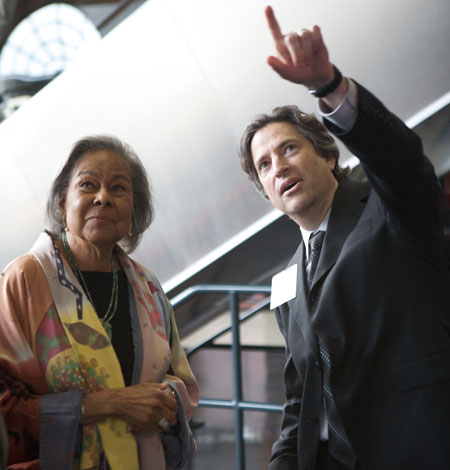 Dean Evan Caminker picks out a highlight in the Jackie Robinson Rotunda with Rachel Robinson, Jackie Robinson's widow.
Rachel Robinson, Jackie Robinson's widow, shared memories of Rickey and of the early days of her husband's signing with the Dodgers, when the two men "met, strategized, and most importantly, developed a profound and lasting relationship," she said.
"They seemed to understand, as great soldiers do, that there was a crucial interdependence between them," said Robinson. "Thanks to Fred Wilpon, we proudly salute Mr. Rickey and the University of Michigan through the establishment of the Branch Rickey Professorship."
Rickey's grandson Branch B. Rickey, also a baseball executive, commended Dean Evan Caminker for accepting the challenge of being the first Branch Rickey Collegiate Professor.
"On behalf of the Rickey family, I can tell you that we are very, very proud that he is challenged with this, and accepting that responsibility," said Rickey.
Rickey said his grandfather refused to accept any awards for signing Robinson.
"He did not believe he was due any recognition," said Rickey. "It was a longstanding wrong that needed to be righted. He would be proud, though, of this chair. I think it's a reminder of what can be achieved by the coming together of persons who are committed to overcoming racism, bigotry, and wrongness, however prevalent."
Dean Caminker, who was named to the professorship last year when the chair was created, spoke of how his life and career have been touched by the values espoused by Rickey. A constitutional scholar, the Dean has a particular interest in civil rights.
"Branch Rickey was an exemplary champion of civil rights, both by word and by deed," the Dean said. "He served our institution, Major League Baseball, and this country exceedingly well."
The Dean acknowledged one of his boyhood heroes, Hall of Fame pitcher Sandy Koufax, a lifelong friend of Wilpon, who attended the reception with his wife, Jane.
Professor Rich Friedman was master of ceremonies for the program. Afterwards, guests toured the stadium, courtesy of the Mets, as the Michigan Law logo blazed from the Jumbotron.
View footage from the event.