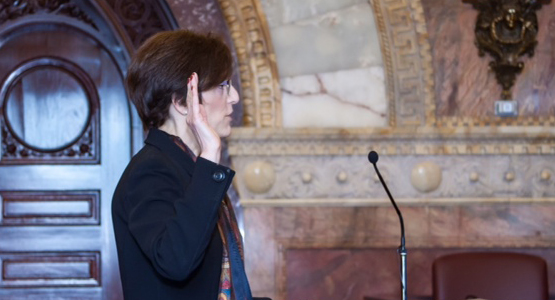 Prof. Judith Levy Confirmed as Federal Judge in Detroit
By Lori Atherton, Law School Communications
Judith E. Levy, a University of Michigan Law School faculty member and graduate, was confirmed by the U.S. Senate on March 12 to serve as a federal judge on the U.S. District Court for the Eastern District of Michigan. She was sworn in by Chief Judge Gerald Rosen during a ceremony in Detroit held March 18.
"The decisions federal judges make change individuals lives, and in some instances, they affect all of our lives," Judge Levy said. "I will do my best to make those decisions thoughtfully and fairly. I am honored to be appointed to this position."
Judge Levy and three others were nominated by President Barack Obama in July 2013 upon the recommendation of Michigan senators Carl Levin and Debbie Stabenow. "Each of [the judges] has demonstrated a mastery of the law and the impartiality required of a judge," Levin said, "and I know they will serve justice and the people of Michigan well."
A 1996 graduate of the Law School and a 1981 graduate of U-M, Judge Levy specializes in large civil rights cases related to fair housing, fair lending, police misconduct, juvenile justice, and disability law. She is the director of Michigan Law's Public Interest/Public Service Faculty Fellows program, and teaches seminars on policing and fair housing.
Prior to her appointment to the federal bench, Judge Levy had served as an assistant U.S. attorney in the Eastern District of Michigan since 2000 and was the chief of the Civil Rights Unit. Prior to that, she was a trial attorney with the U.S. Equal Employment Opportunity Commission in Detroit. She has been recognized by the U.S. Department of Justice (DOJ) Civil Rights Division for her work on civil rights cases and received the DOJ's Director's Award in 2004. Before attending Law School, Judge Levy was an elected union official and chief negotiator for the service and maintenance employees at the University of Michigan for eight years.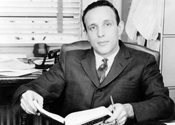 Environmental Law Pioneer and Former MLaw Professor Joseph Sax Dies at 78
By Amy Spooner, Law School Development
Joseph Sax, a pioneer in environmental law, died March 9, 2014, at the age of 78.
A professor of law at Michigan from 1966 to 1986, Sax wrote a bill that became the Michigan Environmental Protection Act of 1970, legislation widely described as "seminal" that inspired similar laws nationwide. The bill stemmed from environmentalists fighting an irrigation project that would be harmful to wetlands. Sax established the doctrine that natural resources are a public trust requiring protection and, therefore, the public had the right to sue to protect any of Michigan's natural resources. From 1997 to 2008, the public trust doctrine was used in nearly 300 federal and state decisions, according to The New York Times, and it has influenced environmental law worldwide.
"[Joe] combined outstanding scholarship with value-inspired activism that provided a role model for younger colleagues and shaped the careers of many of his students," said Richard Lempert, the Eric Stein Distinguished University Professor of Law and Sociology Emeritus. "His importance to the then nascent environmental law movement cannot be overstated."
Sax graduated magna cum laude from Harvard in 1957 and returned to his hometown to attend the University of Chicago Law School, graduating in 1959. He began his academic career as a law professor at the University of Colorado in 1962, where he taught mining, water, and oil and gas law. There he began grappling with questions of natural resources law, understanding that many of his students would go on to advise companies that were mining resources from the natural areas that were dear to him. From Colorado, Sax joined Michigan Law, serving there for 20 years before joining the University of California, Berkeley, in 1986.
In 1983, Sax became the youngest U-M faculty member ever appointed Distinguished University Professor, an honor that allowed him to choose the person for whom the chair would be named. He chose Philip Hart, '37, who as a U.S. senator from Michigan, led efforts to have Sleeping Bear Dunes and Pictured Rocks designated as national lakeshores. In recognition of Sax's exceptional scholarship and teaching, the Law School in 2009 established the Joseph L. Sax Collegiate Professorship, currently held by Nina Mendelson. In addition, a group of alumni and friends created the Joseph L. Sax Scholarship, given annually to a student pursuing a joint degree in the Law School and U-M's School of Natural Resources and Environment.
Sax's wife of 55 years, Eleanor, died in December 2013. He is survived by his daughters, Katherine Dennett, Amber Rosen, and Valerie Sax, and four granddaughters.
To learn more about Sax's legacy, read James Tobin's 2012 Law Quadrangle article.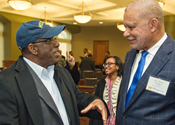 African American Alumni Reconnect, Reflect at Reunion
By Amy Spooner
Alumni returned to Ann Arbor for the inaugural Michigan Law African American Alumni Reunion on March 21-23. The reunion coincided with Preview Weekend for admitted students and the 36th Annual Alden J. "Butch" Carpenter Scholarship Banquet, giving alumni and students opportunities to make connections, swap stories, and discuss the value of the Michigan Law experience. The excitement was palpable as former classmates reunited, some of whom hadn't returned to campus since graduation. "Michigan Law is a lifelong community, and that was front and center this weekend," said Dean Mark West. "The common experience of time spent in the Quad creates strong connections across generations of students."
View an image gallery from the event and visit Michigan Law's Alumni & Friends Facebook page for more photos. Don't forget to tag yourself and your classmates.
With the theme "coming back, moving forward," the reunion also explored ways to improve and support the recruitment and matriculation of African American students. Panel discussions focused on minority admissions at the Law School, post-civil rights era advocacy, and alternative careers. "Recruitment of top minority students by top-ranked law schools like Michigan is more competitive than ever," said the Hon. Roger Gregory, '78, in a luncheon address. "Our time at the Law School influenced our lives and career. Michigan cannot similarly influence other bright, young African Americans without our help."
Saturday night's Butch Carpenter Banquet brought past, present, and future Michigan Law students together in an atmosphere best described as "warm and zealous," said event co-chair Adrean Taylor, 2L. Detroit Emergency Manager Kevin Orr, '83, offered an engaging insider's view of Detroit's bankruptcy as the keynote. The event drew more than 300 people—a record turnout—and saw the scholarship fund surpass the $1 million mark. Said Taylor, "The significant involvement of our dedicated alumni is undoubtedly the reason the Butch Carpenter Scholarship has been maintained for 36 years and continues to exceed expectations."