Alumni Profile

Michael J. Thomas, '96
By Becky Freligh, Development and Alumni Relations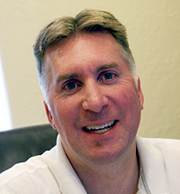 Ever feel like the bar admission system could use an overhaul? Mike Thomas does. But for the moment, he's content with having made a small difference in Michigan.
Michigan-born Thomas passed his home state bar exam after Law School graduation, then opted to live and work in the sunnier climate of the Southwest.
Thomas thought he'd never be back. But in 2008 he returned to his undergrad alma mater, Wayne State University in Detroit, to earn an LL.M. in taxation and to help his mother. And he figured he'd pick up some legal work to help pay the bills.
Then he learned he'd have to take the Michigan bar exam—again.
The issue: Thomas had resigned from the Michigan bar in 2003, due to a new rule from the Michigan Supreme Court requiring all members—even those listed as inactive practitioners in the state—to pay an annual membership fee. The rule also stated that anyone who resigned would have to pass the bar exam again to be readmitted.
And that rule, Thomas learned in 2008, trumped a rule from the Michigan Board of Law Examiners allowing lawyers with sufficient practice experience in other states to be admitted to the bar on motion alone.
"I thought it was illegal," says Thomas, who had practiced for 12 years by then. "It just didn't seem right to me that someone with more practice experience than the rule requires and who had already passed the bar should have to take it again."
Ironically, Thomas had not only passed two other bar exams (Arizona and New Mexico), he had published a journal article in 2000 calling for a national bar exam as the next major reform of the bar admission system. He had also graded essays answers several times for the New Mexico Board of Bar Examiners.
So in February 2009 he retook and passed the Michigan bar. In June 2010 he filed suit in Federal court against the State Bar of Michigan and the Board of Law Examiners, claiming the Michigan Supreme Court rule resulted in an unconstitutional violation of equal protection.
The case ended in December, not with a bang but a stipulated order giving the Michigan Supreme Court the chance to revisit the rule, which will happen in May following a comment period. Thomas, now a senior attorney with the Carrillo Law Firm, P.C., in Las Cruces, New Mexico, says the order followed an entirely amicable conversation he had with counsel for the Michigan state bar and the assistant state attorney general. He predicts the Michigan Supreme Court will change the rule, and he's happy with the result.
"I feel it was worth doing," he says. "Even though it only affected a few people, I wanted to remind them that anytime they amend a bar rule, even for a good motive, they need to make sure it's legal."