Annual Student Funded Fellowships Auction set for March 31

Celebrity Tae Kwon Do, chili, and bowling among items up for bid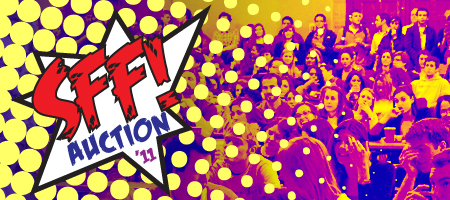 By John Masson, Amicus editor
It's hard to tell exactly when a copy of the Uniform Commercial Code, autographed by legendary Michigan Law Prof. J.J. White, might come in handy—but it's impossible to imagine a world where it won't happen someday.
Fortunately that's the kind of rare and valuable item that's available to those who attend this year's Student Funded Fellowships auction March 31. The SFF auction is the main fundraiser for the Michigan Law student group that works all year to help send students to summer public service jobs that pay little or no salary.
Other items up for bid at the live auction include the chance to sample the outcome of a desperately intense chili cook-off pitting professors Scott Hershovitz and J.J. Prescott; the chance to craft a Zingerman's Deli sandwich that will bear the winner's name; or a two-hour lesson in Tae Kwon Do from Professor (and third-degree black belt) Len Niehoff. Those who fail to be seduced by those items may find a week-long stay in Maui, also available to the highest bidder, a better fit.
A silent auction for some items will begin at 6:30 p.m. The live auction runs from 7:30 until about 10 p.m., when the silent auction also closes.
Last year the evening—which this year features Michigan Law celebrity auctioneers such as Admissions Dean Sarah Zearfoss, professors Len Niehoff, Sherman Clark, Eve Brensike Primus and Gil Seinfeld—raised more than $65,000 to help support Michigan Law students doing summer public service work. And it's just one method the SFF student organization uses to generate contributions. Combined with other methods, such as asking summer associates to donate a day's pay or forego a cab ride once in a while, the group raised enough money to fund more than 70 students last summer.
"The shameful truth is, I would look forward to the SFF auction as one of my favorite nights of the year even if it accomplished nothing for anyone," Zearfoss said, only half joking. "It's just a lovely little bonus that the trash-talking, dancing on the tables, and general horsing-around is all in service of a great cause."
More information about the Student Funded Fellowships is available on their website at http://students.law.umich.edu/sff/.