Making Sense of Ranking Season

Now No. 7, MLaw is top-ranked public school; other rankings also strong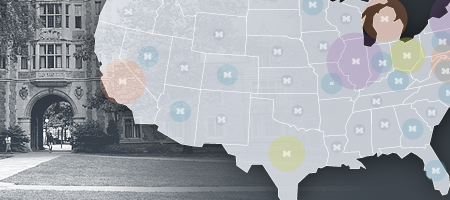 By John Masson, Amicus editor
The recently released 2012 U.S. News and World Report rankings of U.S. law schools—which saw Michigan jump from ninth to seventh place—may mark the official peak of ranking season, but other surveys show the Law School's continuing strength, as well.
While the U.S. News rankings are perhaps the best recognized—measuring a number of factors such as per-student expenditures, median LSAT scores, post-graduation employment rates, and faculty-to-student ratios, among others—some of the other surveys that show Michigan's strengths also provide valuable information.
For example, a joint Best Lawyers/U.S. News ranking of law schools by law firm recruiters placed Michigan Law in a fourth-place tie with Columbia, behind only Harvard, Stanford, and Yale. The survey asked law firm hiring officials to rank the schools on a five-point scale; its organizers say the results are "strictly reputational," based on how recruiters perceive each school's quality.
Another survey, and perhaps the simplest, was conducted by the National Law Journal. It showed that Michigan is number 10 in the number of graduates hired at the nation's top 250 firms; more than 42 percent of Michigan Law's 2010 graduates took that route, according to the magazine.
In other words, while the Best Lawyers ranking reflects the strength of Michigan Law's reputation, the National Law Journal tally is more a measure of the career choices the School's students make after law school.
The School's own data show those choices take graduates all over the country (see map for details).
MAP HERE
Finally, an unusual "crowd-sourced" ranking by The Conglomerate blog recently placed Michigan fifth among American law schools. The methodology had rankers vote on head-to-head comparisons of two law schools, then aggregated the paired comparisons. More than 300,000 votes were cast, the survey organizers said.
The most important message, say law school professionals such as Michigan Law's Assistant Admissions Dean Sarah Zearfoss, is for prospective students to make sure the rankings they're paying attention to measure results they actually care about.
"It's easy to remember that a particular school is number one, or number two, or number eight," said Zearfoss a 1992 Michigan Law grad. "But it's crucial for people thinking about law school to know the reality these numbers are actually meant to measure."