Eric Stein Tapped for Leading International Law Prize

ASIL awards Manley O. Hudson medal for lifetime achievement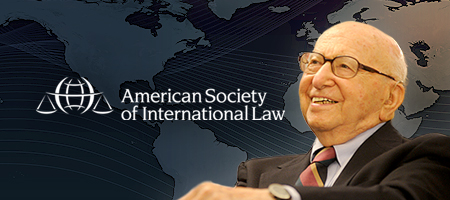 By John Masson, Amicus editor
The American Society of International Law has awarded its top honor, the prestigious Manley O. Hudson Medal, to Emeritus Prof. Eric Stein for his lifetime of significant contributions to international and comparative law.
Stein, 97, has been expanding international and American legal scholarship almost since his arrival in the United States as a member of a generation of distinguished legal scholars who escaped the wave of fascism rolling across their native Europe.
Scholarship wasn't Stein's only service to his adopted land. He also served in the U.S Army during World War II, earning a Bronze Star, then served in various roles in the State Department after the war was over. Among other tasks, he advised the American delegation to the United Nations General Assembly, the Security Council, and the International Court of Justice. He also helped create the International Atomic Energy Agency.
During his subsequent academic career, he led in advancing the role of comparative analysis, including through influential works examining comparisons between American federalism and the institutions of modern Europe. His 1964 article "Assimilation of National Laws as a Function of European Integration" is the most frequently requested article in the American Journal of International Law'sarchive; his "Lawyer's, Judges, and the Making of a Transnational Constitution," published in the same journal in 1981, was an instant classic that defined a new approach to the study of European integration. Stein published an influential book on the breakup of Czechoslovakia well into retirement and remains an active scholar to this day.
Stein's work has been marked by humanity, insight, and careful craftsmanship, ASIL noted. His scholarship and achievements in the law have been recognized by many awards and honorary degrees. However, according to ASIL, his greatest testimonial may be the respect and affection accorded to him by generations of law students, scholars, statesmen, and diplomats on both sides of the Atlantic.
"The list of recipients of this award makes clear how significant an honor it is," said Michigan Law Dean Evan Caminker. "Equally clear is that Eric is absolutely at home on that list."
The medal, awarded during ASIL's annual meeting March 23-26 in Washington, D.C., commemorates the life work of Manley O. Hudson, a former president of ASIL. More information is available at http://www.asil.org/am11/.