Senior Obama Advisor Valerie Jarrett, '81, to Deliver Michigan Law Commencement Address
By John Masson, Amicus editor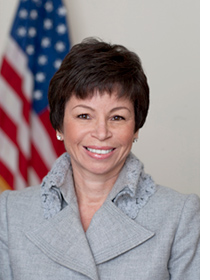 Michigan Law alumna and senior White House advisor Valerie B. Jarrett will deliver this spring's commencement address at the University of Michigan Law School.
"I am very excited to return to the Michigan Law campus and congratulate this year's graduating class," said Jarrett. "Some of the best times of my life were spent in Ann Arbor, and this is an incredible honor, not just as an alumna, but as somebody who's very familiar with how much we need these smart, talented and committed scholars to help us confront the many challenges facing our country." More ...
---
Spring Cleaning

Law School's slightly fusty homepage gets facelift
By John Masson, Amicus editor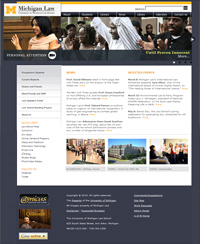 It's been a couple of years since last we tidied up our Michigan Law homepage in any major way, and with the days getting longer and temperatures on the climb here in Michigan, well, it just seemed like time.
The first thing we did was open a few windows – to a wide variety of multimedia content. Visitors will find a brighter, more visual page, with click-throughs to much more accessible multimedia content. Video and audio tracks make it easier for alumni and potential students to connect with the people and principles that guide the school's philosophy. More ...
---
Going once! Going twice!

Student Funded Fellowship auction helps public interest work
By John Masson, Amicus editor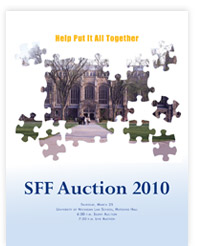 Whether they're looking for a professorial karaoke performance or a graduate-level lesson in pugilism from Steven Croley (Michigan Law's Punching Professor), this year's Student Funded Fellowship auction offers a little something for everyone.
As usual.
Skydiving with Professor Mathias Reimann, LL.M. '83. Pheasant hunting with neophyte bird-blaster Professor Vivek Sankaran, '01, the aforementioned Professor Croley, and hunting guide Tim Connors (who also happens to be a Washtenaw circuit judge and a Michigan Law adjunct professor). Even a chance to watch from the control room as Diane Sawyer does her thing on "World News with Diane Sawyer," courtesy of ABC News President David Westin, '77. More ...
---
Pogue Panel

Changing times call for adaptability and hard work, leaders say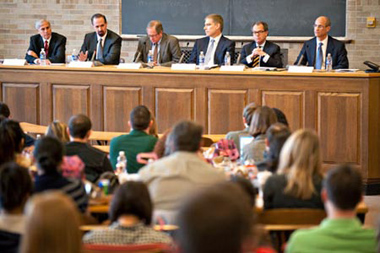 By Becky Freligh, Law School staff
Some demands on young attorneys are more important than ever, like hard work, good client service, and solid writing skills, a group of law firm leaders told students here this month.
Yet as the business of law continues to evolve, new lawyers also must be prepared to work in a different model, said the five members of the Richard W. Pogue Law Firm Leaders Panel, all Michigan Law alumni. More ...