Pogue Panel

Changing times call for adaptability and hard work, leaders say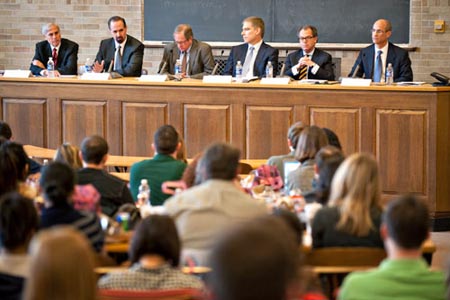 By Becky Freligh, Law School staff
Some demands on young attorneys are more important than ever, like hard work, good client service, and solid writing skills, a group of law firm leaders told students here this month.
Yet as the business of law continues to evolve, new lawyers also must be prepared to work in a different model, said the five members of the Richard W. Pogue Law Firm Leaders Panel, all Michigan Law alumni.
"You're coming into an exciting time to be a lawyer," David Foltyn, '80, chairman and CEO of Honigman Miller Schwartz and Cohn in Detroit, told the audience of more than 200 students in Jason L.Honigman Auditorium, named for his firm's cofounder. "You're entering a changing environment."
Moderated by Robert Hirshon, '73, the Frank G. Millard Professor from Practice, the March 9 panel was one in an occasional series of events sponsored by a fund created by Richard W. Pogue, '53, to support studies of the business of law.
Pogue, former managing partner of Jones Day, offered brief remarks about Goldfarb v. Virginia State Bar, the 1975 Supreme Court decision that ended the antitrust exemption for law firms and ushered in the era of law as a business.
Client relationships formed a prominent theme of the discussion, with panelists defining "client" to include everyone in the firm or office.
"You may have competing demands on your time, but treat each assignment with equal seriousness and do your best work on each one. Ask for help in prioritizing—don't try to triage yourself," advised Lawrence T. Gresser, '86, managing partner of Cohen & Gresser in New York City, a firm he cofounded with his best friend from law school, Mark S. Cohen, '87.
The ability to cultivate business clients isn't limited to playing golf, panelists said, but can arise from a wide range of potential skills and interests.
"Find the thing that you do well," said Mark E. Ferguson, '83, founding partner of Bartlit, Beck, Herman, Palenchar & Scott in Chicago. "You have to be good at your job, of course, but there are many ways to get the client's attention. Go with your strengths."
The alumni leaders offered a variety of suggestions on how best to prepare for practice while in law school.
"Learn and become proficient in a foreign language," said Michael L. Hardy, '72, outgoing partner in charge at Thompson Hine in Cleveland. Other suggestions included taking more international law classes, taking time to reflect on the law, and simply having fun.
The leaders strongly counseled students to learn to write well, a skill several said they found lacking in many otherwise well-prepared law graduates. Strategies for strengthening writing skills could include improving vocabulary and taking classes that require writing on deadline, they said.
Permeating the discussion was the notion that young lawyers must be flexible about their career paths. Anton N. Natsis, '83, graduated from Michigan with aspirations of becoming "the world's best bankruptcy lawyer," he said, and resisted real estate practice as a beginning associate. He now chairs the real estate group at Allen, Matkins, Leck, Gamble, Mallory & Natsis in Los Angeles.
"Be open and entrepreneurial and highly interested in what you're doing, but in a firm-oriented, team-oriented way," Natsis advised. "Don't think too narrowly about what you think you want to do."