Going once! Going twice!

Student Funded Fellowship auction helps public interest work
By John Masson, Amicus editor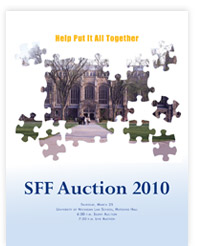 Whether they're looking for a professorial karaoke performance or a graduate-level lesson in pugilism from Steven Croley (Michigan Law's Punching Professor), this year's Student Funded Fellowship auction offers a little something for everyone.
As usual.
Skydiving with Professor Mathias Reimann, LL.M. '83. Pheasant hunting with neophyte bird-blaster Professor Vivek Sankaran, '01, the aforementioned Professor Croley, and hunting guide Tim Connors (who also happens to be a Washtenaw circuit judge and a Michigan Law adjunct professor). Even a chance to watch from the control room as Diane Sawyer does her thing on "World News with Diane Sawyer," courtesy of ABC News President David Westin, '77.
Shamelessly hawking those items – and many more – will be a wide range of august and entertaining auctioneers: Admissions Dean Sarah Zearfoss, '92, and Professors David Moran, '91, Sherman Clark, Susan Crawford, Scott Hershovitz, and Gil Seinfeld.
But mostly the Student Funded Fellowships, now into their third decade, allow students, faculty, and staff to support students' ability to pursue the public interest jobs that are so much a part of the fabric of Michigan Law.
"Instilling this ethos of public service from the very beginning of a new lawyer's training is absolutely crucial," said Law School Dean Evan Caminker. "That our students work so hard to keep public service options open for their classmates is testimony to how deep that commitment runs."
The silent auction begins at 6 p.m. March 25, with the live auction starting at 7 and both expected to end about 9:30. More information and an auction catalog are available at http://students.law.umich.edu/sff/SFFAuctionBook2010.pdf.