Spring Cleaning

Law School's slightly fusty homepage gets facelift
By John Masson, Amicus editor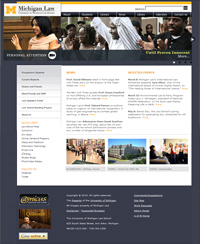 It's been a couple of years since last we tidied up our Michigan Law homepage in any major way, and with the days getting longer and temperatures on the climb here in Michigan, well, it just seemed like time.
The first thing we did was open a few windows – to a wide variety of multimedia content. Visitors will find a brighter, more visual page, with click-throughs to much more accessible multimedia content. Video and audio tracks make it easier for alumni and potential students to connect with the people and principles that guide the school's philosophy.
Through the magic of digital video, students and faculty share, in the upper left-hand corner, thoughts on what drew them to Michigan Law in the first place and what makes the school unique in the world of legal education. Next to that rotating cast of students and professors is a rotating core of four brief, illustrated stories describing campus happenings. And toward the bottom of the page, three more images link to multimedia treatments of other events around the Law School.
In between, visitors will continue to find the news items and upcoming events they've grown accustomed to seeing over the past several years.
We hope the changes will help keep members of the Michigan Law family connected to their alma mater. Stop by and check it out at www.law.umich.edu.