Lives lifted by little loans
New International Transactions Clinic
helps break cycle of poverty in Central Asia
Call it a win-win-win-win-win.
When Michigan Law alum Carl A. Valenstein helps Prof. Deborah Burand teach courses in the Law School's trailblazing new International Transactions Clinic, everybody gains – students, faculty, micro-financiers, borrowers in Tajikistan, and even Valenstein himself.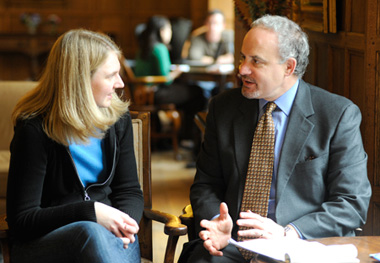 Carl A. Valenstein & ITC student Maria Domanskis, a 3L from Illinois
"I like working with students, and I like keeping up my ties to Michigan," Valenstein said before venturing into class. "I've always had a teaching bent."
And a pro bono bent, as well. The Bingham partner and 1983 grad normally specializes in international corporate and securities law, mergers and acquisitions, and other heavyweight legal responsibilities. But he's also long volunteered to help microfinance organizations – including a couple of the ones Burand worked for before she came to Michigan Law – to get very small loans into the hands of some of the world's poorest people. When Valenstein saw that Burand had come to Michigan to establish the country's first International Transactions Clinic, he gladly accepted her invitation More ...