Lives lifted by little loans
New International Transactions Clinic helps break
cycle of poverty in Central Asia
Call it a win-win-win-win-win.
When Michigan Law alum Carl A. Valenstein helps Prof. Deborah Burand teach courses in the Law School's trailblazing new International Transactions Clinic, everybody gains – students, faculty, micro-financiers, borrowers in Tajikistan, and even Valenstein himself.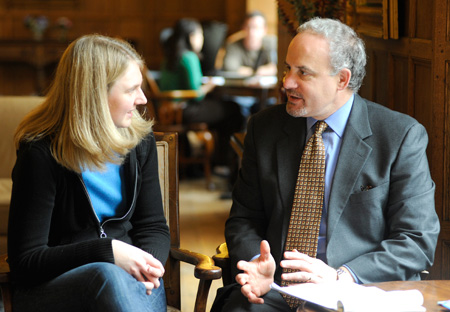 Carl A. Valenstein & ITC student Maria Domanskis, a 3L from Illinois
"I like working with students, and I like keeping up my ties to Michigan," Valenstein said before venturing into class. "I've always had a teaching bent."
And a pro bono bent, as well. The Bingham partner and 1983 grad normally specializes in international corporate and securities law, mergers and acquisitions, and other heavyweight legal responsibilities. But he's also long volunteered to help microfinance organizations – including a couple of the ones Burand worked for before she came to Michigan Law – to get very small loans into the hands of some of the world's poorest people. When Valenstein saw that Burand had come to Michigan to establish the country's first International Transactions Clinic, he gladly accepted her invitation to help teach student lawyers the intricacies of such transactions.
"We're very lucky to be able to draw upon the skills and talents of an experienced lawyer like Carl," Burand said. "He brings an international deal lawyer's practical sensibilities to his supervision of our ITC students, and also has been a fabulous mentor of our ITC students."
That's what he was up to one afternoon this month as he discussed with the ITC's nine students one of the clinic's first executed deals, a debt financing that will provide $1 million in capital to HUMO, a microfinance institution that provides microcredits in Tajikistan. The amount of HUMO's loans averages about $747, and most go to the rural poor in the poorest of the Soviet Union's former republics.
"It's a very hot field," Valenstein said of microfinance. "And it's a double bottom line – it's good business, and it's also socially responsible."
HUMO's website shares stories about some of its more than 8,000 clients: one woman bands together with neighbors to apply for a $292 loan, which the group used to buy rice to be resold at a profit. A man leading a group that borrowed the same amount to buy cattle and improve wheat yields. Another man led a group that borrowed to increase the inventory in its curtain shop.
The Michigan students helped perform due diligence, marked up loan documents, and took care of other transaction details under the supervision of Valenstein and Burand.
"Carl has been nothing but generous with his time in helping us understand the transactions we're working on," said ITC student Maria Domanskis, a 3L from Illinois. "Other lawyers might have become impatient with my rather basic questions, but Carl took every opportunity to ensure that we fully understood the reasoning behind every contractual clause, the tactics we were pursuing, and the suggestions we were making to our client."
That's why the skills students hone during microfinance transactions will also prepare them for transactions that are more macro than micro, Domanskis said.
"My understanding of the transaction we were working on – and international transactional work in general – increased immensely," Domanskis said. "And Carl's involvement with students wasn't restricted to the transaction; he genuinely took an interest in us as people and offered himself as a resource as we graduate and enter the real world."