Drawn to the law
They're in every lawyer's toolbox: Pencils. Paper. A rudimentary ability to doodle, honed to a razor's edge by endless hours in court.
But David E. Mills, '02, deploys those tools in combination with an acerbic yet gentle wit to produce "Courtoons," a blog-based daily series of single-panel cartoons that skewer some of the law's more egregious – and universal – absurdities.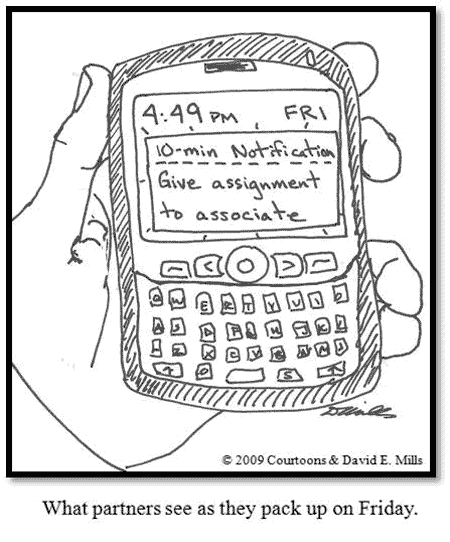 The Cleveland native had always listed himself as a short-lived "cartoonist" on his resume, ever since he'd done a small number of drawings for his undergraduate newspaper at Colgate. But cartooning on legal topics was actually an idea that came from his parents during a chat one Sunday afternoon in December. Once he had tried a few legal-themed panels, he decided to establish a simple blog and post his work on the Internet.
"I sent it out to my buddies that I had gone to Michigan with," he said. "I thought I'd see if I could keep generating something every day. Some of my friends were scared to death because I was starting a new practice and they thought I didn't have any work, and was just doodling all day."
Not so, said the former associate from Jones Day's Cleveland office and law clerk for 6th Circuit Judge R. Guy Cole and legendary Judge Louis F. Oberdorfer in the U.S. District Court in Washington, D.C. Mills, who established his appellate practice about six months ago, was definitely still an active practitioner. But he also had made a commitment to himself and to his burgeoning cadre of readers to come up with a new panel every weekday.
Although some of his barbs originate from what might graciously be called non-curriculum-based lessons he learned in law school, he said coming to Michigan was "a terrific choice."
"I just had a blast at Michigan," he said. "I was so impressed with the caliber of my peers. I knew they'd be smart and hardworking, but the attitude and the camaraderie? In a Top Ten law school, you'd have thought it would be ultra competitive, but not at all."
Mills recalls how, as a 1L, he was on the edge of panic over an upcoming exam when a classmate offered out of the blue to help him study and even offered to share his outline.
"There was no sense of 'I have to get ahead of this person,' " at Michigan, Mills recalled. "I know at some of the places you need to be Number One, and if you're Number Two you're going to lose out on something. But not at Michigan."
Some of Mills' panels skewer life in a large law firm, he said, because "big law firm life is full of good ideas for these sorts of things." But that doesn't reflect his years at Jones Day, where he "actually had a pretty terrific time."
It's safe to call the cartooning project pro-bono – at least for now. Mills hasn't ruled out the possibility of someday accepting advertising for his site, which, if it continues growing at its present rate, will generate more than a million visits this year. Since virtually all of those visitors are lawyers or law students, his reader demographic would be a solid one.
But ads, if they appear, are for down the road. For now, Mills is still getting used to the pressure of producing a daily product.
"I don't know what's going to be up there tomorrow, but it's on my to-do list for today," Mills said with a laugh. "I'm just afraid that one day I'll have to do 'the polar bear in a snowstorm' panel, and put up a blank."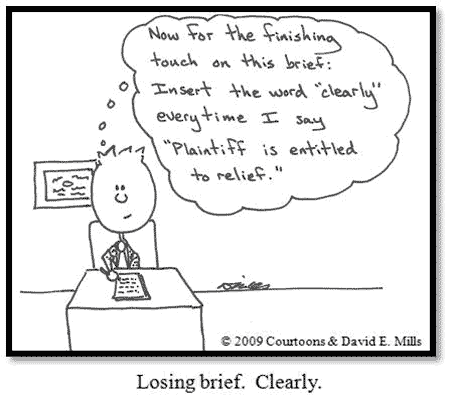 That would disappoint Mills' legion of visitors, who he said exceeded 100,000 in February – just weeks into Courtoons' run. His visitor totals swelled after the legal blog Above the Law put up a link to the site a few days after he began posting to it. Now he's heard from lawyers as far away as Russia, and his comments section has a regular poster who for obscure reasons calls himself "Mr. Cat" and writes in a kind of weird pidgin feline-English dialect.
Despite the occasional brickbat, Mills reads every comment – even Mr. Cat's – and sometimes posts comments himself. He calls it a vital part of the give-and-take between creator and reader that's required by the Internet.
Mills still sounds pleasantly surprised by the popularity of his work, and the fact that a growing number of people are relying on him for a smile to start their days.
"The pressure is a good thing," he said. "People have come to expect it in the morning. So I have a new respect for anyone who has to sort of come up with something new every day."
See more on the Web at:
http://millsfederalappeals.com/
http://courtoons.wordpress.com/