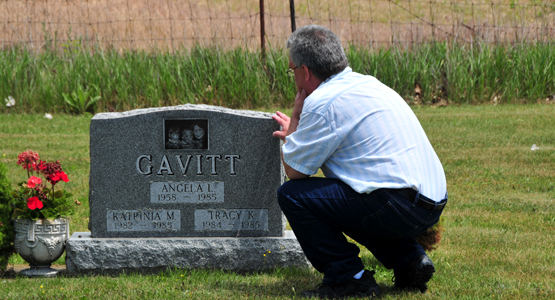 One Year Later, Exoneree Still Adjusting

By John Masson, Amicus Editor
Phones that aren't plugged into the wall. Phones that take pictures and play music. Phones that go on the Internet. The Internet itself, for crying out loud.
Considering that David Gavitt had zero firsthand experience with any of these and about a thousand other modern conveniences prior to his release from prison one year ago today, one of the Michigan Law attorneys who helped free him says he's readjusting well to life on the outside.
more ....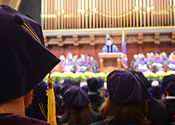 Messages of Inclusion, Passion, and Determination Infuse Senior Day Ceremony


By Jenny Whalen, Law School Communications
Wherever life may lead, be a champion for a more inclusive America, outgoing U.S. Secretary of the Interior Ken Salazar, '81, bid graduates of the Michigan Law Class of 2013.
"The University of Michigan—this Law School—has been a beacon of our world and future because it is standing up for the concept that we are an inclusive America," Salazar told seniors gathered at Hill Auditorium. "Our nation has become much more diverse. Our nation has become much more global in its commercial activity," and diversity will be key to its social and economic success in the future.
more ....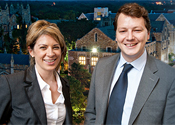 Research Scholars Study Case-Law-in-the-Making as EU Battles Financial Crisis


By Jenny Whalen, Law School Communications
These are landmark times in the legal system of the European Union, Michigan Law research scholars Samo Bardutzky and Elaine Fahey say.
Beset by questions of national sovereignty amid a worsening financial crisis, EU courts are hearing cases and issuing judgments that the pair suspect will influence legal theory for decades to come.
more ....

MLaw's Career Planning chief to lead Student and Academic Services at Ford School of Public Policy


By John Masson, Amicus editor
After 18 years in a variety of high-visibility roles at her alma mater, Susan Guindi, '90, Michigan Law's Assistant Dean for the Office of Career Planning, is moving on—but only as far as our favorite next-door neighbors, the Ford School of Public Policy.
"We've been fortunate to have Susan's dedication, insight, and wisdom for a very long time, and we will sorely miss her presence," Michigan Law Dean Evan Caminker said. "Fortunately, as a true-blue double Wolverine, she's staying right in the neighborhood."
more ....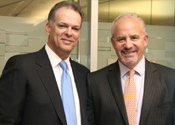 Bingham honors Carl Valenstein, '83, for work with ITC, Habitat for Humanity


By John Masson, Amicus editor
Michigan Law adjunct Prof. Carl Valenstein, '83, says there were two important messages delivered when his firm, Bingham, recently honored him with a public service award for his work setting up a microfinancing fund with Michigan Law's International Transaction Clinic and Habitat for Humanity.
more ....