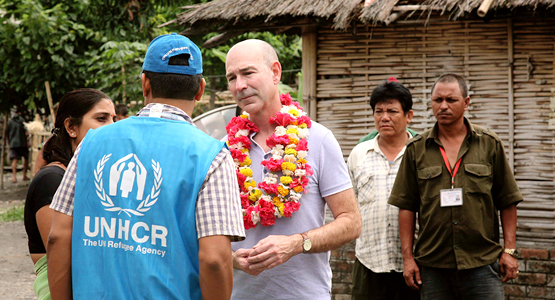 MLaw Prof Helps Fit Together Pieces of Refugee Puzzle
Asylum Law expert Jim Hathaway gets pleasant surprise in Nepal
By Katie Vloet, Law Quadrangle Editor, Photo by Sailendra Kharel
Professor James Hathaway didn't anticipate that his May visit to Nepal would result in significant progress related to refugees in the country. "This came out of nowhere," he says.
Well, not nowhere, exactly. The country was considering new refugee protections, and a nongovernmental organization (NGO) had invited Hathaway, one of the world's foremost experts on refugee law, to visit.
Not long before he boarded the flight from Melbourne to Kathmandu, he had an itinerary in hand: visit a refugee camp; speak to judges, government officials, attorneys, activists, and academics about the importance of refugee law in Nepal; and discuss and critique draft refugee statutes.
By the end of the short trip, Hathaway not only had discussed and critiqued the drafts, but he unexpectedly had helped five NGOs select the best elements of their proposals for refugee protection. The NGOs will now work together to combine those elements into a single version. This was no small feat, notes Stephane Jaquemet, the representative in Nepal for the United Nations High Commissioner for Refugees UNHCR), the group that hosted Hathaway.
"There were questions of ego, who had presented the best draft, some tension from one NGO to another," Jaquemet says. Some of the drafts, for instance, placed restrictions on the definition of a refugee. "They would not have been able to agree on something without the presence of Professor Hathaway."
Hathaway, the James E. and Sarah A. Degan Professor of Law and director of the Program in Refugee and Asylum Law at Michigan Law, said he was pleased with the single proposal that grew out of two days of whirlwind discussion and debate. "I felt honored to be a part of it, and I was impressed that the community all seemed in some way to want to do the right thing by refugees."
He believes that people and organizations in Nepal largely have been interested in doing what was best for the refugees for the past couple of decades, and that continues to be the case, he says, as the country moves forward with dramatic changes in its refugee population.
In the early 1990s, more than 100,000 ethnic Nepalis were forced out of Bhutan and became refugees in Nepal. Since then, Nepal hasn't signed on to the 1951 UN Refugee Convention but in other ways has been a good host country to the refugees, says Hathaway. Now, about 67,000 of the refugees remain in the country, while others have been resettled. The remaining refugees from Bhutan also will be resettled in the next few years—mostly to the United States and a smaller number to the European Union and elsewhere—making Nepal's the largest refugee resettlement program in the world.
"What is happening in Nepal is a minor miracle. Twenty years ought to have taken a toll on them, to have given them compassion fatigue," says Hathaway, "but it seems to have had the opposite effect. They are continuing to be good international citizens. And the developed world has said, 'You've been good international citizens long enough. We will now resettle the refugees elsewhere.' "
Now, with the possibility of a new agreement that Hathaway helped to broker, Nepal may come closer to embracing via domestic law the key international standards defining who is a refugee and detailing a refugee's rights, Hathaway says. Once a draft is agreed upon by the NGOs, it will be presented to the government and parliament, which would need to endorse it.
The agreement, when finalized, will give the UNHCR more enforcement options regarding the treatment of refugees. "We will be able to say, 'these are the international standards, and you cannot depart from the standards,' " Jaquemet says.
more ....

Keeping Families Together in The D
The Detroit Center for Family Advocacy, under the guidance of Prof. Vivek Sankaran, takes a bold new approach to easing the city's strained social services system by using teamwork to keep families together. Learn more in this Michigan Law video.
Designed for Success
New Office of Career Planning to help students chart their courses
By John Masson, Amicus editor

A beefed-up and retooled Office of Career Planning debuted this week with the aim of helping Michigan Law grads become even more marketable to employers than they already are—which, based on the office's existing strengths, is no easy task.
The most dramatic change in the new office—which will be known formally as the Office of Career Planning for the Public, Private, and Nonprofit Sectors—is the merging of the Office of Public Service and Office of Career Services.
The new entity will be led by assistant dean Susan Guindi, a 1990 Michigan Law grad who began her career at the law school in 1995 as the first associate director in the Office of Public Service, before being selected to lead the Office of Career Services in 1998. Her own path—which includes two clerkships and private practice at a large D.C. firm—equips her well for carrying out one of the missions of the new office: allowing students to explore opportunities more seamlessly in a variety of practice areas.
But the key motive for reorganizing the office, Guindi said, was the actual course of most students' and graduates' professional lives.
"In studying the careers of our students and alumni, we've learned that most enjoy a combination of opportunities across public, private, and nonprofit sectors," said Guindi. "It makes sense to structure the office to mirror that fact."
The reorganization brings with it additional counseling staff, more programming for career planning and networking, post-graduate and summer funding opportunities to allow students to explore different practice options, and more outreach to employers outside the school's traditional network. It also will help Michigan Law continue developing the strong, well-rounded academic and clinical programs for which it is recognized globally.
"We are committed to beginning the career counseling relationship with our students, literally, before they're even students," said Sarah Zearfoss, a 1992 graduate who, in addition to her duties as assistant dean for admissions, last year began overseeing the offices of Career Services, Public Service, and Financial Aid in order to coordinate a consistent approach to employment and financial resource issues throughout students' law school tenure. "And we continue long after they graduate and leave Ann Arbor. These organizational improvements will allow us not merely to continue helping them find top-tier opportunities, but to improve our efforts—whether the opportunities they seek are in the public, private, or nonprofit sectors, or some combination of all."
more ....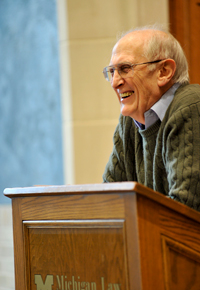 Admirers Crowd Brian Simpson's Oxford Memorial Service
Fond remembrances of MLaw emeritus and giant of the common law
Editor's note: These lightly edited remarks by Nuala Mole were delivered at this month's Oxford memorial service for Michigan's beloved Emeritus Prof. A.W. Brian Simpson, who died in January at his home in Kent. Mole, a frequent Simpson collaborator who founded London's AIRE Centre to raise awareness of individual rights in Europe, was among a clutch of legal luminaries who attended the service.
By Nuala Mole, AIRE Centre
Unperturbed by the guilt of knowing that I still owed him two essays from 1965—nearly 50 years ago now (a sin of omission of which he never tired of reminding me) I wrote to Brian in 1995 to ask if he would help us in the cases before the European Court of Singh and Hussain, which concerned the detention "at Her Majesty's Pleasure" of juveniles convicted of murder.
Could he, I wondered, write us something about the history of this sentence? He rang me up to explain that he was in Cambridge, which meant he didn't have access to the necessary resources he would need to document this properly (an Oxford man to the core!) but that if I could give him a few weeks he would be only too happy to help. I told him that, as usual, I needed it "yesterday" and of course he obliged. His expert advice in Singh and Hussain was then recycled before the House of Lords and further recycled in Strasbourg in the more publicized cases of T and V—the Jamie Bulger murder case.
His emerging role as the AIRE Centre's indentured legal historian and general expert on the common law was pressed into service again in the case of Dobbie v U.K., which concerned the "date of knowledge" for time to start running to commence litigation.
Mrs. Dobbie was a lady whose breast had been removed without a prior biopsy of the lump. She was grateful to be told she didn't have cancer. She did not find out for some time that this mastectomy should not have happened and when she did find out it was held by the English courts to be too late to sue.
Brian always conjectured that the all-male court which excluded her from litigation might have come to a different conclusion had it been some important part of the male anatomy which had been unnecessarily chopped.
For the Strasbourg case he drafted an elegant document which set out the difference between damnum and inuria. The Strasbourg Court was, sadly, unpersuaded by his eloquence and Mrs. Dobbie's inuria went unvindicated though she continued to suffer from the damnum.
Dobbie was followed by the case of Osman. It concerned the refusal to recognize a duty of care in negligence in a case where the police had been alerted to the dangerous obsession shown by a disturbed schoolmaster to a 13-year-old pupil but did nothing to protect the child. Brian provided us with a comprehensive account of the genesis of Article 13 of the European Court of Human Rights—the right to an effective remedy—which won the day for the hapless Osman family and which we subsequently also put to good use in the later "no duty of care" cases of Z v U.K. and TP and KM v U.K. (known as X v Beds and M v Newham in the English courts).
It was at this time that Brian suggested that the AIRE Centre could use the skills and enthusiasm of Michigan Law students. In 1990 the first of those—there have been more than 50 since—was Vladimir Djeric, an LLM student from Serbia and a lawyer with the Belgrade Centre for Human Rights. He went on to become the international legal adviser to the post-Milosevic government when that regime finally fell. The Founder of the Belgrade Centre—Professor Voijin Dimitrijevic—had this to say about Brian's support for the Belgrade Centre: "Having the support of such a man helped us to remain self-reliant in a deeper sense, to significantly reduce our feelings of isolation and loneliness—we remain thankful to him." That internship was the beginning of a program of work in the Balkans that has continued under Biljana Braithwaite's guidance for more than 10 years.
Vladimir Djeric was in Michigan in 1999 and writes "I shall never forget how when the bombing of Serbia started in the summer of 1999 Brian summoned me to his apartment in Ann Arbor. He said, 'You should not be alone when your family is back there—come and have supper with me.' We talked about wars and people, about Suez and the Battle of Britain—and so I spent that first evening of the bombing with a true friend."
Brian had a fine historian's perspective on the coming in from the cold of Central and Eastern Europe and the Soviet Union—he had seen the Iron Curtain go up and watched it come down.
Brian had absolutely no personal sympathy for George Blake—the double agent—but he did believe deeply in the rule of law and was indignant about the goalpost-moving activities of the British Government in their endeavors to prevent Blake receiving the royalties from his book. He found particularly unattractive the refusal to grant him his own legal representation in court, but the appointment of an uninstructed amicus instead—shades of special advocates in the Special Immigration Appeals Commission tribunals of today.
The House of Lords eventually based their judgment on an entirely novel concept based on contract law. But, as Brian pointed out in the ensuing Strasbourg litigation, in the 1940s the relationship between Blake and the Crown was not governed by the law of contract. He suspected that this principle of English law might also have been known to at least some of their lordships. Blake was thus the first case in which the phrase "somewhat disingenuous" was inserted in our submissions in Strasbourg. Following Brian's excellent example of having the words "futtock shrouds" somewhere in all his books, the words "somewhat disingenuous" now appear in the submissions in all our Strasbourg cases. The Strasbourg court rejected most of the claims but Blake was partially successful and gave the compensation he was awarded to his children and the AIRE Centre. The Government strangely donated all the money they got from Jonathan Cape, Blake's publishers, to charity—so I suppose that some good came out of it all. The public purse was the only loser as the case must have cost thousands to litigate domestically and in Strasbourg.
The AIRE Centre was a third-party intervenor in the case of Hirst v U.K.—the prisoners' voting case now causing so much trouble. Brian produced a fine piece on "civil death" to explain why convicted felons did not have the right to vote. He was most disapproving of the attitude first of the Labour Government and then of the Coalition in refusing to approach—with the appropriate good faith—their duty under Article 46 of the Convention to comply with a judgment of the European Court.
We brought him into the litigation which we are still conducting in Strasbourg on behalf of the benighted Chagossians who, in order to make way for the U.S. air base on Diego Garcia, were driven from their homes and—more importantly to them, from the graves of their ancestors—and unceremoniously and degradingly dumped on Mauritius and The Seychelles without any provision for their livelihood or compensation. It was the research he did in connection with his involvement in that litigation which led him to write the scholarly piece with his great friend and colleague and former AIRE Centre intern, Louise Moor, for the British Yearbook of International Law on the application of the ECHR to overseas colonial territories. Louise came from New Zealand to be here today.
Brian was at heart a Yorkshireman; never a flag waver, his patriotism was that patriotism which is not blind but insists that the values and standards associated with his country—and most importantly of those, the rule of law—are maintained and respected. This was manifested pragmatically when we were challenging in Strasbourg the forced exile from the U.K. of British citizen children—he provided us with the relevant English legal history as well as analogies from Ancient Rome on the shame of being sent into exile across the Tiber.
He was fascinated by the legal quirks and oddities of the British Isles and was visibly excited when asked by some members of the AIRE Centre to go with them to both the Isle of Man and to Jersey to help with training there on the ECHR. I have no idea what went on on those trips—I just know that every mention of them causes those who participated in them to burst into peals of laughter. We must assume there was also some transfer of legal knowledge.
But he was also deeply attached to and very proud of his Irish heritage and often quite deliberately travelled on his Irish passport.
Teaching. Brian loved teaching. Painstakingly, patiently explaining the rule against perpetuities to generation upon generation of uncomprehending law students.
He took those skills outside the Law School. He came with us to Albania in 2000 to teach a group of students from Kosovo. He was brilliant—both in his clear explanations of the law and his sympathetic understanding of their anger and concerns.
The AIRE Centre teaches a human rights course on Monday nights at London South Bank University. Many of the students on this course are refugees. Brian happily agreed to come as a guest lecturer to talk about the ECHR and the end of empire and to share his erudition. He of course delivered a brilliant lecture, but what was far more significant was that in a somewhat shabby classroom in the Elephant and Castle he made every student feel important. He knew about their countries' histories and their concerns—or if he didn't know he wanted to learn. He had such an obviously genuine affection for the places from which they had come and a real interest in their stories.
He was of course also in his element discussing the finer points of those many areas of the law where he was top of the tree with his top of the tree professional colleagues. But he was equally happy to explain and discuss those issues with his students and our interns. A mutual friend—another St. Anne's student like me—said after he died: "He wore his scholarship lightly."
Brian was a bon viveur but without pretension. He shared his love of good food (and just a little wine) with all who were fortunate enough to come near his kitchen. Every year he brought all the AIRE Centre interns, from Michigan and elsewhere, down to Sandwich and took them all out on his boat. I gather there are many hilarious stories there.
He then treated them to his legendary hospitality and often put them all up on makeshift beds for the night. He didn't exactly empathize with the many vegetarians in our office but was only too happy to accommodate their preferences. He had the same dedication to producing them superb food that was the non-carnivore equivalent of the "big lump of meat" that he would cook when he was entertaining them royally in Sandwich. That meal was of course always followed by wonderful post-prandial conversations filled with Brian's inexhaustible supply of anecdotes. But they tell me they never realized until they got on the train to come home that he had also shared really erudite and fascinating insights into the law, its philosophy and its history.
Brian had a very special place in the hearts of all the AIRE Centre staff and interns, many of whom are here today: Jana Samankova, ex-AIRE Centre and ex-Michigan, was booked to fly in from Prague to be here today. Her husband proposed to her in Brian's garden in Sandwich, but a sick child has prevented her from being here. Ellen Walker has come in from Geneva, and Larissa Wakim from the Netherlands, bringing with her the baby who may be one of the next generation of human rights lawyers. Many more who cannot be here have sent me messages.
Brian was very conscious, and invariably respectful, of the fact that in his role as tutor that he was in loco parentis. He was really dedicated to the pastoral care of his students, always wanting to be assured of their well being when Michigan had sent them to our tender care.
I think this was a transfer to other people's children of the total love and devotion he had to his own. All parents are proud of their children. Brian was so proud of each and every one of his children and of their very diverse lives, diverse talents and diverse skills. He talked to everyone about them, about all of them. Constantly! And he transferred that genuine pride in their diverse talents to pride in the diverse characters and talents of all his students. This was part of what made him such an exceptional pastoral tutor—that and his innate kindness.
Kindness and tolerance personified. But he did have a generic and quite irrational prejudice against barristers, and particularly against QCs. I have never found out why, although he had enormous respect and affection for several individual members of the bar with whom we collaborated and whose work he knew and admired. Occasionally, wistfully, he would sometimes say "perhaps I should have gone to the Bar. ..."
He read, and read and read. He was a renaissance man; he knew so much about so many things and he retained a perennial interest in knowing more about everything. And he wrote! His output was prodigious. He once tried to explain to the Inland Revenue that he carried on writing books when the University of Michigan didn't oblige him to do so because it was "a disease."
When we learnt in the office that he could no longer READ we knew that the end was near, and he told us that in his final weeks it was the greatest comfort to him to be read to.
Generations of law students from Oxford, Accra, Kent, Chicago, Michigan and the Balkans, and dozens of interns from all over Europe at the AIRE Centre, have, thanks to him, enjoyed a richer legal education.
When my contemporaries and I graduated from Oxford back in the 60s, Brian and his dear departed friend John MacMahon said "we shall never see their like again."
We shall never see his like again.
more ....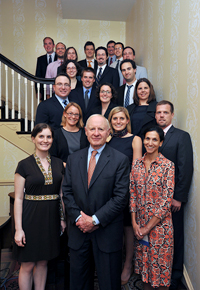 Washington Hosts Fiske
Fellows Reunion
Photo by Bill Petros Photography
Alumni gathered June 16 at the Dolley Madison House in Washington, D.C., to celebrate the 10th anniversary of Michigan Law's Fiske Fellowships for Public Service. The three-year fellowships are sponsored by 1955 MLaw graduate Robert Fiske, pictured front and center, a longtime partner with Davis Polk & Wardwell LLP and a former Independent Counsel and U.S. Attorney for the Southern District of New York. The fellowships are designed to encourage public service, especially at the federal level, by helping to manage student loans. The reunion—which drew 23 of the program's 30 beneficiaries—was scheduled to coincide with this year's summer reception for alumni and current students working in and around Washington.

First things first
Serving the greater good is a Michigan Law tradition, so it should come as no surprise that one of the first things 1Ls do at the beginning of their Law School careers is volunteer in the community during Service Day. Summer Starters are no exception, as the 2011 group showed June 1 by lending a hand to good causes in Ann Arbor and beyond.